If you'd like to run around Grounded without getting demolished by vicious bugs, then there are some cheats and commands you can use to alleviate this issue. Unfortunately, these only work for the PC, so if you're on Xbox, you'll have to hope they add in some cheats in the future.
To use cheats in Grounded, you will have to download a third party program. This is called Universal Unreal Engine 4 Unlocker, and it's pretty well-known and has been used for a variety of games. As with any program, you download and use it at your own risk!
Once you have it downloaded and installed you can open up Grounded. Go to the UUU program and in the General tab, you need to select a process to inject the DLL into. If you're using the Xbox Gamepass launcher, you will find it named as Maine in the options. It will likely be the top process, but the name could be different if you're using Steam.
Select the correct process and then hit the Inject DLL option. You will see some popup windows in Grounded that show that the program has been started and is working. You might want to start a new world if you're using cheats so you don't mess up your old one, but it's up to you.
Now that you know this is working and are in a game. Hit the ~ key on the top left of your keyboard underneath Escape. This will open up the console at the bottom of the screen and look like this: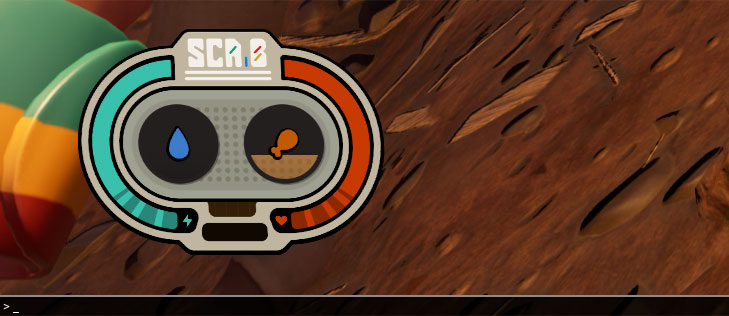 You can now type in commands in this to make changes to the game. Here's a list of cheats and commands that you can use:
sg.PostProcessQuality 0 - Removes the depth of field blurriness on the map.
god - God mode, which means you won't take any damage. You don't get unlimited stamina or hunger though, but they won't kill you if they are reduced.
timespeed # - Either slow down, speed up, or stop time completely. The higher the number the faster time will go in game, and the lower the number is the slower it will go. If you enter 0 as your speed then it will stop time completely.
toggledebugcamera - Gives you the ability to fly around in the game as a camera. It's not great for flying long distances.
teleport - Use this command to instantly jump to a location where your crosshair is pointing. This is hit and miss sometimes, it appears you have a limit on how far you can teleport.
pause - Pauses the game. Repeat the command to un-pause.
kill - Kills your character and takes you back to your spawn point.
DamageTarget # - Will damage a target for the designated amount of damage. This works for bugs and general objects in the game.
ResearchAllItems - Analyzes all the items in the game that you would have to take to the Field Stations.
UnlockAllRecipes - Unlocks all the available items that can be crafted in the game.
RepairAllItems - Repairs all of the items you have in your inventory.
FullRestore - Completely fills up your stamina, thirst, hunger, and health.
AddScience # - Gives you an amount of Raw Science that you have designated.
AddWater # - Fills up your thirst based on the number you've entered.
AddFood # - Fills up your hunger based on the number you've entered.
ChangeSize # - Change your size based on the number you enter. This is a bit buggy, so use with caution.
BuildAllBuildings - Will construct all of your current blueprints you have laid out.
show - Lists graphic options and settings.
summon [file name] - This will summon a bug, item, plant, or whatever you add here if you have the correct file name.
A command has been found by commenter VooDooShamane to open up what appears to be a test world with a lot of the upcoming additions to the game coming up. You need to enter this command before you enter into a game save. You won't be able to save, but you can check out some of the awesome new stuff!
open AR_00_World_Dev - Opens the developer's world, where a bunch of new things are available.
open SurvivalTest - Opens up a developer's test ground level.
File Names
These are a bunch of the file names you can use with the "summon" command to spawn items in the game. Big thanks to all of the people in the comments who have helped contribute many of these!
Bugs, Animals, NPCs
bp_ant_c
bp_ant_hillworker_c
bp_ant_soldier_c
bp_spider_wolf_c
bp_spider_small_c
bp_spiderling_c
bp_ladybug_c
bp_stinkbug_c
bp_spider_boss_c
bp_aphid_c
BP_Mite_C
BP_Mite_Haze_C
BP_Mite_Tutorial_C
BP_Grub_C
BP_Gnat_C
BP_Weevil_C
BP_Weevil_Evil_C
BP_BombardierBeetle_C
BP_Larva_C
BP_Burgle_C
BP_SurvivalPlayerCharacter_Gellarde_C
BP_SurvivalPlayerCharacter_MrBones_C
Items
BP_world_ant_egg_C
BP_World_ANT_Armor_Chest_C
BP_World_ANT_Armor_LEGS_C
BP_World_ANT_Armor_HEAD_C
BP_World_Stone_Pebble_C
BP_World_Quartzite_C
bp_world_mintmallet_c
bp_world_rope_c
bp_world_torch_c
bp_world_axe_c
bp_world_spear_c
bp_world_bow_c
bp_world_hammer_c
bp_world_shovel_c
bp_world_arrow_c
bp_world_canteen_c
bp_world_bomb_c
bp_world_bomb_sticky_c
BP_World_GrassPlank_C
BP_World_Droplet_Water_C
BP_World_HoneyDew_C
BP_World_Spear_C
BP_World_Bee_Armor_Head_Rotten_C
BP_World_Bee_Armor_Chest_Rotten_C
BP_World_Bee_Armor_Legs_Rotten_C
BP_World_Aphid_Meat_C
BP_World_Gnat_Meat_C
BP_World_Ant_Part_C
BP_World_Acorn_Bits_C
BP_World_Granola_Bar_C
BP_World_Petal_Red_C
BP_World_CloverTop_C
BP_World_Spider_Venom_C
BP_World_Droplet_Water_Tear_Half_C
BP_World_Food_Cookie_Sandwich_C
BP_World_LarvaSword_Rotten_C
BP_World_LarvaSword_C
BP_World_Fiber_Dry_C
BP_World_Droplet_Soda_Cola_C
BP_World_Spider_Chunk_C
BP_World_Droplet_Water_Drip_C
BP_World_Sap_C
BP_World_Weevil_Nose_C
BP_World_Weevil_Meat_C
BP_World_Petal_Yellow_C
BP_World_Fiber_C
BP_World_Acorn_Top_C
BP_World_Dandelion_Puff_A_C
BP_World_Nectar_C
BP_World_Food_Hot_Dog_C
BP_World_Petal_Hosta_C
BP_World_Acorn_Shell_C
BP_World_Droplet_LemonJuice_C
BP_World_Ant_Club_Rotten_C
BP_World_Ant_Club_C
BP_Equippable_Leaf_Blower_C
BP_WORLD_LADYBUG_HEAD_C
BP_WORLD_LADYBUG_SHELL_C
BP_WORLD_LADYBUG_WING_C
bp_world_torch+_c
bp_world_canteen+_c
Audio Logs, Tech Chips, & Story Items
BP_AudioLog_WendellA01_C
BP_AudioLog_WendellA02_C
BP_AudioLog_WendellA03_C
BP_AudioLog_WendellA04_C
BP_AudioLog_WendellA05_C
BP_AudioLog_WendellA06_C
BP_AudioLog_OminentA01_C
BP_AudioLog_OminentA02_C
BP_AudioLog_OminentA03_C
BP_AudioLog_OminentA04_C
BP_AudioLog_OminentA05_C
BP_AudioLog_OminentA06_C
BP_AudioLog_WendellB01_C
BP_AudioLog_WendellB02_C
BP_AudioLog_WendellB03_C
BP_AudioLog_WendellB04_C
BP_AudioLog_WendellB05_C
BP_AudioLog_WendellB06_C
BP_AudioLog_WendellB07_C
BP_AudioLog_BurgleA01_C
BP_AudioLog_BurgleA02_C
BP_AudioLog_BurgleA03_C
BP_AudioLog_BurgleA04_C
BP_AudioLog_BurgleA05_C
BP_AudioLog_BurgleA06_C
BP_AudioLog_BurgleA07_C
BP_AudioLog_BurgleA08_C
BP_AudioLog_BurgleA09_C
BP_Audio_Log_World_AntTotem_C
BP_Audio_Log_World_Cave_C
BP_Audio_Log_Base_C
BP_Note_Spy_Hedge_C
BP_Note_Spy_Haze_C
bp_techchipanthill_c
bp_techchipflowerbed_c
bp_techchiphedge_c
bp_techchipmint_c
bp_techchipoaktree_c
bp_techchipweed_c
BP_ColorCollectible_C
Plants & Other Environment Items
BP_Plant_Small_Leafy_B_C
BP_Plant_Small_Leafy_A_C
BP_Acorn_C
BP_GrassBladeStumpHalf_C
BP_GrassBladeStumpFull_C
BP_Spider_Web_C
BP_Spiderweb_Hanging_C
BP_Spiderweb_Hanging_B_C
BP_Spiderweb_Hanging_C_C
BP_Hosta_Flower_B_C
BP_Rock_Quartzite_A_C
BP_GrassBlade_D_C
BP_GrassBlade_E_C
BP_Food_Mint_C
BP_Clover_A_C
BP_GrassBlade_F_C
BP_GrassBlade_G_C
BP_HedgeBerryA_C
BP_GrassBladeDry_E_C
BP_GrassBladeDry_D_C
BP_Spiderweb_Hanging_Sleeping_C
BP_Spiderweb_Hanging_C_Sleeping_C
BP_Clover_4Leaf_C
BP_Spiderweb_Hanging_B_Sleeping_C
BP_GrassBladeStumpHalf_Dry_C
BP_GrassBlade_Dead_B_C
bp_bedroll_c
bp_torchholder_c
BP_Food_Apple_Core_C
BP_Food_Hotdog_C
Raw Science
BP_RawScience_A_C
BP_RawScience_B_C
Unreleased Bugs, Animals, NPCs
BP_bee_C - Summons a Honey Bee
BP_mosquito_C - Summons a Mosquito
BP_KoiFish_C - Summons a Koi Fish, which is obviously better to spawn in the water. This version of the command seems to have some issues.
BP_KoiFish_Test_C - Summons a Koi Fish as well, but it seems to function better in the water.
bp_tadpole_c
bp_divingbellspider_c
bp_leech_c
bp_waterboatman_c
Unreleased Plants & Other Environment Items
bp_world_eelgrassstrand_c
bp_wasp_c
bp_wasp_nest_c
Unreleased Items
bp_world_divingknife_c
bp_world_harpoongun_c
bp_world_harpoonbolt_c
bp_world_bone_trident_c
bp_world_firefly_glow_c
bp_world_tadpoleslime_c
BP_World_KOI_Armor_Chest_C
BP_World_KOI_Armor_LEGS_C
BP_World_KOI_Armor_HEAD_C
BP_World_Bee_Armor_Chest_C
BP_World_Bee_Armor_LEGS_C
BP_World_Bee_Armor_HEAD_C
BP_WORLD_BEE_FUZZ_C
BP_WORLD_BEE_STINGER_C
BP_WORLD_FIREFLY_SHELL_C
BP_WORLD_FIREFLY_HEAD_C (Lamp)
BP_WORLD_BOOMERANG_C
BP_World_KoiFishScale_C
BP_World_StriderSkates_C
BP_World_CatTailPlantFluff_C
BP_World_LilypadWax_C
BP_World_Pollen_C
BP_WORLD_Armor_Flippers_C
BP_WORLD_CatTailPlantFluff_C
BP_WORLD_DivingLantern_C
BP_WORLD_DivingMask_C
BP_WORLD_Armor_Flippers_C
BP_WORLD_WaterBoatmanFin_C
BP_WORLD_LilypadMembrane_C
BP_WORLD_Rebreather_C
BP_WORLD_Tadpole_Meat_C
BP_WORLD_StriderSkates_C (Might not work)
BP_WORLD_Bone_Diving_Knife_C
BP_WORLD_HarpoonBoltBone_C
BP_WORLD_HarpoonBoltPoison_C
BP_WORLD_StriderLeg_C
BP_WORLD_Bone_C
BP_WORLD_LeechSac_C
Those are all the commands we know for now, let us know in the comments if you discover anymore! I'm currently only going to add commands that are NOT on the list. I unfortunately don't have time to sort through huge lists of commands and trying to figure out what the list is missing.