Upgrading your tools can be quite difficult in Grounded because you will need to slay some pretty angry bugs to get the parts required! Regardless of that fact, you're going to need to do it eventually if you ever want to chop through weeds or breakthrough large stones! So, let's brave the beasts out there to collect the resources we need to level up our tools to higher tiers.
To get upgraded tools in Grounded, you will need to slay at some Ladybugs, Bombardiers, and Spiders to get a Ladybug Head, Bombardier Part, and Spider Silk. These are all the necessary components to making the tier 2 axe. If you want to get the level 2 hammer you're going to need Stinkbug Part, Berry Leather, and Boiling Gland.
How to upgrade your axe
The first thing we'll be after is the Insect Axe. This is the level 2 tool that will allow us to chop down weeds. It requires you to get 1 Ladybug Head, 3 Bombardier Parts, and 4 Spider Silk!
Ladybugs can be found pretty much all over, they are basically a neutral insect that won't attack unless threatened. You will want to stay out of their way though because they can plow you over if you stand in front of them. Look around the grass nearby the original spawn point and listen for the pounding of a huge bug. You can also look for the grass shifting around which signifies there's something large moving around through it. Once you find it, try to either get to a high spot and shoot a ton of arrows at it, or dodge and weave your attacks like you were playing Dark Souls.
Bombardier Parts come from Bombardier Beetles. They are pretty tough as well and shoot out acid while they are trying to bite you with their mandibles!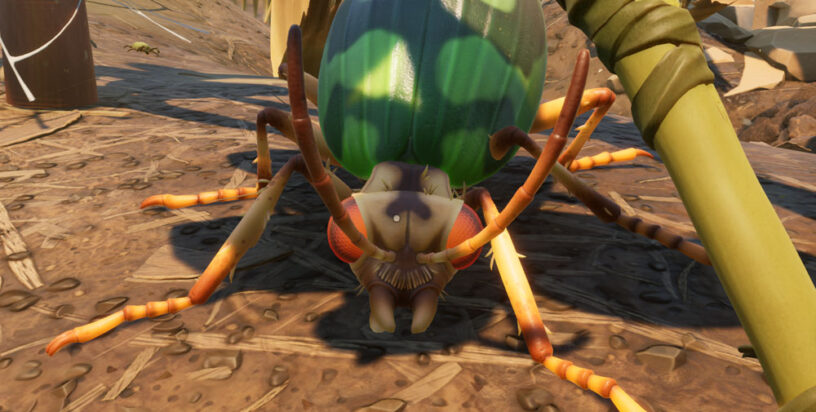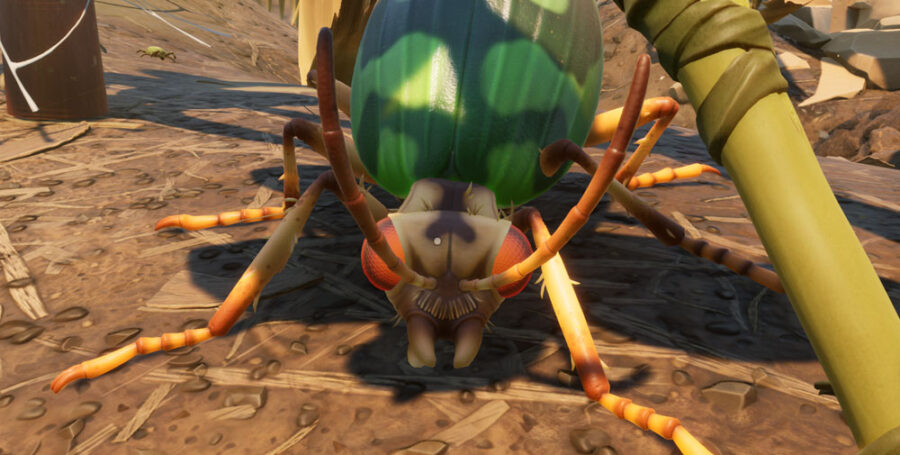 You can find these in different places, but one reliable spot I found is near the big rake which is south of where your starting spawn and the baseball are.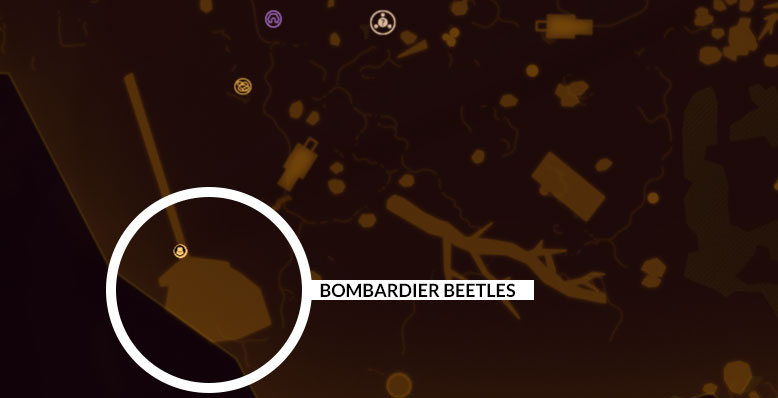 Another bonus of this area is that I have found that Spiderlings can also spawn in this location. You will see a bunch of cobwebs around the dry grass, but there's no big spiders that spawn here. So, you should eventually run into the baby spiders that are easily killed and do drop Spider Silk! The easiest way, however, is to locate the cave that is at the bottom of the huge boulder that is holding up the rake. You will find Spider Webs in there that you can hit with a weapon or whatever and you will get Spider Silk from it! Just don't get too close or you'll get stuck, and who knows what will come out of hiding!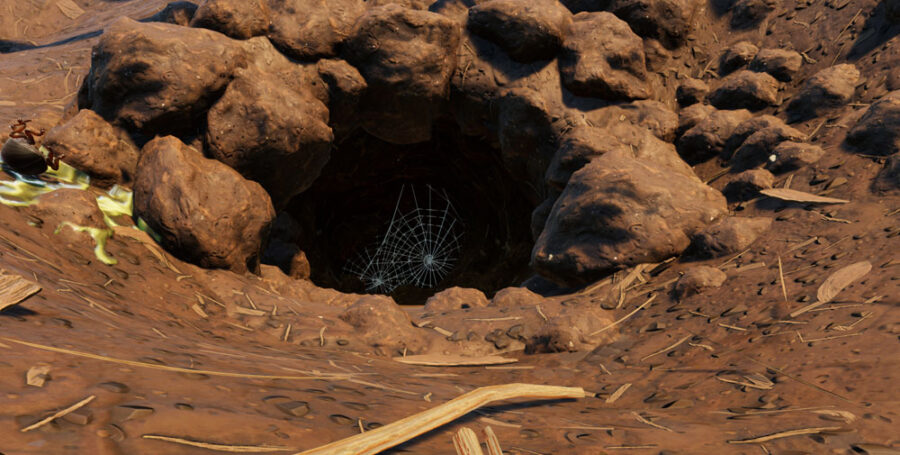 This area does have quite a few dangerous bugs around it, so be careful and try to stay out of their way!
How to upgrade your hammer
The Insect Hammer is the upgraded level 2 version of the Pebblet Hammer. It requires 4 Stinkbug Parts, 4 Berry Leather, and 1 Boiling Gland. The hammer can be used to break the mint that is in the Ice Caps Mint Container that is a landmark near the first science lab on the map. You can actually use the mint chunks you get from that to create the Mint Mallet which is the level three hammer!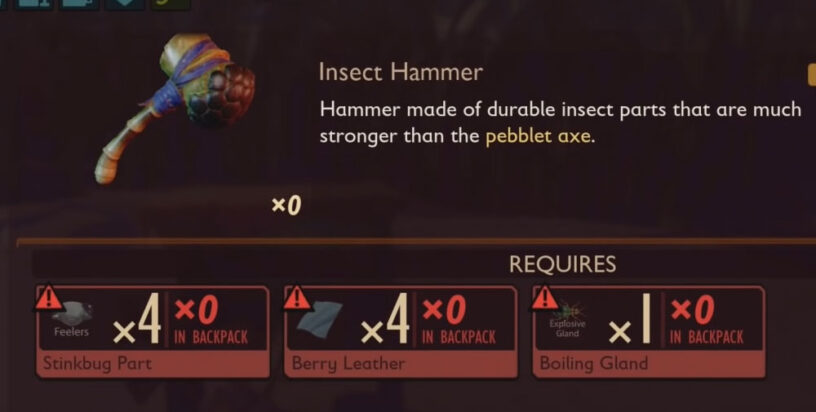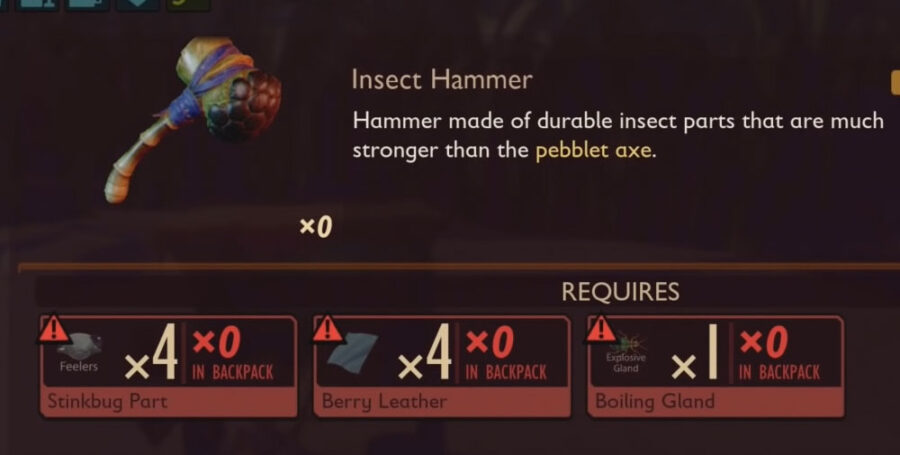 Stinkbug Parts can be found by slaying Stinkbugs. They can be difficult to kill because they spew out a stink like poison that will damage you. Stinkbugs can also be found near the big rake which is where you can find a lot of other bugs you need for these weapons.
Berry Leather can be harvested from berries. These can only be found at the very southeastern part of the map. This is near the house and if you follow that to the east (left if you're facing it) you will come across a big tree. You will see big blue berries hanging from the branches. You can find some on the ground as well, but if you have a bow you can just shoot them down. Take out your axe and chop one up. You will get a Berry Chunk from it, which you can turn into Berry Leather after you research it!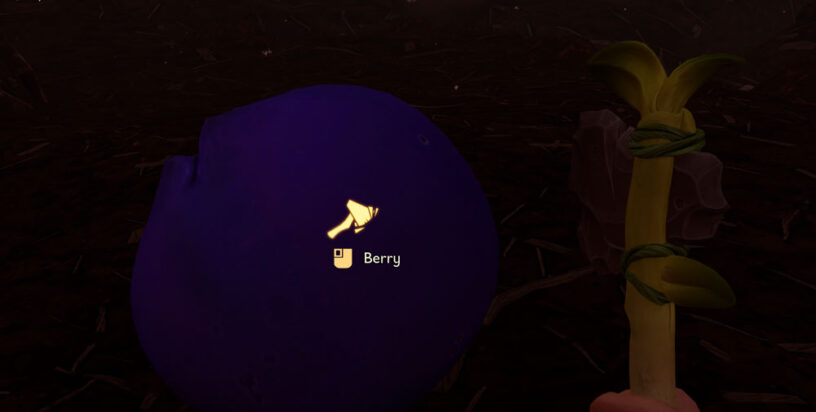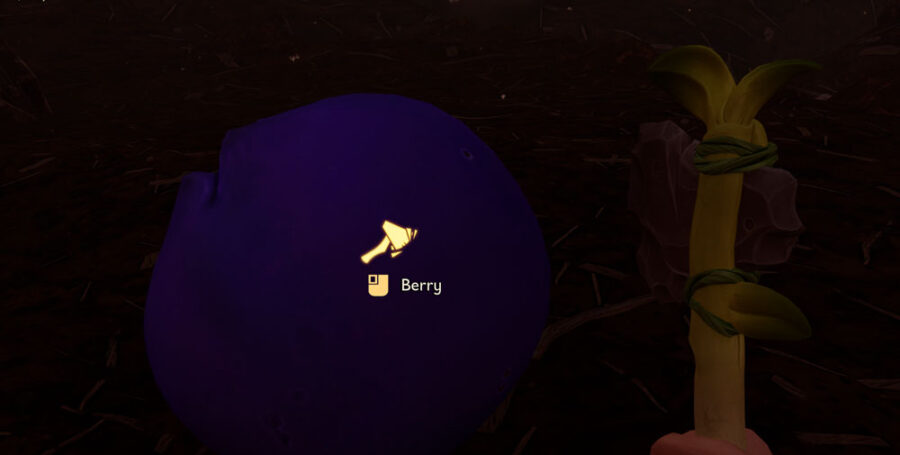 The Boiling Gland drops off of the same Bombardier Beetles you need to kill to complete the upgraded axe. So, just slay them if you didn't get it when you were going after that upgrade.
That's it for the two main tools you'll need in the game! You can upgrade to the third tier of the hammer with this guide, but there's currently no third tier for the axe. Also, be sure to check out the Grounded section of our site for more posts on the game.