Guardians of Cloudia is a massively multiplayer online game with action role-playing elements. It's a mobile game (Android and iOS), but with a few tweaks, you can play it on a PC as well. As in any RPG, you can choose the class of your hero that best suits your style. GoC has everything you'd expect from an action-adventure, from PvE and PvP battles to quests, raising pets, and even getting married!
In this game, you'll have your share of grind, but luckily, there are Guardians of Cloudia Codes to help you out. Most of the rewards consist of Sacred Windbells (for summoning pets), Silverleaves, and Goldleaves (in-game currencies).
If you're into RPGs, check out other great games such as Roblox Demon Slayer RPG 2 Codes, Roblox Naruto RPG Beyond Codes, Guardian Tales Codes, and Punishing Gray Raven Codes. And if you are in search of a new adventure, some of the best Free-to-Play RPG Games can be found on Steam.
All Guardians of Cloudia Codes List
Updated April 4, 2023

Added new codes
Guardians of Cloudia Codes
Here you can find all the working Guardians of Cloudia codes.
YSMAR23CH—Redeem for free rewards (New)
Guardians of Cloudia Codes (Expired)
These Guardians of Cloudia codes no longer work.
H2023GOCSF
HNY23CD1
HNYCD2
22XMASGOC
SAILOR
GOC888
GOC999

GOCM2022M—Redeem for exclusive rewards
GOC777—Redeem for Sacred Windbell x10, 100,000 Goldleaf and 100,000 Silverleaf
GOC888—Redeem for exclusive rewards such as 10 Azure crystals, 100k Silverleaf and 100k Goldleaf
GROWUP22—Redeem for Sacred Windbell x5, Diamond x200, and Outfit Voucher x5
MAKEAWISH—Redeem for Sacred Windbell x10 and Theme Title Christmas Blessing
GOC999—Redeem for exclusive rewards such as Treasure map, 100k Silverleaf and 100k Goldleaf
WORLDGOC—Redeem for exclusive rewards
PUMPKIN21—Redeem for Outfit Voucher x5, Windbell x5, Goldleaf x100k, and Silverleaf x100k
RUNRUNRUN—Redeem for Chicken Support Ticket x5, Windbell x5, Goldleaf x100k, and Silverleaf x100
STRENGTH—Redeem for exclusive rewards
SAILOR—Redeem for Treasure Map x5, Windbell x2, Goldleaf x200k and Silverleaf x200k
ACCOMPANY—Redeem for exclusive rewards

RUNEPOW—Redeem for exclusive rewards
FASHION—Redeem for exclusive rewards
CAMPFIRE—Redeem for exclusive rewards
GONGXINI—Redeem for exclusive rewards
COMPASS22—Redeem for exclusive rewards
GOCFMD—Redeem for Sacred Windbell x3, Goldleaf x180k and Silverleaf x180k
GOCHOT22—Redeem for exclusive rewards
GOCFIX—Redeem for exclusive rewards
VLTEDLOVE—Redeem for A Bouquet of Roses x5, Diamond x100, Outfit Voucher x2, and Goldleaf x88888
VIP666—Redeem for exclusive rewards
GCNGOC201—Redeem for Sacred Windbell x1, Bound Diamond x100, Goldleaf x88888, Pet EXP x88888, and Mystery Chest x2
How to Redeem Guardians of Cloudia Codes
It's not that hard to claim rewards in Guardians of Cloudia. You can activate codes in a few simple steps.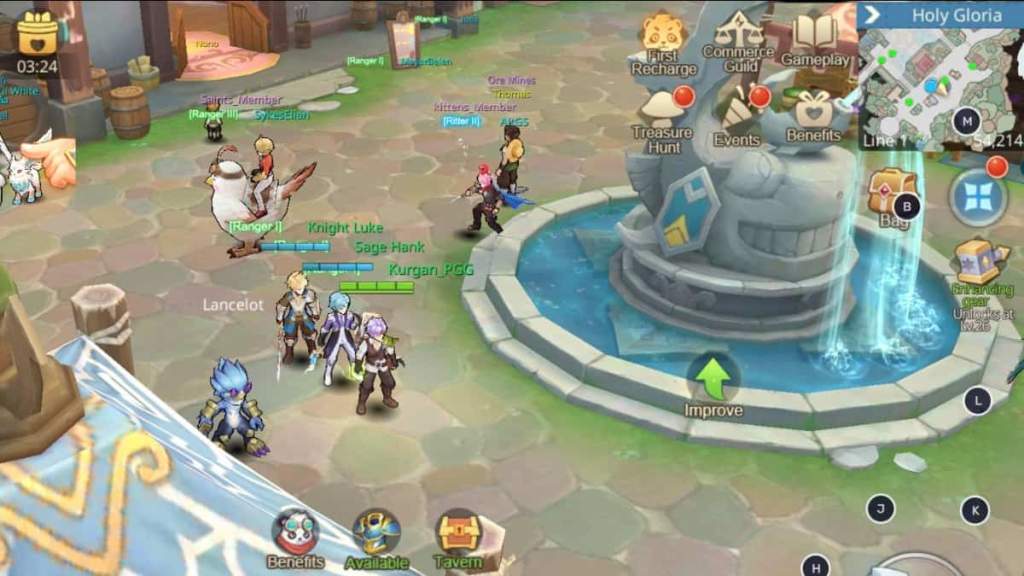 When logged into the game, press the Benefits button in the upper right corner (near the map screen).
Click on the 'Redeem Codes' option (third option in the left sidebar)
In the 'Tap to enter a redeem code' box, enter the code exactly as it appears in the list above.
Press the Exchange' button to submit the code and claim your rewards!
How can you get more Guardians of Cloudia codes?
The best place to keep track of GoC codes is this page, so be sure to bookmark it for future visits. You can also follow the official Facebook Guardians of Cloudia page, Twitter, or Discord.
Why aren't my Guardians of Cloudia codes working?
To redeem codes, you need to complete the tutorial and reach level 25 with your character. Don't worry, you'll reach that quickly. If some codes don't work, check if you entered them correctly. To avoid typos, just copy and paste the codes (if you're playing on a PC). If the codes still don't work, they may have expired. So claim your rewards as soon as possible!
What is Guardians of Cloudia?
Guardians of Cloudia is an MMORPG by Neocraft created for mobile devices (although you can easily play it on a PC). In GoC, you can choose between classes:
Oracle—support character
Archer—range character
Mage—last cannon character
Rogue—range character
Swordsman—tank character
Besides fighting, the main focus of the game is on pet development, as they can be fierce fighters and support characters. So get ready for an open-world adventure with rich storytelling and world-building by using Guardians of Cloudia codes.
If you're looking for codes for other games, we have many of them in our Game Codes post! You can also get a bunch of free stuff via our Roblox Promo Codes page.