There are no formal stats in Mario + Rabbids Sparks of Hope, despite it being an RPG. What we get are Skill Prisms to allocate on the Skill Tree post battles. It can be tough to choose the best upgrades to make when resources are so limited—but we're to help!
How does the Skill Tree work Mario + Rabbids Sparks of Hope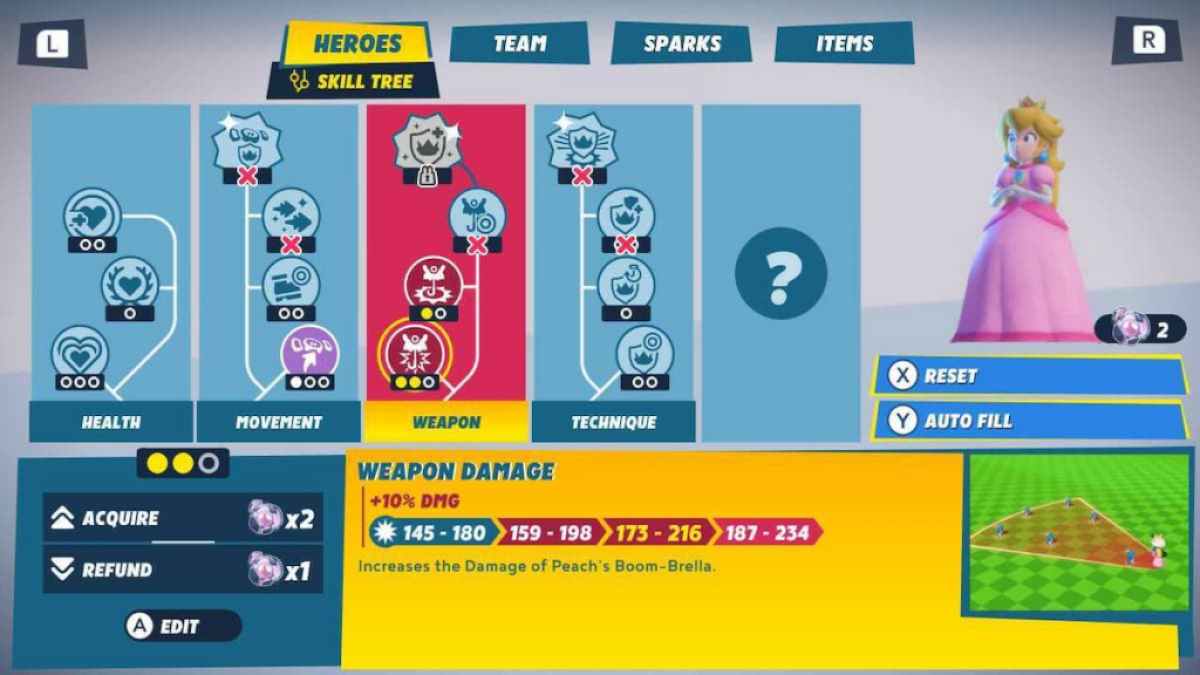 For every character, the Skill Tree will always have four main "branches" available for an upgrade:
Health
Movement
Weapon (ZL)
Technique (ZR)
All these branches have four upgrade options. Some of them are unlockable from the get-go while others need another upgrade option unlocked for access. Each option can also be upgraded two to three times.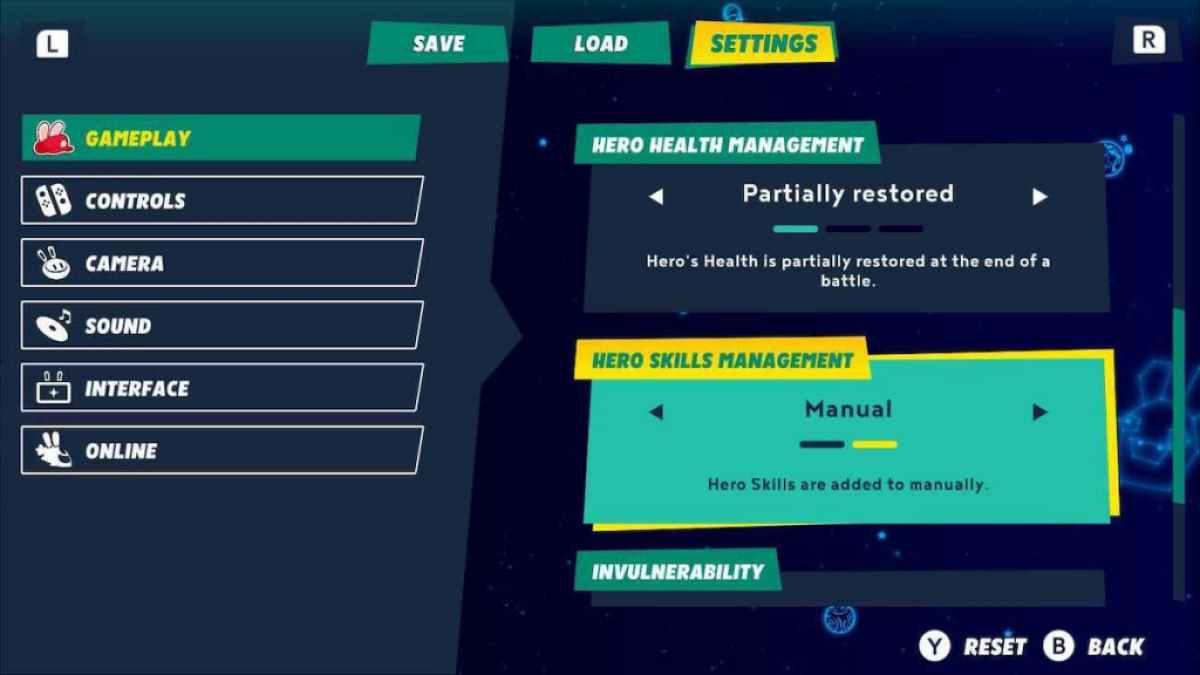 Important Tip: Set your Gameplay Settings to Custom. Toggle Hero Skills Management to Manual if it isn't on that option yet. This will prevent your Skill Prisms from being consumed automatically.
What skills should I prioritize for each character?
Not every character needs Skill Prisms on certain branches, while some are better off with their points on everything. Now, if all this resource management seems intimidating to you, here's a list of upgrades you should have first. Note that we've listed the upgrades in order of priority.
Mario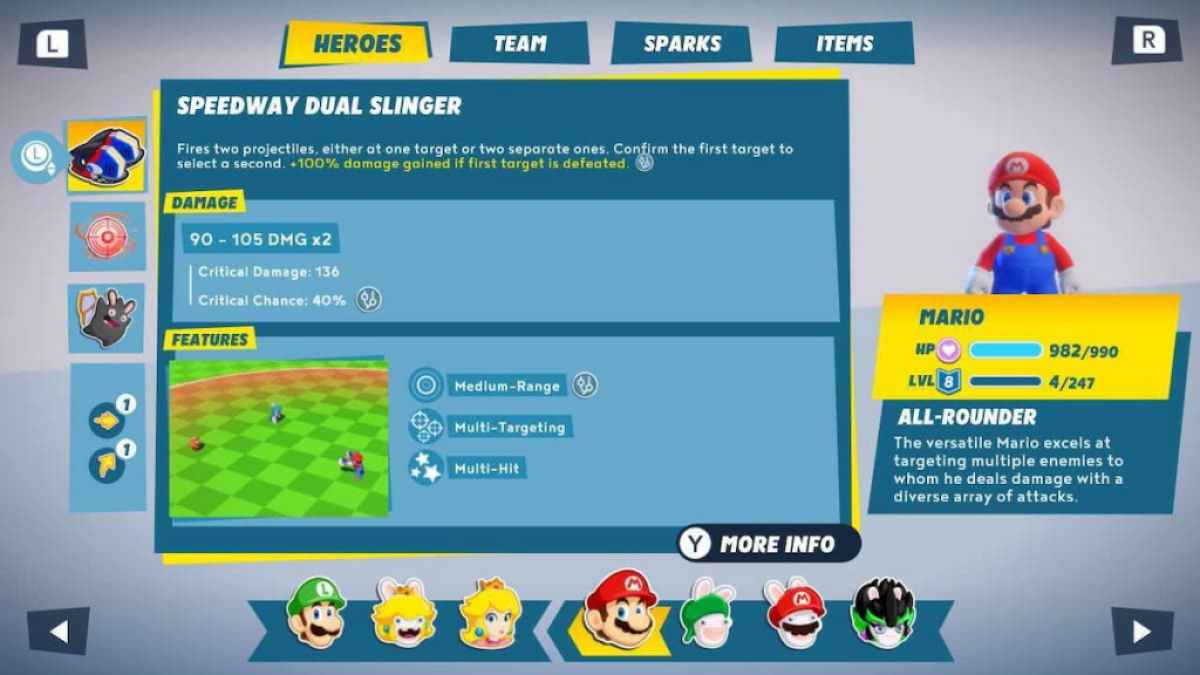 Weapon
Second Helping
Critical Hit Chance
Technique
Hero Sight Damage
Additional Hero Sight Charge
Sight Again
Mario is defined by the game as an "all-rounder," which is true. He has power, and he has range. But, in your first new levels, it's better for you to build Mario's power first since Luigi is there to cover range. Plus, Mario attacks twice, so he's much more potent with more power and a higher crit rate. Focus on Weapon before Technique.
Related: Do you have to use Mario in your party in Mario + Rabbids Sparks of Hope?
Luigi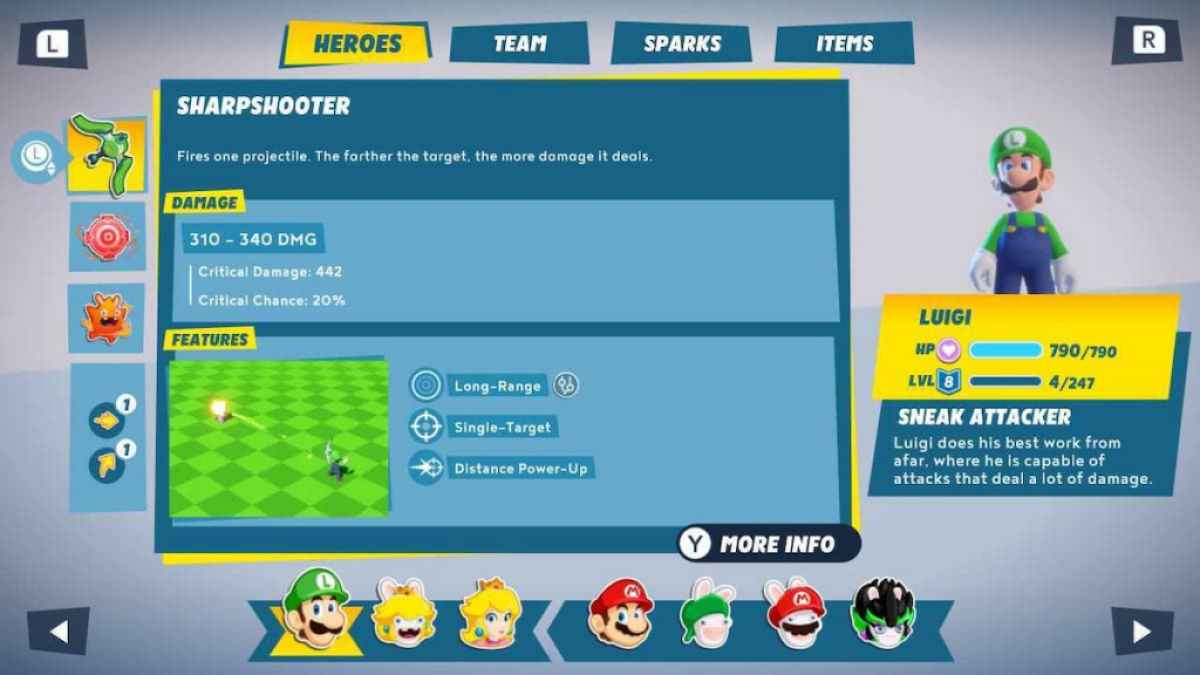 Weapon
Technique
Ghost Bullet
Steely Stare Damage
Steely Stare Cooldown
Movement
Luigi's attacks hit harder the farther he is from his opponents. Focus on his range before any of the other upgrades. He turns into a sniper with enough upgrades on Steely Stare.
Max out his Movement Range so he can get out of dangerous situations, such as portals opening behind him. Extra movement also allows him to move anywhere, which, in turn, lets him hit pretty much anything.
Peach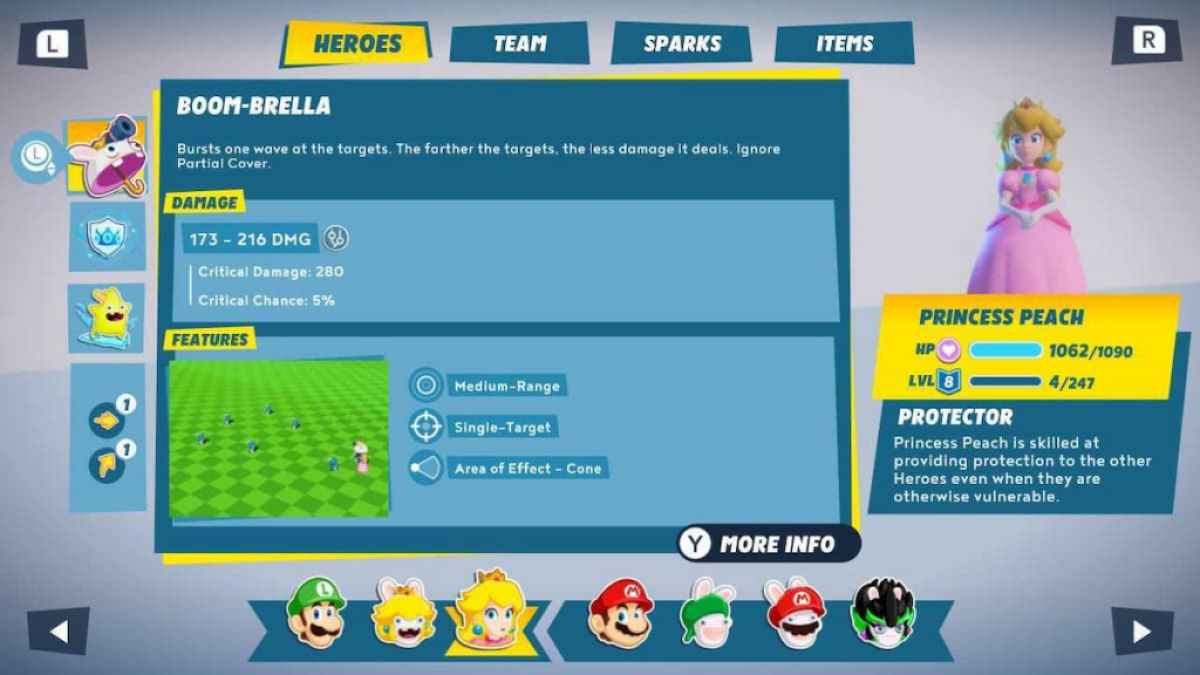 Weapon
Weapon Damage
Damage Dropoff
Wider Shot
Fighting Spirit (for the extra Barrier charge)
Peach is like a nuke, so pour all those Skill Prisms into her Weapon. Give it damage and range. The way we like to use Peach is to get her to Glide to the enemy's side and destroy everything with her bazooka.
Since she'll be on the frontlines, you can put some Skill Prisms into Health—but we highly recommend just letting her cast Team Barrier before she charges in. It grants invincibility against one attack. With Fighting Spirit on, it can charge as early as the next turn if you defeat enough enemies.
Rabbid Mario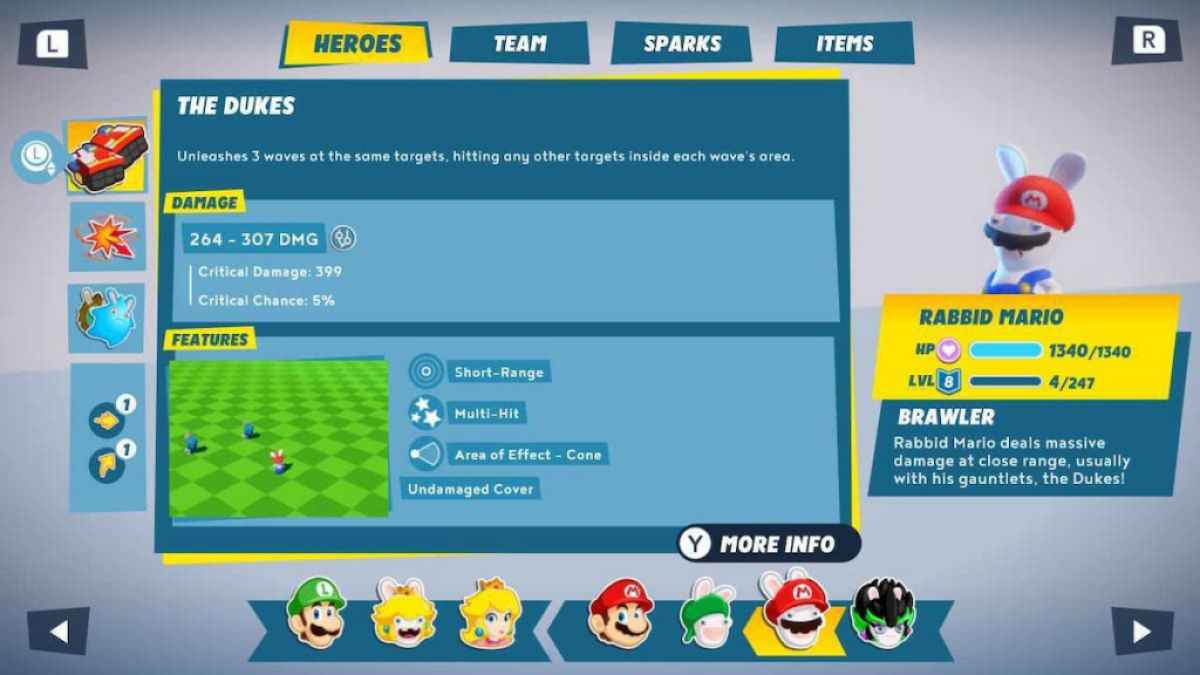 Movement
Extra Dash
Area Dash
Movement Range (two upgrades is enough)
Weapon
Rabbid Mario brawls, so build him like a melee fighter. Let him move; give his weapon some punch. Since he'll be fighting close range, he'll also very likely dash often, so upgrade skills related to those as well. If you have extra Skill Prisms, you can place them on Health to keep him alive.
Rabbid Luigi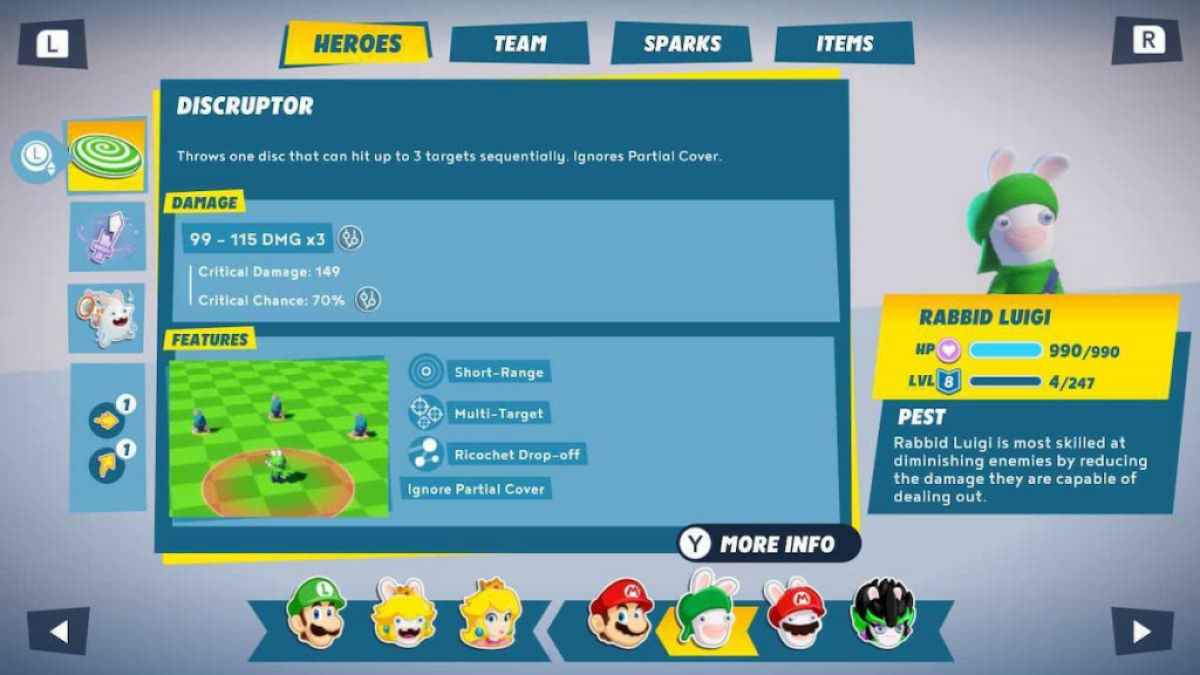 Weapon
Critical Hit Chance
Weapon Damage
Discruptor Ricochet Distance
Movement
It's rare to come across a map where enemies don't die in one to two shots, so Rabbid Luigi's Technique should be left alone for the most part. Instead, increase the damage and range of his frisbee deals. Upgrading his Movement allows you to better position him to make his throws as well.
Related: How do Sparks work in Mario + Rabbids Sparks of Hope
Rabbid Peach
Technique
Mega Heal (max it out)
Heal Cooldown
Emergency Heal
Weapon
As your team's only healer, you're going to be relying on Rabbid Peach a lot. Increase the potency and frequency of her heals. Of course, turns don't end with heals, so increase the range of her Weapon so she can still deal damage to enemies no matter where they are hiding.
Edge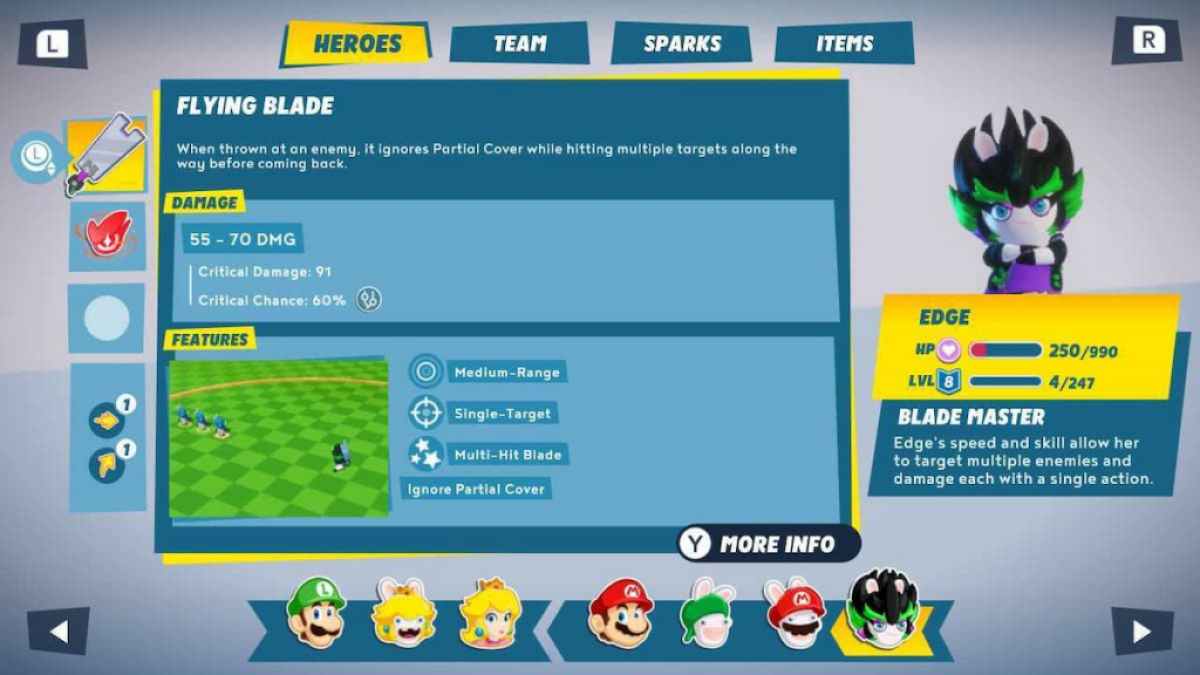 Weapon
Critical Hit Chance
Blade Halo Increase
Chain Boost
Weapon Range
While Stormblade (her Technique) is pretty good, you'll likely be adding Edge to your team because of her Flying Blade attack. You can think of her as Peach with double the power but with only a vertical range. Place all Skill Prisms into her weapon.
Rabbid Rosalina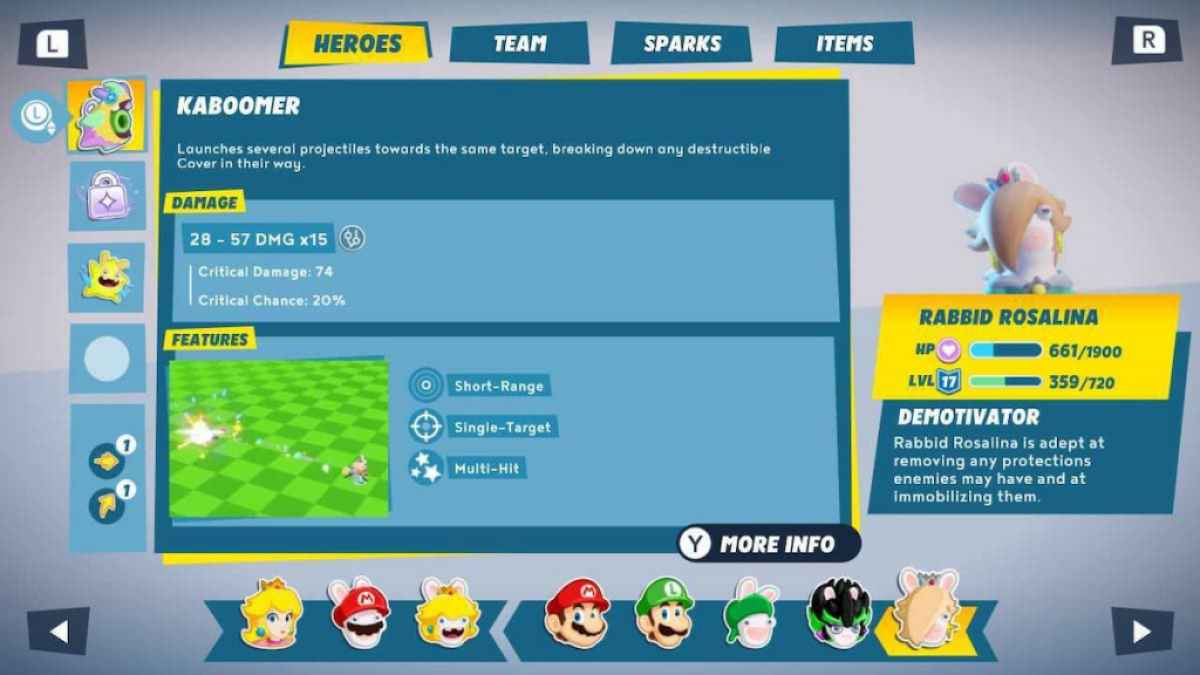 Technique
Ennui Cooldown
Ennui Range
Ennui Duration
Rabbid Rosalina is an invaluable party member that can stop enemies from advancing. Ennui's first three upgrades must be unlocked from the get-go. Then, you can start putting Skill Prisms into her weapon. If you have any extras, you can also place them into Movement Range for the added mobility.
Can you reset skills on the Skill Tree?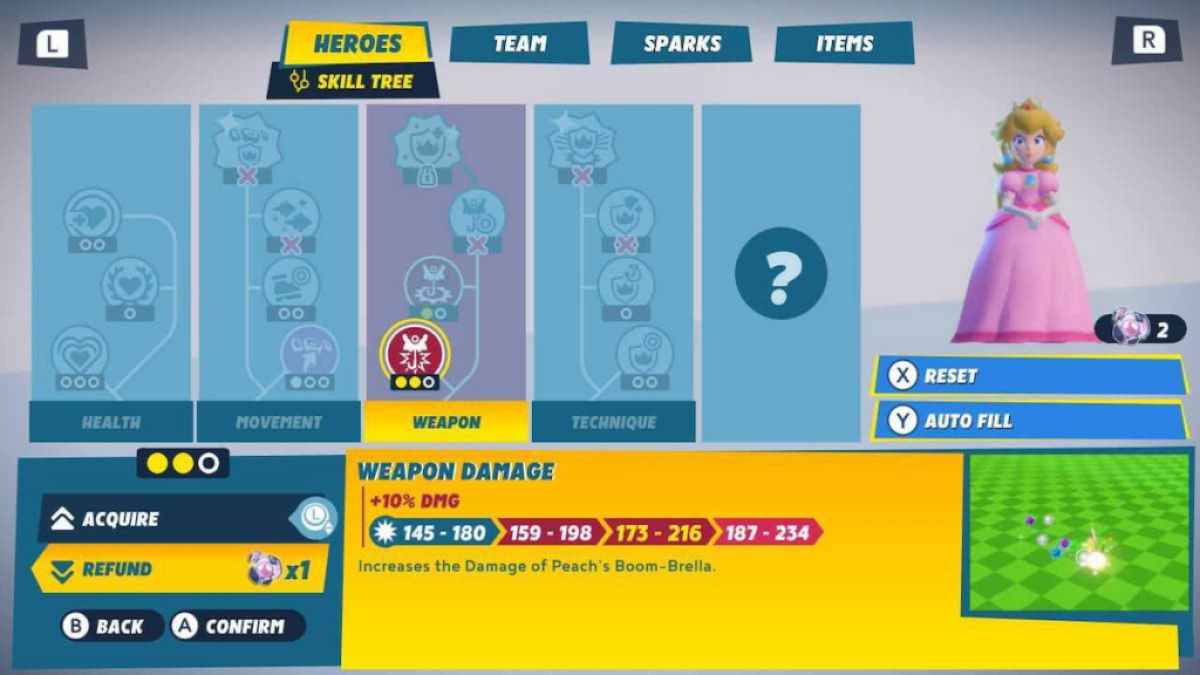 The short answer is yes—you can reset Skill Prism allocation. It's free, too. Press X while you're on the Skill Tree menu to reset everything. However, you can also Refund Skill Prisms while your cursor is over a certain upgrade. Just select that option.
For more help with Mario + Rabbids Sparks of Hope and other role-playing games, take a look at some of our other posts here at Pro Game Guides.