GTA Online is about working your way to the top and getting the swankiest of penthouses and HQs to plan your heists from. If you are lucky enough to have some dollars in the bank you can purchase multiple houses and apartments within the game, so how exactly do you do this?
The way to purchase properties within the game is to access one of the estate agency websites where you can purchase different types of buildings, for example:
Maze Bank Foreclosures is for Arcades, Bunkers, Clubhouses, Facilities, Hangars and Nightclubs
Dynasty 8 Real Estate is for Apartments, Houses and Garages
Dynasty 8 Executive is for Offices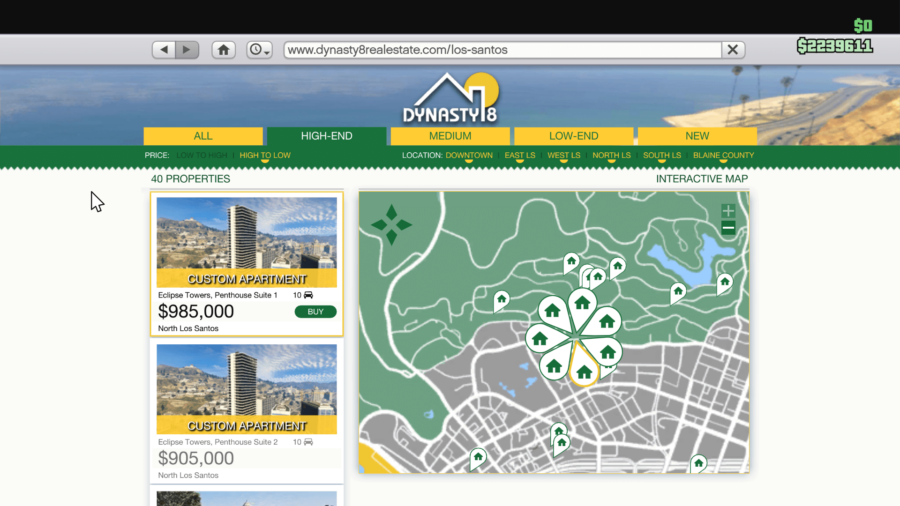 Related: Best Bunker Locations in GTA Online
To purchase/exchange a property simply:
Go on your phone/laptop in your current apartment
Go to the Money and Services tab
Go to the either the Dynasty 8 Real Estate or Maze Bank Foreclosures websites
Click on the property you wish to purchase
Confirm the purchase and then any remaining balance left over will be transferred to your player bank account.
And with that you can start buying properties to expand your GTA Online empire, as well as places to plan your upcoming heists so you can purchase even more apartments!
Looking for some more help? Why not check out how to sell properties in GTA Online?