Pokémon GO Fest 2022 is quickly approaching and is set to be one of the biggest events of the year for Pokémon GO players. This event will span two days and give players the chance to catch plenty of rare and shiny Pokémon. Shiny hunters will be happy to hear that some Pokémon are even debuting their shiny form for the first time during this event.
What Pokémon can come from Incense during Pokémon GO Fest 2022?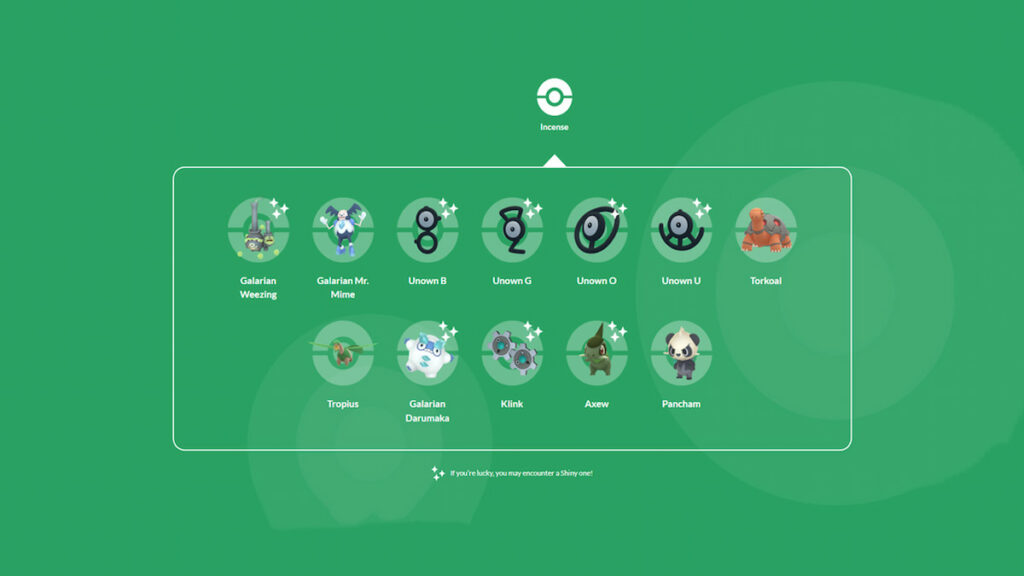 There is a long list of Pokémon that have an increased chance of spawning when using an Incense during Pokémon GO Fest 2022. It is important to note that the Incense spawns and increased shiny chance is a feature that is tied exclusively to Ticket-holders. Players who have opted to play the event for free will not be able to take part in the Incense spawns listed below.
*Pokémon marked with an asterisk have the chance to be shiny upon encounter.
Galarian Weezing*
Galarian Mr. Mime*
Unown B*
Unown G*
Unown O*
Unown U*
Torkoal
Tropius
Galarian Darumaka*
Klink*
Axew*
Pancham
Should you buy a ticket to Pokémon GO Fest 2022?
There are many features of Pokémon GO Fest 2022 that are exclusive to Ticket-holders. Whether players should purchase a ticket or not will come down to their motivations in GO Fest 2022. If players are happy collecting Pokémon, potentially getting lucky with a shiny, then they can enjoy the event entirely free. Players who want increased chances for shiny Pokémon and extra Raid Passes to catch some Raid bosses over the two days may be more interested in purchasing a Ticket.
Interested in Pokémon GO Fest 2022 and want to read more? Check out All available Shiny Pokémon in Pokémon GO Fest 2022 on Pro Game Guides!