Activision-Blizzard is introducing The Village with Hearthstone Mercenaries. This serves as a central hub for players to accept Bounties, manage their Minions, and so on. This is also the base of operations for PvE and PvP battles.
The Tavern in Hearthstone Mercenaries
The image below provides an overview of the Tavern. It's about what most people would expect—very reminiscent of the simplistic nature of Hearthstone.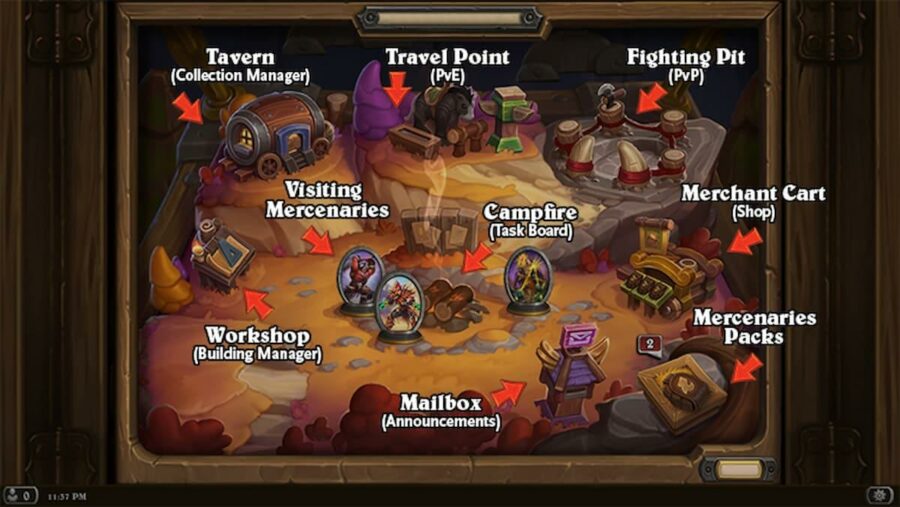 To access a particular area, players can click on the picture in this menu within the game. By clicking on the Workshop, for example, they will be able to access the Workshop area. It's a lot like the regular Hearthstone menu, except players don't go from one menu to the next. In Hearthstone Mercenaries, the player can access all menus from this central hub.
The areas were expanded on in this blog post by Activision-Blizzard. However, this table has all of the information presented on site:
| | | |
| --- | --- | --- |
| | Workshop | Players can build and upgrade all of the other locations in the Village here. By upgrading locations, they get a new look and become more functional. Upgrades to your Village are persistent, so you can watch it grow and thrive over time. |
| | Tavern | Here is where players can manage their collection of Mercenaries and form parties. Players can craft, customize, and upgrade their mercenaries' Abilities and Equipment. |
| | Travel Point | This gives access to Bounties across Azeroth for Mercenaries PVE gameplay. The player can pick the Bounty from a list within a Zone. Within each zone, Bounties unlock sequentially, along with suggested levels and predetermined Bounty Bosses, so players will be aware of any dangers. |
| | Fighting Pit | Here, player teams are matched against Mercenary teams with similar strength. The Fighting Pit has very different gameplay than Bounties because you cannot see what moves your opponents are using. Get rewards, complete achievements, and even try to climb the leaderboard! |
| | Merchant Cart | Players can find the Hearthstone Mercenaries in-game shop here. Mercenaries Packs, Mercenaries Coins, and any seasonal or personal offers round out available content. |
| | Mailbox | Mercenaries mode announcements will be sent to players via the Mailbox in Hearthstone. This is where players can check what kinds of events and offers are available! |
| | Campfire | The Task Board is located at the Campfire. The Task Board is similar to the Quest Log or Achievements tab in the Journal. There will be a task to complete each day by the Campfire, given by Mercenaries. These tasks can be rewarded with Mercenary Coins, Mercenaries Packs, or Equipment for a specific Mercenary. |
Information from Activision-Blizzard's Blog Post
For more guides on Hearthstone, check out the Hearthstone page on Pro Game Guides!