Legendaries in Hearthstone are not all created equal, and many players prefer to leave out some cards from their decks. With every expansion, there have been many new cards to the added to the game. Here, we are selecting the worst ones. If you choose one of these cards, we would say your strategy is either complicated or perhaps less than ideal.
10 - Whizbang the Wonderful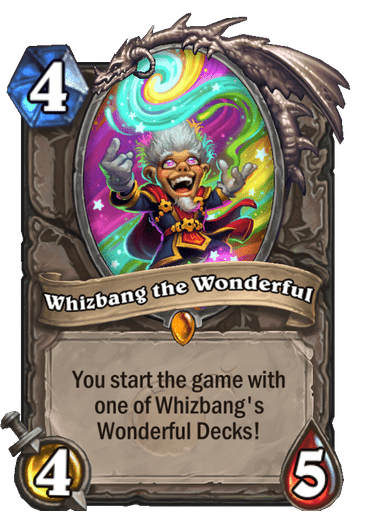 Despite Whizbang's potential, it is usually a terrible addition to any deck. It is important to carefully pick each card you have to play for a specific strategy. Whizbang the Wonderful lets you play using one of his decks instead of your own.
Your preconceived tactics and strategies are canceled out by the randomness of the deck you get from his card. It is one of the worst cards to have if you want to be a great player or rise to the top.
9 - Emeriss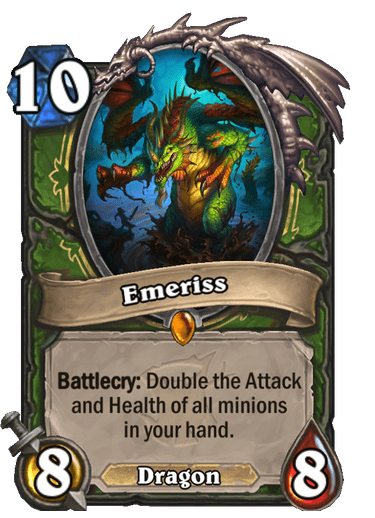 By all rights, Emeriss should be the best card in any game, but the biggest flaw is that it is in the wrong category. Emeriss is a Hunter card, which is fine, but its Mana cost is 10. In a hunter deck, you're not trying to get to a round that gives you 10 Mana, and you're also not trying to use all 10 on one card.
The card would have been the top card in a mage, druid, or priest deck, but in a Hunter deck, it's all bad.
8 - Raid the Sky Temple
Quest cards can lead to an easy victory, but they can also prevent you from casting powerful spells. As a reward for completing this Quest, you will receive an Ascendant Scroll, which adds a random Mage spell to your hand. It's really baffling how unreliable that is, especially since you have to trade Fireblast, which is arguably one of the best spells in the game.
You aren't going to win by trading Fireblast to begin with, but trading it for a Quest with low value and high conditions to complete is a waste.
7 - Acidmaw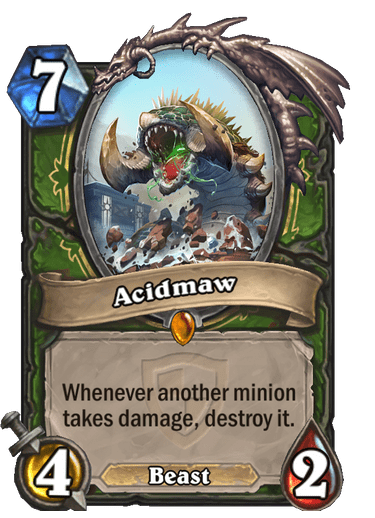 Hunter continues to receive cards that don't fit the deck for some reason. In most other decks, Acidmaw would rock, but not Hunter, which needs real wins and real advantages. Acidmaw is a strategic card that isn't as powerful as Hunter's Mark.
Acidmaw's greatest drawback is that, while it kills minions, every enemy on the board will be after it. Considering that it only has two health, it will be put on the board in one turn and immediately killed by the enemy. This is a massive waste of Mana.
6 - Sergeant Sally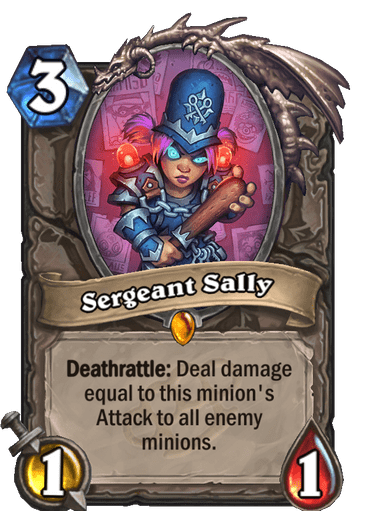 Sergeant Sally is one of those cards that could be amazing, but it needs more work. Sally's deal is that she can attack all enemy minions at once, which is great until you realize she only has one attack point. Yes, you can raise her attack and hopefully use her, but she starts with one health point and is guaranteed to be targeted. Therefore, the enemy can destroy Sergeant Sally even by sacrificing the weakest of their minions.
There is too much risk associated with Sally for her to remain on the board. She's not worth the effort.
Related: Tips For Starting or Returning to Hearthstone in 2022
5 - The Boogeymonster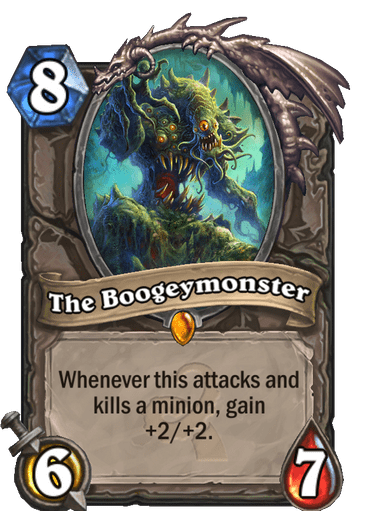 The card is easy to confuse for good use, but you'll see why once you use it in battle. First, it costs eight Mana, so it's a late-game minion. Second, its health and attack only increase after it kills another minion. The attack is only at six, so it will usually need two shots to kill a minion. This potentially leaves it very hurt as it will take a lot of damage with each hit while only adding on two. When the enemy sees it grow to a respectable eight attack but low health, they will kill it quickly.
In the end, the trade-off for a great card doesn't actually occur. If it had a lower Mana cost, we might recommend it, but the cost isn't worth it.
4 - The Skeleton Knight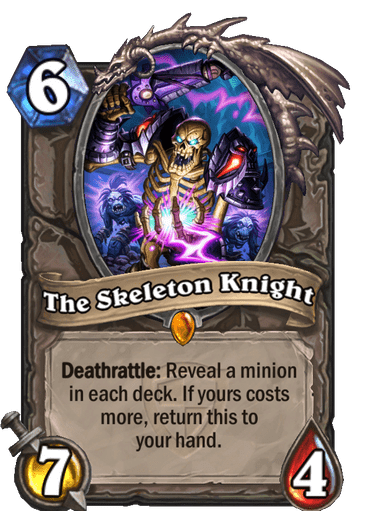 Rather than defeating your enemies, the Skeleton Knight will actually waste your Mana. Let's say that you cast this card and spent six Mana. If your opponent reveals a card with a lower Mana cost than yours, then this one goes back. That's a case where you lost six Mana, so this card is already flawed. Assuming you win and can cast this card, you have a card that costs six Mana and only has four health. By the time you can cast this card, your opponent will already have something prepared to counter it. Six Mana isn't worth four health, and possibly losing six Mana is even worse.
3 - Flame Leviathan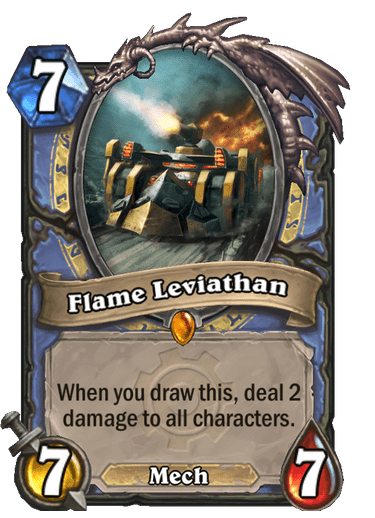 Do not be deceived by the effect; this card isn't harmful to all. The damage is randomized, so maybe it hits an enemy minion, or maybe it just hits you directly. As a Hearthstone player, the last thing that you want is a random event. The game is about thinking things through, so if you've just spent seven Mana and then lost two health because of it, your morale will take a real blow.
You can use it If you're super desperate, but seven Mana is best used on other things, so do yourself a favor and remove it from your deck.
Related: How to share a deck code in the chat in Hearthstone
2 - Mogor the Ogre
The fact remains that cards with random effects aren't worth it. There's no doubt that this card will hit hard and has great health, and the Mana cost is great for the value, but it has a large downside. An enemy with a 50% chance to hit a friendly minion would be too powerful, so that same 50% chance is also thrown at you. This effect may ruin your opponent's game, but it's equally possible that it will also cost you the game.
1 - Mayor Noggenfogger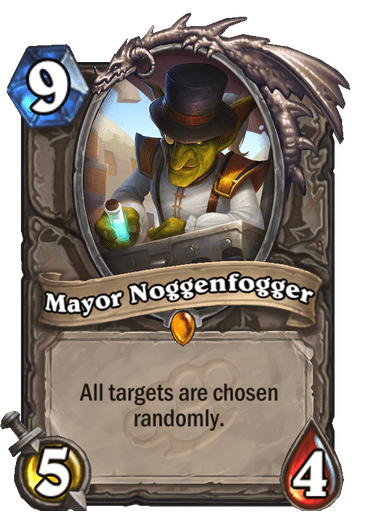 We believe that this is the worst Legendary because it takes the previous entry and guarantees randomness. What you hit and how you hit it are completely random, even spells. Mayor Noggenfogger can't be defeated either unless he attacks someone he shouldn't, so you and your enemy must hope this ends quickly.
Let's face it, this is an end-game card for someone who is guaranteed to lose and wants to take the fun out of their opponent's game. At nine Mana, whoever drew this knew that they could only win by pure luck.
For more on Hearthstone, check out Tips for starting or returning to Hearthstone Mercenaries or Hearthstone Best Druid Decks – Standard & Wild! here on Pro Game Guides!