In Hogwarts Legacy, you start your journey by exploring the central and northern provinces of the map including Hogwarts Castle, Hogsmeade, and Forbidden Forest. Although the game's main storyline will eventually lead you to the southern region, we'll let you know how to get there if you simply can't wait.
How to access the south of the World Map in Hogwarts Legacy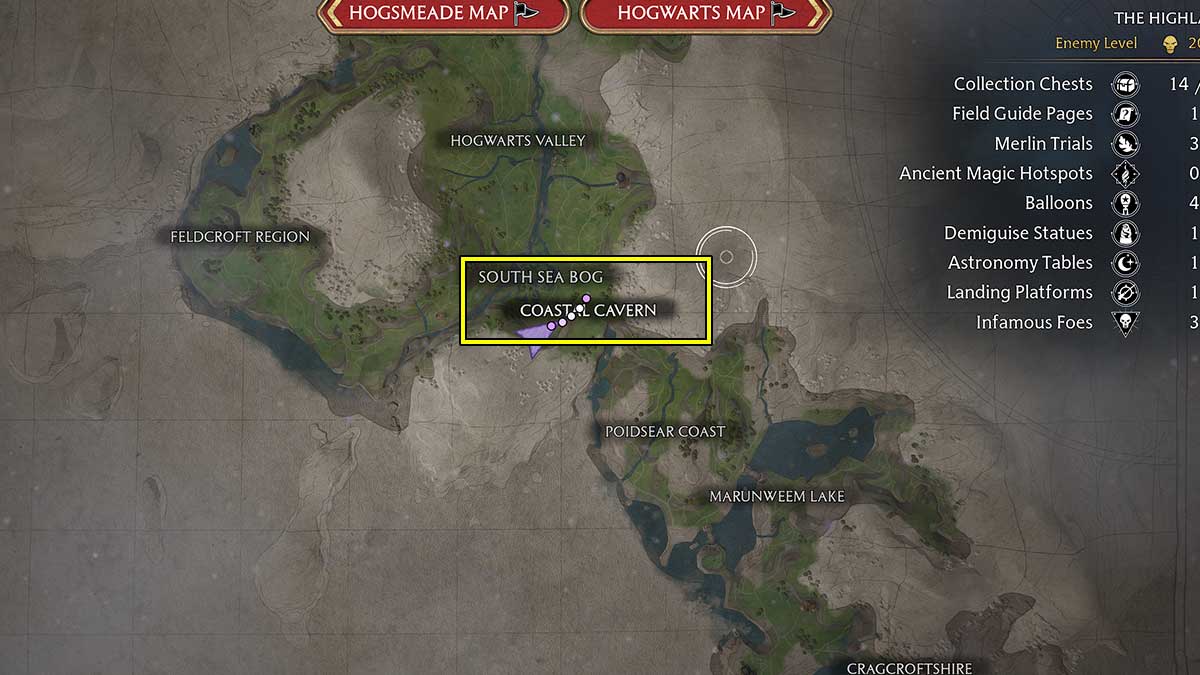 Start off by visiting the South Sea Bog and Coastal Cavern regions (first image) that connect Hogwarts Valley to the southern part of the world map. At the said location, open your map and add a waypoint to the East South Sea Bog flood flame (second image). This path will guide you to the goblin tunnel connecting the two parts of the map (third image). Enter the tunnel from the location marked in the picture and make your way to the other side by the waterfall.
Related: When does the Vivarium & Room of Requirement unlock in Hogwarts Legacy?
Ranrok's Loyalists heavily guard the tunnel, hence be prepared to fight or flee. Also, note that having a broom is extremely crucial if you're planning to go that far. You cannot just walk to the edge of the map without getting bored to death. Furthermore, we recommend you visit as many flood flames as you can. This will allow you to fast travel whenever you want during your main and side quests.
Stay tuned to Pro Game Guides for more Hogwarts Legacy content. In the meantime, head over to our article on When is winter in Hogwarts Legacy?