Hogwarts Legacy does a great job of illustrating the mythical world of Harry Potter & Fantastic Beasts. The adventure RPG does not only feature a day and night cycle, but players also get to witness a change in seasons throughout the game's main storyline.
When does winter begin in Hogwarts Legacy?
Winter in Hogwarts Legacy begins once you complete the Charles Rockwood's Trial main quest. After you solve all the puzzles and defeat enemies during the second trial, you get to see a Pensieve memory and return back to the Map Chamber underneath Hogwarts Castle. After a brief conversation with the Professors, a cutscene will show the onset of winter, after which you'll also unlock the ability to breed beasts.
Pre-requisites for breeding beasts in Hogwarts Legacy
To be able to breed beasts in Hogwarts Legacy, you'll need to start by completing The Room of Requirement quest, assigned to you by Professor Weasly via her Owl Post. She will teach you some transfiguration spells and customization techniques to use inside the Room of Requirement.
Later on, Professor Weasly will advise you to visit her house-elf Deek who will assign you The Elf, the Nab-Sack, and the Loom quest. Completing this mission will create a Vivarium inside the Room of Requirement, inside which you can keep all your rescued animals.
For the next required quest, Foal of the Dead, Deek tasks you to rescue one female and one male Thestral and breed them inside the Vivarium. The Breeding Pen spellcraft can be purchased for 1000 coins from the Tomes and Scrolls (see image above) shop in Hogsmeade.
Related: Where to get Giant Toads and Toad Warts in Hogwarts Legacy
How to breed beasts in Hogwarts Legacy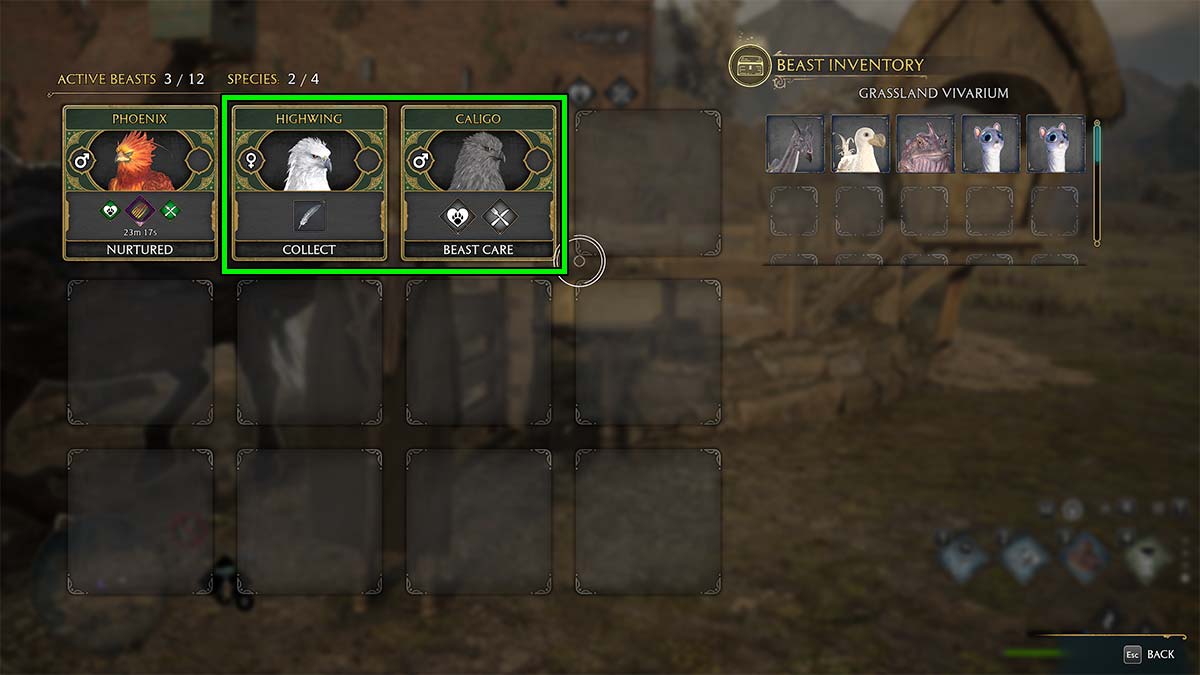 Now, you'll automatically learn how to breed a beast from the aforementioned quest from Deek, however, here's a quick rundown on all the necessary steps.
Capture a male and a female beast of the same species using the Nab-Sack utility spell.
Head back to the Room of Requirement and release the two beasts into the Vivarium of your choice. The control for managing beast inventory is H on the keyboard and RB/RT on the controller.
Use the Conjuring spell inside the Vivarium and construct a Breeding Pen for 15 Moonstones.
Interact with the Breeding Pen and select the species you want to breed inside it.
The offspring of the species you chose will be born after 30 minutes.
Stay tuned to Pro Game Guides for more Hogwarts Legacy content. In the meantime, head over to our article on Should you turn in Sebastian in Hogwarts Legacy?