Horizon Forbidden West starts soon after the events of Zero Dawn, and players will come across numerous characters who played a pivotal role in the previous game. Nasadi and Itamen are two of those characters, and they belong to the Carja royal family. She was captured at the end of Zero Dawn by Helis, but Aloy rescued her and Itamen from Sunfall.
Dowager Queen Nasadi, also known as Queen consort, is the widow of Carja Sun-King Jiren. She is the mother of Itamen, who is destined to take the throne after Sun-King Avad. Nasadi comes with Sun-King Avad to meet Aloy at the start of Horizon Forbidden West. This is where Aloy gets the Champion's Spear at the start of the game.
Related: Who should you choose first – 'Aether, Poseidon or Demeter' in Horizon Forbidden West?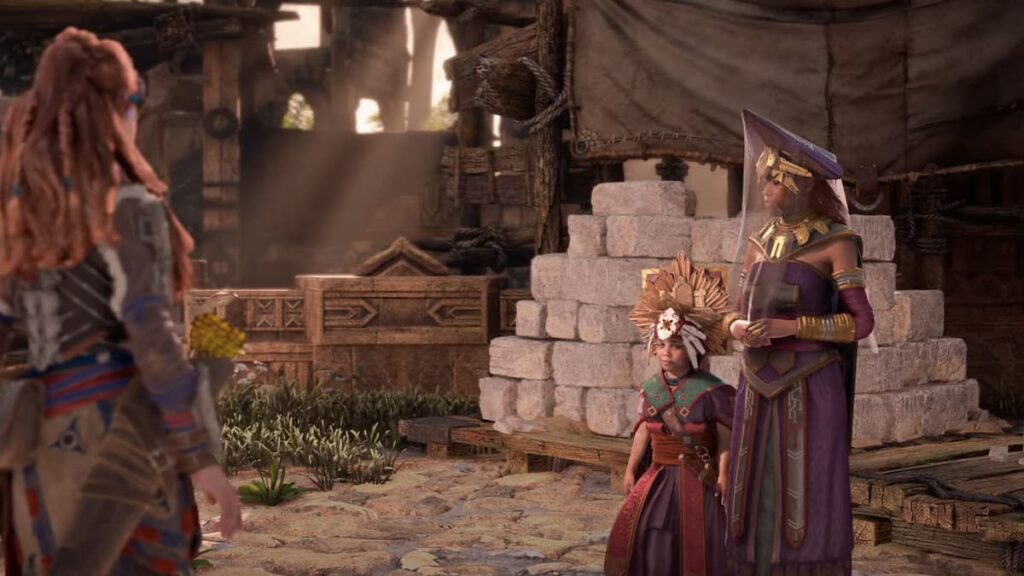 Although Aloy has limited interaction with Queen Nasadi and Itamen, she saves them from Helis. Sun-King Jiren ordered Helis to take his wife and youngest son to Sunfall when Avad led the crusade to liberate Meridian. Despite being foil characters Queen Nasadi and Itamen hold a special place for Aloy.
Vanasha, a Carja Spy Aloy meets during Zero Dawn, helped in saving Queen Nasadi and Itamen. She appears briefly at the start of Horizon Forbidden West with Uthid. After the events of Zero Dawn, Uthid went on to become Sun-King's Senior Military Advisor.
Wondering how to fix code not working issues in Forbidden West? Check out Horizon Forbidden West code not working – How to fix on Pro Game Guides.