Updated October 2, 2023

We checked for the latest codes today!
Appease your inner completionist with this game based on the classic arcade game Breakout by destroying bricks with clicks (or finger presses, if you're on mobile) and accumulating wealth to purchase balls that do your job for you. Or, when you get bored of the Idle Breakout, you can use Idle Breakout import codes that automatically grant you maximum money, upgrades, or balls.
As the name implies, Idle Breakout is an idle game. This means that most of the progress you'll make is during the times in which you don't interact with the game. But you need to start somewhere, and in this game, you must click your way through the first couple of levels to get enough money—unless you use the Idle Breakout cheat codes below! We also have the latest codes for similar idle games like Idle Heroes, Idle Heroes of Light, and Idle Champions.
All Codes for Idle Breakout - Cheat Codes List
Max all Ball Upgrades
There are six balls in the game, and it can get pricey to upgrade them. Use this code to have them upgraded so you can see which ones perform best!
MjQzNzcsNjQwNDkyMjg4NjQ4LjMzLDgzLDQzNzgsNDQsMjMxNzI2NCw0MDI0Mzc3NSwxOTg4NDQ5NiwwLDk0NjY0LDEwLDEsMSwwLDQ0MjA5LjY0LDMyLjk3LDAsMTY0NjUyNDQwOCwyNzczODUyMDg3MjUyNywyNzc5NDgwMjkyMjM1NTksNzQ4Nzg0MzMwNjM3Nyw3MTM4NTYwNjYwNDk4OCwyMDU0MTQyNzQzMTQyMSwyMzY3MzU2NzUzOTMwMDUsMjQ2NTAwOTMwNTczNTksMjcyMDM2OTY1NTUxMDE2LDE0NDY0Mjc2MjcxODYsMTY4MDUxOTk1MDA4NDYsMCw2MCw1NSw1NSw3MCwyMCwwLDAsMCwwLDAsNiw1NSw2LDY4LDgsNjgsNiw3OCw1LDEwMCwwLDk5LDEyOSwxMCw5LDEzLDQsMjEsMSwxLDEsMSwxLDEsMSwxLDEsMSwxLDEsMSwxLDEsMSwxLDEsMSwwLDAsMCwxLDEsMSwwLDAsMSwxLDEsMSwwLDEsMSwxLDEsMCwxLDEsMSwxLDAsMSwxLDAsMCwwLDE2NTA0MzE1LDAsMSw5LDYwLDIsMCwxLDAs
Infinite Money
Why would you waste time earning money when you can instantly get a never-ending supply? This is the perfect code to try out techniques and strategies for upgrades and purchasing balls to see which ones clear levels the fastest.
MTgzNixJbmZpbml0eSxJbmZpbml0eSwyMTcsMCwxNjUyNTgsMTY1MjU4LDgxMTMyLDUsMSwxLDEsMSwwLDQzNTk1Ljc4LDQ2ODE1MTM5LDAsMCwwLDAsMCwwLDAsMCwwLDAsMTkzODc1Njg1MCwxOTM4NzU2ODUwLDAsMCwwLDAsMCwxMDAwLDAsMCwwLDAsMCwwLDAsMCwwLDAsMCwwLDAsNSwyNTUsMCwzMywwLDEwLDksMTY0LDQsOTUsMCwwLDAsMCwwLDEsMCwwLDAsMSwxLDEsMCwwLDAsMCwwLDEsMSwxLDEsMCwxLDEsMSwxLDAsMSwxLDEsMSwwLDEsMSwxLDEsMCwxLDEsMSwxLDAsMSwxLDEsMSwwLEluZmluaXR5LDAsMCwwLDEsSW5maW5pdHksMSwwLDAs
Infinite Money 2
This code does essentially the same thing as the one above it. If you have any trouble inputting the first version, this one will ensure you're covered with all the money you will ever need!
MzgxLEluZmluaXR5LDkuOTc2OTIyNTY3NTQxMzc2ZSsyMSw0MSwwLDM3MjcxLDM3MjcxLDY5OTQsMCwzNiwxMSwxLDEsMCw0MzU5NS43OCwzNzM1NDk0MiwxNTkzOTYwNzU5NjMuMDAsMTU5Mzk2MDc1OTYzLjAwLDAsMCwwLDAsNzAwMjM4MzcsNzAwMjM4MzcsMCwwLDAsMCwxNzgsMCwwLDAsMCwwLDAsMCwwLDksMTUsMCwwLDAsMCwwLDAsMCwwLDAsMCwwLDAsMCwxMCw5LDYyLDQsOTUsMSwwLDAsMSwwLDAsMSwwLDAsMSwxLDEsMSwxLDEsMSwxLDEsMSwxLDEsMCwxLDEsMSwxLDAsMSwxLDEsMSwwLDEsMSwxLDEsMCwxLDEsMSwxLDAsMSwxLDEsMSwwLDFlKzEzMSwwLDAsMTYsMjAsMWUrMTMxLDAsMCwxLA
Complete 200 levels
Instantly complete 200 levels to boost yourself to have all the money you need to buy balls and all their upgrades!
MjA5LDQyMTcwNTcwMywzMTY0LDE2LDIwLDE5OTA1LDExMzE0OTAwLDU1MjI2MDUsNSw3NzksMiwwLDAsMCw0NDEzOC41NSw1OCwyMzgxNDUxLDU2MDk0OTEsMCwzNzUyNDQ1NDc3MDI5LjAwLDAsODQyODI0NTk3NDY2Ny4wMCw1NTIwLDIwMTY4MjU2OTM4MzE5LjAwLDAsMTQ2MTA1NTcxNzkxMDkuMDAsMCwxMDE4NjIzMTA2Ny4wMCwzMywwLDAsMCwwLDAsMCwwLDAsOSwyNSwwLDAsMCwwLDAsMCwwLDAsMCwwLDAsMCwwLDEwLDgsMTEsNCwxNSwxLDEsMSwxLDEsMSwxLDEsMSwxLDEsMSwwLDAsMCwwLDAsMSwxLDEsMSwwLDEsMSwxLDEsMCwxLDEsMSwxLDAsMSwxLDEsMCwwLDEsMCwwLDAsMCwwLDAsMCwwLDAsMjU3MDYyMCwwLDAsMiw1MywwLDAsMSwwL
Complete 6,000 levels
Instantly complete 6,000 levels to boost yourself to have all the money you need to buy balls and all their upgrades!
NjEwMywxOTI3ODAzMzk2MTEuNDcsMzA5LDg2NCwyNSw1ODA0MTksNjA4OTkzNCwyODI2NTMzLDIsMzIzOSwzLDEsMSwwLDQzNTk0Ljk1LDUyLDAsMTM5ODY3MjAyNyw4MDI0MDcwMjMzMi4wMCwyNjU5MTY2MzAxMzMuMDAsNTE0Njg1MDAxNzUuMDAsMzExOTM1NjcyMDk2LjAwLDcxMjk2MzMyNjQ0LjAwLDM1MDExMjM5MjYwOS4wMCw5MDA5NzcwMzY0NS4wMCw0MTU1NDQ3MjA4NzIuMDAsMCw3MDY1MDM2NTQ1LjAwLDAsNTIsNTEsNDQsNDMsMCwwLDAsMCwwLDAsNiw0OCw2LDU2LDgsNTIsNiw2MywwLDAsMCw3Niw3MiwxMCw4LDksNCwxNCwxLDEsMSwxLDEsMSwxLDEsMSwxLDEsMSwxLDAsMSwxLDAsMCwwLDAsMCwwLDAsMCwwLDAsMCwxLDEsMSwxLDAsMSwwLDAsMCwwLDEsMSwwLDAsMCwwLDAsMCwwLDAsMjY3OTA1LDAsMCw5LDIwLDEsMCwxLDAs
Complete 10,000 levels
Instantly complete 10,000 levels to boost yourself to have all the money you need to buy balls and all their upgrades!
MTA2MzcsMjcxOTM0ODExMzk0Ljg4LDk4LDE1NzcsMjMsMTAxMTI3Myw2Mjk0NDEyLDI5ODE2NzYsMCwyMDk5LDEsMCwxLDAsNDQwNDUuOTYsMTA0LDAsMjE3ODUyMywwLDIwODk3OTg2MjgwNC4wMCwyMDQyODgwLDE2NjQwOTI2ODk4MS4wMCw2MzE4OTA5MzI2LjAwLDYzMjA4OTE4NTMuMDAsMjkxODUzMzI3NDMyOC4wMCw0NjcwOTUwMzYzMzQ3LjAwLDAsMTU5MzEwNiwwLDAsMjcsNDUsNTgsMCwwLDAsMCwwLDAsMCwwLDAsMCw4LDQ4LDAsNjksMCwwLDAsMCwwLDEwLDksOSw0LDgsMSwxLDEsMSwxLDEsMSwxLDEsMSwxLDEsMSwxLDEsMSwxLDEsMSwwLDAsMCwxLDAsMCwwLDAsMSwxLDEsMCwwLDEsMSwwLDAsMCwxLDEsMSwwLDAsMCwwLDAsMCwwLDExNTcxOTMsMCw0LDAsMjMsMiwwLDAsMCw
Complete 42,000 levels
Instantly complete 42,000 levels to boost yourself to have all the money you need to buy balls and all their upgrades!
NDI4MDYsMjE5MzE4MzQ2NzU3NTMuNjEsNTksODA1OSw1Niw0MDY5Mjg5LDY4OTQ0NDAxLDM0MjY5MTQxLDAsMTU4ODk4LDUsMSwxLDAsNDQyMTkuMTIsMjkuMDAsMCwyMDE3MDYyMjkyLDI0MjQ2ODExNDczNzAzOCw5NjY2MDAyNDcwOTE4NTYsNjE0OTk0ODQ3MDU1MjgsMjM5MjgzNzkxMTc5MDA2LDIwMDAzOTUwODM2MDU3Niw3ODA0OTQzMTA2NTMzMzUsMjQyMDA4MjQxMTEwNDU4LDkxNDg1NTMyMTMyNzE5OSwxNTA2NzU0NDQ4OTU1Miw1ODc5MTE0NjYzNzExNiwwLDYwLDU1LDU1LDgwLDIwLDAsMCwwLDAsMCw2LDYwLDYsNzQsOCw3NSw2LDg3LDUsMTA5LDAsOTksMTQwLDEwLDksMTQsNCwyMiwxLDEsMSwxLDEsMSwxLDEsMSwxLDEsMSwxLDEsMSwxLDEsMSwxLDAsMCwwLDEsMSwxLDAsMCwxLDEsMSwxLDAsMSwxLDEsMSwwLDEsMSwxLDEsMCwxLDEsMSwwLDAsMjkzNzQ0NjAsMCwxLDEzLDY0LDIsMCwxLDA
Complete 260,464 levels
Instantly complete 260,464 levels to boost yourself to have all the money you need to buy balls and all their upgrades!
MjYwNDY0LDFlKzMwMixJbmZpbml0eSw0MDE4NywwLDE1MjY0NTkzLDE1MjY0NTkzLDc2
Instantly break 1 Million bricks
Turn your sound off for this one. You might notice that any time you complete a level, you hear many sounds at once from all the bricks you're breaking. This code is no different!
ODUwLDg0NDkyNzU4LDQ5LDEwNSwzNCw4MDg0MCwxNzkwMjg1LDY4NDA2Niw1LDY2NzksMywwLDEsMCw0Mzk3NC4yMCw0NTg4NSwxNDcwODU2OSwyNTM4OTQ5NjQsMzM0MjA0NjksMjQ3Nzk2NzgxMi4wMCw0NjM3MDI5NDMsNDIxNjYyNjI0Ni4wMCw0OTY0NTc2NzksNjU3NTA5MjcyNC4wMCwyNDEzNjI4MDAsNTU5OTUxNDQxNS4wMCw1OTQyMjYxNCwxMjMyNzI4OTQ3LDMwLDMwLDMwLDMwLDMwLDMwLDAsMCwwLDksMjQsNiwyOSw2LDI5LDgsMjQsNiwyNCw1LDM5LDAsMjQsMCw4LDYsNiw0LDEzLDEsMSwxLDEsMSwxLDEsMSwxLDEsMSwxLDAsMCwwLDAsMCwxLDAsMCwwLDAsMSwwLDAsMCwwLDEsMSwwLDAsMCwxLDAsMCwwLDAsMSwwLDAsMCwwLDEsMSwwLDAsMCwyMzIyNCwwLDAsNywxMSwxLDAsMCwxLA==
How to redeem Idle Breakout Codes
Redeeming codes in Idle Breakout is straightforward; just follow the steps outlined below.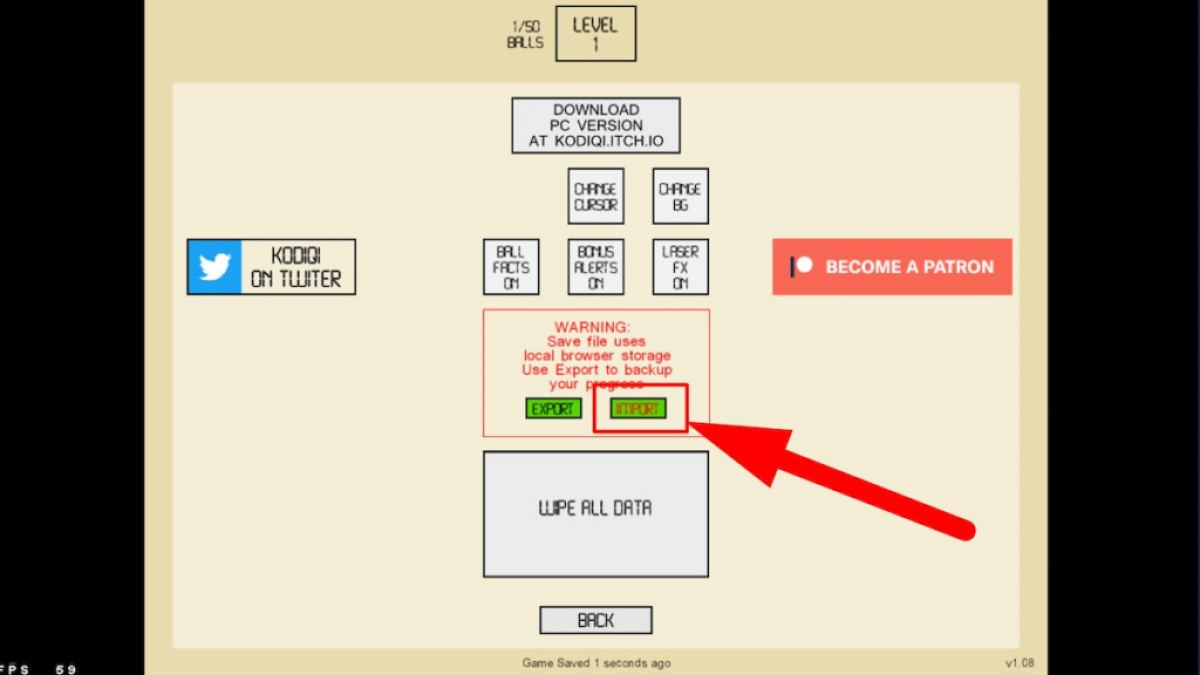 When you join the game, press the Gear button in the top right corner of the screen to open the Settings menu.
Copy a code we have listed above exactly as it appears (don't enter it manually!), and press the Import button.
In the field that says Paste data import here, paste the code that you copied from our page.
Press OK to apply the cheat code!
Related: All Doom 3 locker codes
How can you get more Codes in Idle Breakout?
As you can see, cheat codes for Idle Breakout work differently than many other game cheats, especially for mobile games. Idle Breakout cheats may seem overpowered, but that's because they technically aren't hacks or cheats: they are save files! Many older games (and even some newer ones) used to save their files in strings of characters that were interpreted by the game to determine exactly what the character had in their inventory and where they were in the game.
Those strings of characters are all save files from games other players have already played. They saved them for us to use so we could instantly get to the exciting parts of the game and skip all the tedious early grinding.
Why are my codes not working?
There could be several reasons why your Idle Breakout codes might not be working. The codes could be entered incorrectly. Codes for Idle Breakout consist of a long string of case-sensitive characters. The best way to ensure you properly enter codes in Idle Breakout is to copy them from the website and paste them into the game directly.
Idle Breakout Strategy Tips
The best way to quickly progress in Idle Breakout is to spend your money as soon as possible. While it may be tempting to some players to hoard their cash, waiting for better upgrades, we found that investing your money and making it work for you is the most effective way to play the game.
The best way to start the game is to invest in a couple of cheap balls and steadily work up to Plasma Balls. The worst thing that can happen if you have a sub-optimal build path is that it will take you more time to earn money. Therefore, don't be afraid to experiment and try the game's new options when you get enough money.
What is Idle Breakout?
Idle Breakout is a game that can be played on mobile devices, PCs, and webpages that plays similar to the classic arcade game Breakout. You begin by breaking the bricks yourself by clicking on them to earn enough money to buy your first ball. From there, you can either choose to click more or let the balls you purchase do most of the work. As they break bricks, you earn more cash, which you can then use to purchase more balls or upgrades for your existing balls!
We have more cheat codes for other games, including console games! For more cheat codes, take a look at our GTA 5 cheat codes and Lego Marvel Superheroes 2 cheat codes.