When I'm playing games, I always appreciate a little extra challenge, such as quests or tasks to complete in-game. Of course, free rewards make these additional challenges worth it and really pay off all your hard work. Great news! You can earn free rewards in Lego 2K Drive by completing challenges and leveling up in the Drive Pass. Here's how to hop into the game solo or with friends in Multiplayer Co-op and start collecting rewards!
What is Drive Pass in Lego 2K Drive?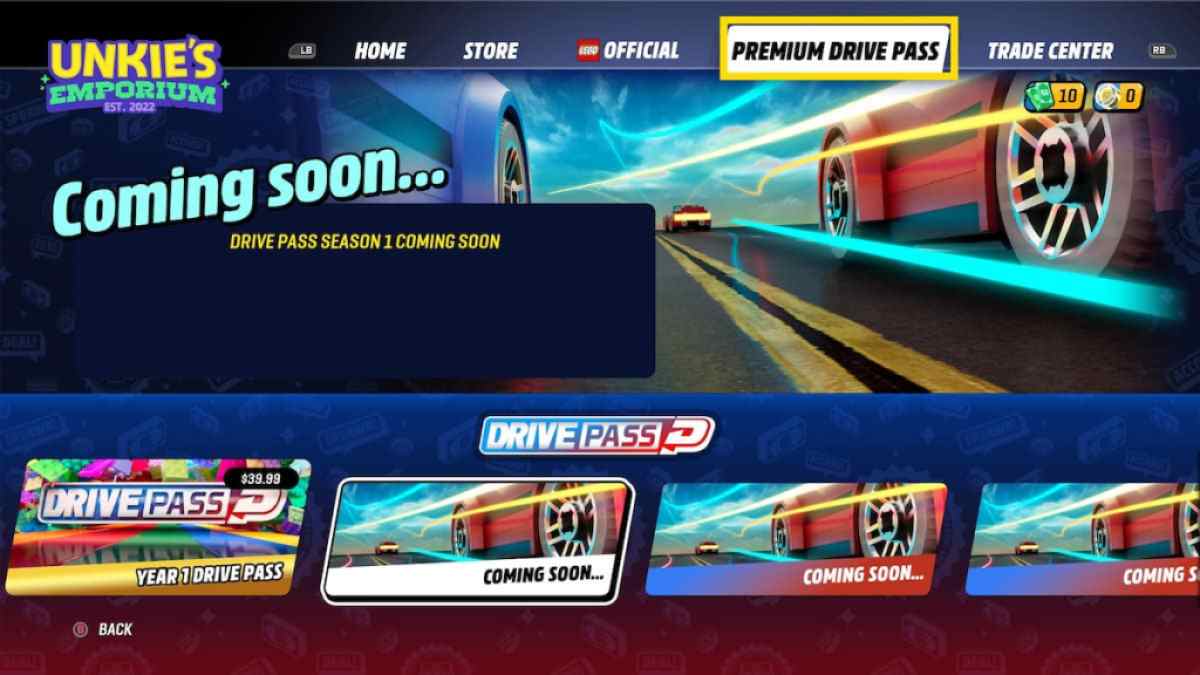 The Drive Pass will work as a seasonal collection of rewards that you unlock as you increase through each level. There are 100 levels of prizes, varying from stickers, drivers, flairs, sounds, and more, and will continue to refresh with each season. Some of them will be locked for only Premium Drive Pass members, requiring you to upgrade your Pass to unlock them. Alternatively, you can also earn the Premium rewards with the Year 1 Drive Pass, which can be a part of any Deluxe Editions of the game.
You can access the Drive Pass challenges and lists of rewards by navigating to the Lego 2K Drive site (hyperlinked here) or in-game by selecting Unkie's Emporium and selecting the Premium Drive Pass page, as shown in the image above. (We will update this section once the Season 1 Pass is released.)
How to earn Drive Pass rewards in Lego 2K Drive
To start collecting rewards from the Drive Pass, begin tackling some challenges and quests and competing in races. These tasks around the world are symbolized by the purple globe icons, the exclamation marks, and the checkered flags on the map. All of them will give you XP toward leveling up. The Drive Pass will also include special challenges to complete as well. You can claim the item in the matching level as you progress. We will have a better look at the rewards and challenges once the Season 1 Pass is released, so keep checking back!
You can go back and complete any of the challenges in the world again to earn more XP so you can keep leveling up and claiming more rewards from the Pass. You can claim these goodies whether you're playing alone in Story Mode, in a Shared World with friends, or in Play with Everyone mode.
Looking for more Pro Game Guides Lego content? Check out our guides on All Lego 2K Drive Achievements & How to Unlock Them or 7 best LEGO games made by TT Games!