Of the different scenarios in Live A Live, the Present Day Scenario features a boss rush mode in which you play fighter Masaru Takahara on a quest to become the greatest warrior. This chapter encourages you to learn moves from your opponents by taking the hits. With several bosses to fight, you might be wondering what the best fight order is in the Present Day scenario in Live a Live.
Which fight should you choose first in the Present Day scenario in Live a Live
We recommend starting with The Great Aja, as this will let you learn the moves you need to target each fighter's weakness. Here is our recommended boss order in the Present Day scenario in Live a Live.
What order to fight in the Present Day Scenario in Live a Live
Fighting the bosses in the order below allows you to learn moves that take advantage of each fighter's weakness. Ultimately, none of the fights are too difficult, so you can challenge them in any order you want.
Related: What do you give to the Elderly in Wong Village in the Imperial China Scenario in Live a Live
The Great Aja
The Great Aja is a famous Japanese wrestler who trained under Mexican luchador heel El Rudo. This fight is extremely easy—you simply need to use agile moves, namely your Rolling Wheel Kick, to defeat this foe. After hitting The Great Aja with this, he will start running away. Give chase and repeat this move to win.
Learnable Moves: Frankensteiner, Tornado Press
Weaknesses: Agile moves
Resistances: Grappling, Projectiles
Tula Han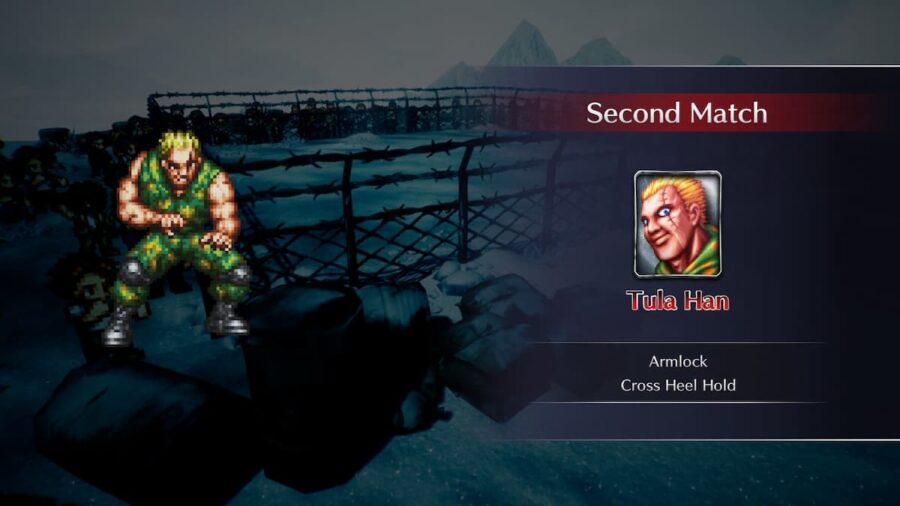 Tula Han is a Russian fighter specializing in assassinations and grappling. His Armlock attack will make you unable to use certain moves, like Frankensteiner and Gale Strike. His Cross Heel Hold will likewise leave you unable to use some of your moves as well. Use Frankensteiner to deal super-effective damage to this fighter and make short work of Tula Han.
Learnable Moves: Armlock. Cross Heel Hold
Weaknesses: Projectile
Resistances: Thrusting, Grappling
Seishi Moribe
Seishi Moribe is a master of Koppo, using the celestial palm to defeat opponents outright. He is weak to Grappling attacks and has no resistances. You can use any attack, but we recommend the Cross Heel Hold and Armlock. Your attack will miss a lot against Seishi Moribe, so continue using these and Focus if you need to heal.
Learnable Moves: Celestial Palm, Fleet Foot
Weaknesses: Grappling
Resistances: None
Related: Final Chapter: Blessed Freedom Battle Guide – Triangle Strategy
Jackie Iaukea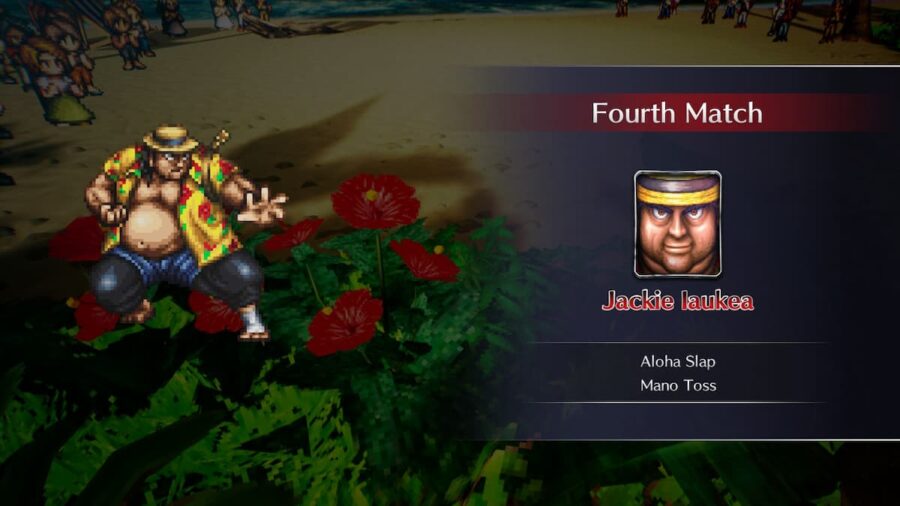 Jackie Iaukea is a mighty sumo wrestler from Hawaii and has joined the martial arts scene. This fighter can deal massive damage and has powerful counters, so don't be afraid to run and heal. Use Agile moves to inflict massive damage of your own and take advantage of his weakness. Keep your health up, as he can interrupt your moves or use a counter followed by an attack.
Learnable Moves: Aloha Slap, Mano Toss, Worldbreaker's Wrath
Weaknesses: Agile
Resistances: Marital
Max Morgan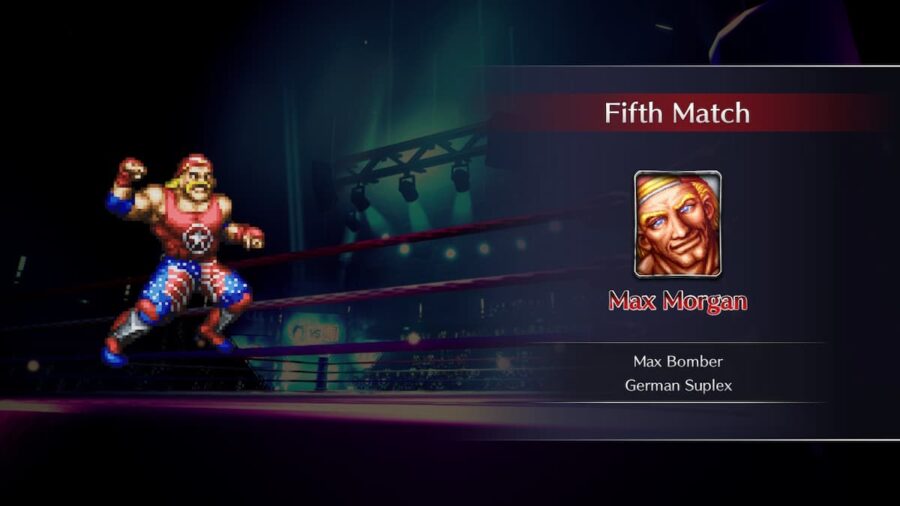 Max Morgan is an American wrestler based on an iconic wrestler in real life. He uses grappling and martial attacks but is easily beaten with your Aloha Slap technique. Morgan isn't too difficult, but if you start taking too much damage, you can retreat and Focus to heal. You can also outrange him with Fleetfoot and Mano Toss.
Learnable Moves: Max Bomber, German Suplex
Weaknesses: Wind
Resistances: Projectile, Earth
Namkiat
Namkiat is a powerful Muay Thai champion with a divine right foot. This fighter uses agility and flexibility to dominate his foes. If you learned German Suplex from Max Morgan, you can finish this fight in two attacks. His Lookpanjama Kick will knock you back, but you can just walk into range and finish Namkiat with Grappling moves.
Learnable Moves: Lookpanjama Kick, Spiral Knee
Weaknesses: Grappling, Earth
Resistances: Agile, Projectile
Odie O'Bright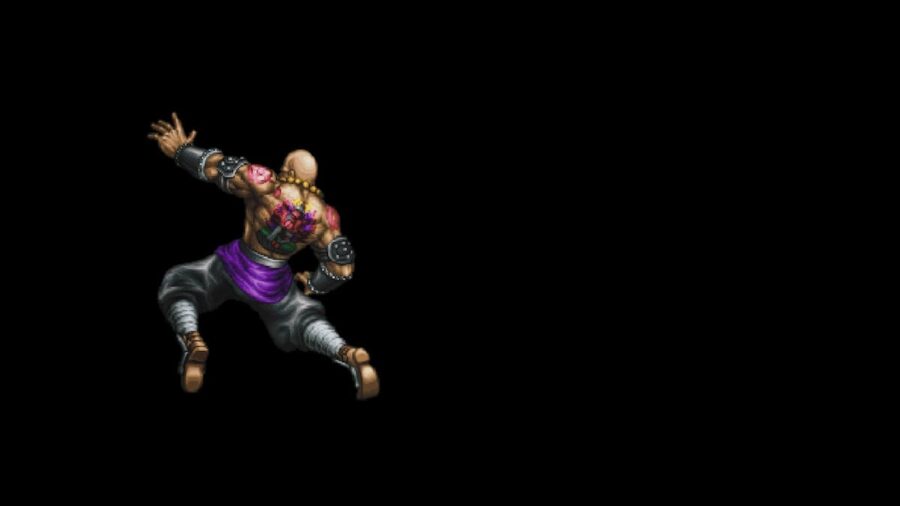 Odie O'Bright has no weaknesses or resistances, so you can use whatever attacks you want. We liked the Lookpanjama Kick to put some space between him, leaving you able to retreat and heal when needed. Use your most damaging attacks and keep your health at a good level, or Odie can finish you off with his Diving DDO attack.
Learnable Moves: None
Weaknesses: None
Resistances: None
For more information on gaming, check out Triangle Strategy Unit Tier List and What is Codename: Wandering Sword? Release date, gameplay, and more. on Pro Game Guides.