The battle of one of Triangle Strategy's Final Chapter(s): Blessed Freedom unfolds across the bridge of Norzelia Falls, where Idore and his Automaton Knights have used terrible power to head off the Roselle from freedom. You must protect your allied Roselle fighters from falling, or it's game over. To win, you need only Defeat Idore. The final battle, Fighting Idore the Deluded, will commence once you choose your units.
Unit Selection and Battle Strategy
Geela will be important to have as a safeguard for the Roselle units crossing the bridge, but it may be necessary to bring Medina, as well, to cover your primary fighters. As far as healing items for her to use, you'll know if you've cleared out Lionel's inventory. He won't have restocked after the last battle. A good option is to level up your characters fighting this battle until you can win since there also isn't a new Mental Mock Battle to train with after the last chapter—just be mindful of your item usage.
Bring Corentin, whose Ice Wall ability will be able to hold off the Automaton Knights on the bridge, adding a needed layer of protection from their staggering movement range and attacks. You can also consider Julio, whose TP manipulation and powerful advanced abilities such as Best Regards and Intimidation have proven to be of great use by the endgame.
Related: Chapter 19: Hold Fast to Courage Battle Guide – Triangle Strategy
Hughette's Immobilization capabilities, Ezana and Narve's magic, Archibald's Inescapable Arrow ability that targets any square on the stage—all of these would be great options to have for the final battle, but bring Frederica for her powerful Scorch ability that can damage multiple enemy units. This will be especially useful as you make your way up the narrow stairstep hill and through the foes to Idore.
Head off the Automaton Knights on the bridge
Your party begins in a block on the bridge but also may be placed in the squares going up the hill to Idore. You stand ahead of three allied Rosellan units—a level-33 Healer, Bowmen, and…well, a regular Rosellan—that you'll be safeguarding as they make their way to the yellow squares at the opposite end of the bridge. Idore, level 35, is guarded by two Hyzantian Healers of his own, two Pikemen, two Blades, and two Shieldbearers at level 33 with the promise of Elite reinforcements.
Farther down the stage, over the waterfall, are two Bowmen and three Automaton Knights at the recommended level of 33. Close to the beginning of the battle, Idore will cast ice blockades on the bridge, limiting the Roselles' escape to one narrow square's worth of passage. If you have Archibald with you, his Inescapable Arrow ability may be able to make a considerable dent in the Bowmens' health. Keep Julio next to him as you cross to replenish him with TP for another Inescapable Arrow or two.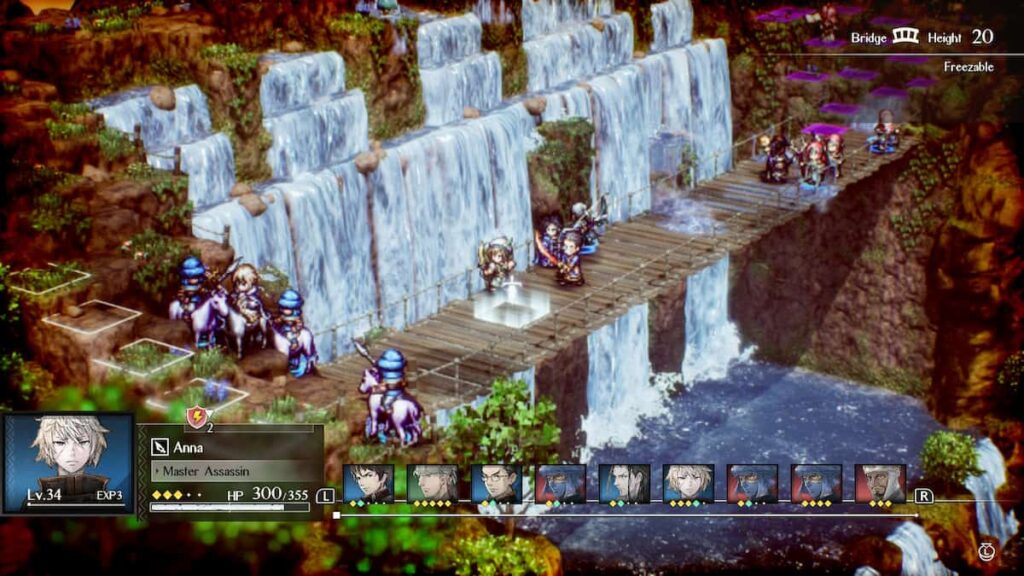 Related: How to get the Golden Route in Triangle Strategy – Endings Guide
Idore will also haste all enemy units, so be prepared. You can even counteract the measure with a Fleet-footed Quietus, which will raise the movement of all allies by two—or use a Lightwave Quietus to move an ally to any location within eight squares. Soon enough, four Elite reinforcements will arrive in the form of a Battlemage, Rogue, Pikeman, and Healer at level 34, followed by another level-34 Blade and Bowman, making it all the harder to defeat Idore.
Deafeating Idore the Deluded
Once you meet the Automatons, defeating them won't be problematic if you have three fighters with excellent movement ready to take them on together. But when you approach Idore, he will use Raging Winds to inflict wind damage on your units. Make sure they have high enough magic defense to withstand his attacks. He can also cast TP Region, which will grant one TP to any enemies within range.
Eventually, you'll be able to spearhead Idore and end the battle, but go for every enemy unit if you want the experience for your New Game+, and congratulations on beating the final battle of Triangle Strategy! Enjoy the ending wrought by your Convictions.
For more help with Triangle Strategy, keep it here on Pro Game Guides.