Live a Live's Prehistory Chapter has a crafting mechanic that players can use to make themselves useful gear and items. These items can be used in combat or to bolster the power of their character or party members. To craft items, players need to find the Caveman Crafter near the start of the chapter and bring him the necessary items to craft the desired gear.
Where is the Crafter located in Live a Live's Prehistory Chapter?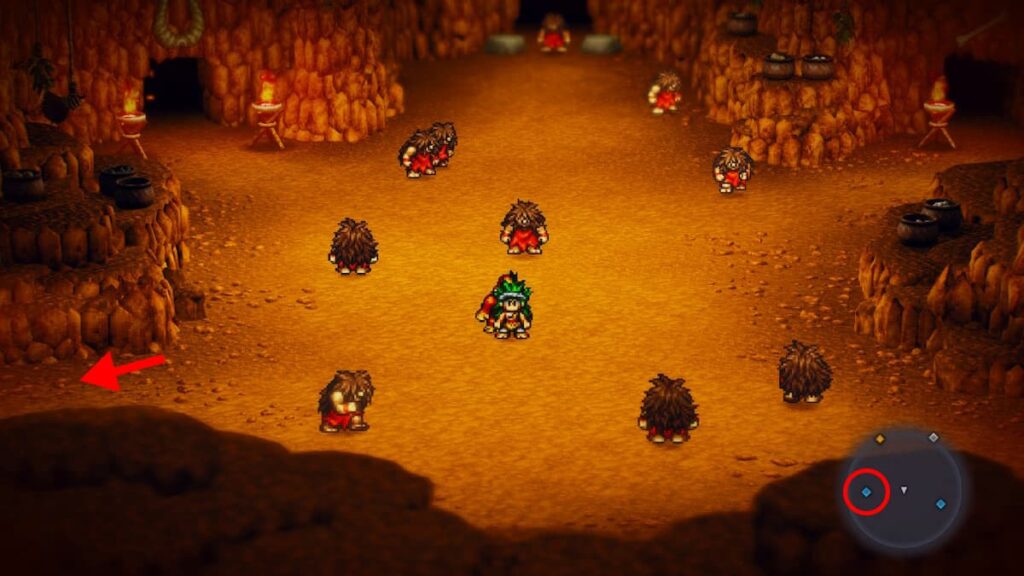 The Crafter is located in the lower left room in the large hallway near the beginning of the Prehistory Chapter. The image above shows the correct path to take to find the Crafter. Players should exit the starting room, take a left down the hallway, and then they will exit into the room shown.
Related: Why is there no written dialogue in the Caveman scenario in Live a Live?
What can be crafted at the Caveman Crafter?
There are a lot of craftable items in the Prehistory Chapter of Live a Live. Most of them are equipment and weapons that can be equipped to your party or character. A full list of craftable items can be found below.
| | | | | | |
| --- | --- | --- | --- | --- | --- |
| Horn Spear | Fang Club | Fire Club | Strong Axe | A Thump Drum | Quick Spear |
| Fast Whip | Rough Bands | Pretty Flower | Beastskin Cap | Stone Knife | Angry Bone |
| Leather Strap | Beast Fang | A handful of Prickly Stones | Mass of Chest Hair | A Loin Guard | Laughing Mask |
| Fury Knife | A Wildheart Sack | Bang Glove | Fertility Charm | Bola | A Wildheart Dress |
Interested in more helpful Live a Live guides and want to read more? Check out How to unlock the final chapter in Live A Live on Pro Game Guides!