According to the newest champion, "monsters come in all shapes and sizes." From the wilds of Nazumah comes K'Sante, a monster hunter from a mysterious area of Shurima. Although we know little of Nazumah, we can assume that it is home to several vicious creatures. K'Sante will be the next character released in League of Legends, titled the Pride of Nazumah.
From the context of the trailer The Hunter's Pride, we can gather that K'Sante is a protector. He appears to be well-versed in studying monsters, with sketches of a creature he believed to have killed. According to lore, this creature's hide could regenerate its own body, and K'Sante forged it into his weapon. It is unclear if the object resting against the wall is his weapon, but it seems likely. These clues show that K'Sante is a clever hunter who knows his enemy and studies Shuriman monsters to learn their fatal weaknesses.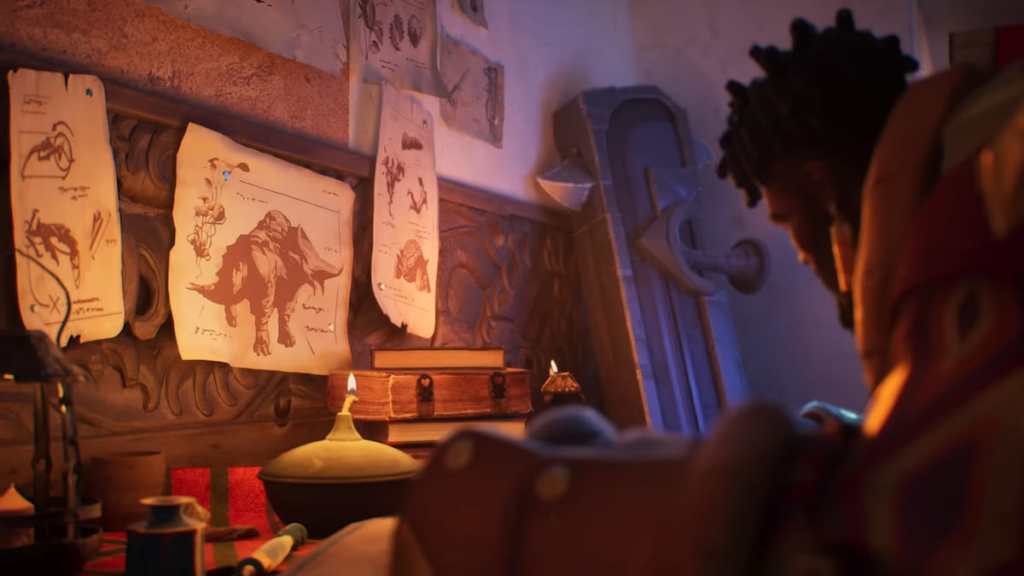 Even so, there are unexplained sketches on the wall of creatures that have yet to be revealed. Perhaps these animals are simply wildlife, but we cannot help but hope they are tied to the next monster champion. K'sante's abilities have not been announced, but the game's official Champion Roadmap for April 2022 states that he will be a "new high skill top lane tank," similar to the difficulty of Azir and Yasuo.
As explained in the Champions and Preseason 2023 video, K'Sante's weapons are blunt objects that you can shatter to reveal blades. However, since this weapon was forged from the hide of a regenerating beast, its form is gradually restored. K'Sante's reveal is quite exciting for lore fanatics, top laners looking for a challenge, and Shurima fans alike.
For more League of Legends articles, come check out How to Fix 'Your Session has Expired' error in League of Legends here on Pro Game Guides.