Upon getting back to Yokohoma 99, you'll overhear to businessman talk about wiretapping, and you'll get a buzzword to check out in the Buxx Researcher app. On getting to the location, you'll see detective Tsukumo being accused of the crime.
After the dialog, Tsukimo gives you Detector, a way to track and find the signal bugs give off, and asks you to find the bug in this area. You can access the Detector in one of two ways. The first is by going into your phone, click on the Gadgets app, then clicking on Detector. Or press L3 (left thumbstick) in, then press L1, and it'll bring out the Detector.
Tsukumo mentions going to the back of the building that you're at, so the east side. When you're there, pull out the Detector—no need to Focus just yet. When you start getting closer to the signal, a light will appear on the Detector. Green means you're looking in the correct direction, and Red is you had the correct direction. Now you're looking away from it. And the more green that appears in that bar, the closer you are.
Related: How to use the Detector in Lost Judgment?
To find the bug, head towards the car in the picture below. If the Detector has a lot of green when looking at the car, it's the correct one. Focus on it by pressing R2/RT and then press X/A to end the investigation phase.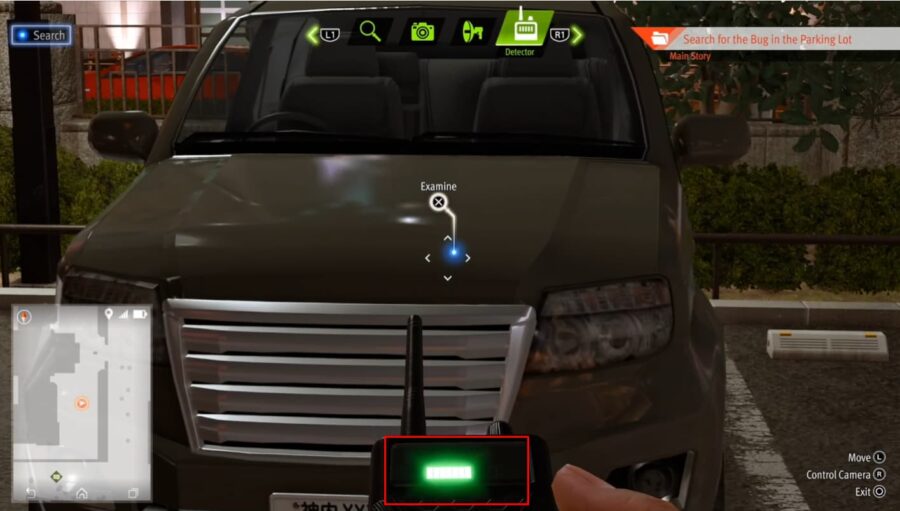 For more Lost Judgment guides, Pro Game Guides has you covered.