Mistral has appeared in a story cutscene along with the threatening Dolzaev, but at the end of mission R-01: Coup d'État, we finally get to fight her one on one. Although players have already defeated Metal Gear Ray and Blade Wolf, Mistral brings new mechanics and combos to the table. This increase in difficulty can be intimidating, but she is not impossible to beat. Here's how you beat Mistral's fight in Metal Gear Rising: Revengeance.
How to defeat Mistral Metal Gear Rising Revengeance
First Phase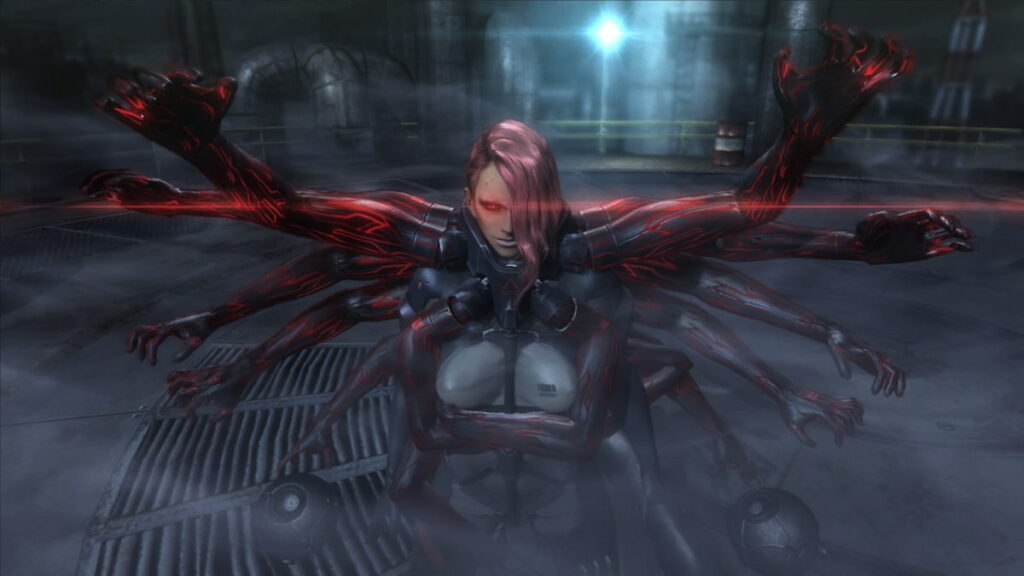 Mistral is an aggressive boss who attempts to overwhelm you with her minions and barrage of attacks. The main difficulty in her fight is remaining locked on to her, since Raiden will often lock on to the Dwarf Gekkos instead of Mistral.
To avoid this, you should perform several area-of-effect attacks to clear out the small minions, so your lock-on target is uncontested. If this is your New Game+ playthrough, Pole-Arm is a great weapon to wipe out these minions quickly. If not, your High-Frequency Blade should work fine.
While some other bosses in Revengeance should be approached with caution, the best way to defeat Mistral is by dishing out a ton of damage. During the first phase, she will toss out single attacks, along with a whip move that cannot be parried.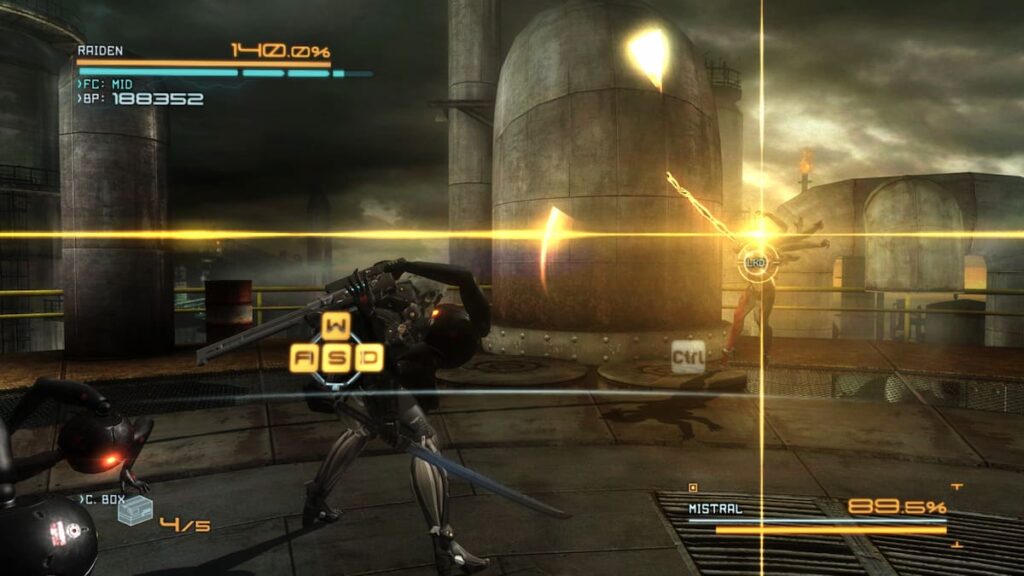 Right before starting this attack, she will glow golden. If you are caught in this attack, she will inflict a large amount of damage, so it is best to avoid this attack by using Ninja Run. Her Dwarf Gekkos will also attempt to jump onto you and stun you, which will leave you vulnerable to her next attack.
The most dangerous aspects of this phase are her attacks that can't be parried and her Dwarf Gekko stuns. After reducing her health bar a bit, she will strike with her weapon and Blade Mode will be activated. Slice the section of her polearm that is glowing blue, and that will bring you to her second phase. Make sure to get in some extra attacks during this Blade Mode.
Second Phase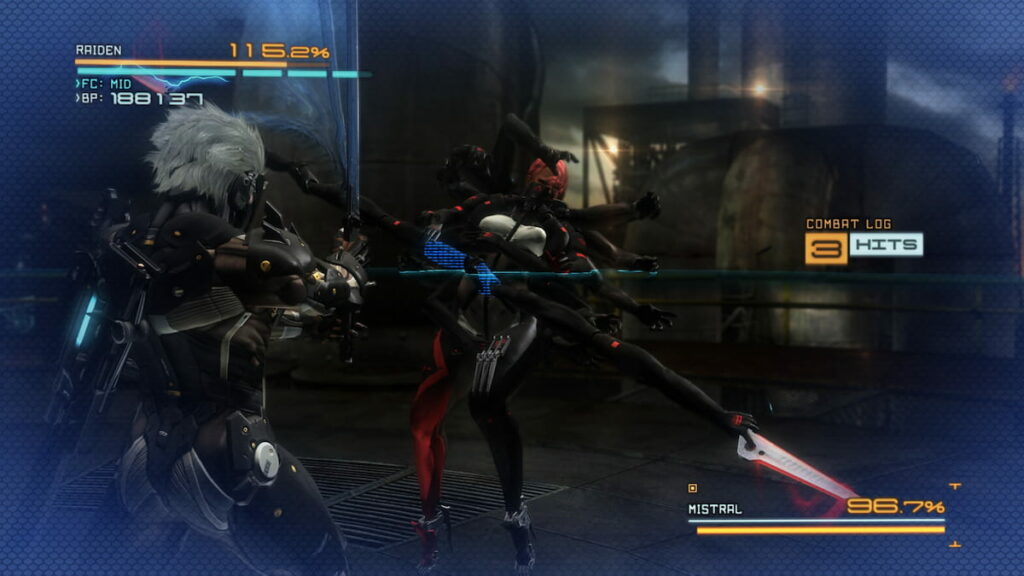 During the second phase, Mistral will repeat many of the attacks she used in the first phase. However, she will use an attack where she jumps onto a large pipe. She will hurl explosives toward you, but don't worry: you can easily avoid this attack by standing close to the pipe she is on.
There are explosive barrels in the arena, which should either be avoided or used to your advantage. They deal great damage but can backfire if Mistral strikes it instead of you. During this phase, Mistral will repeat these Blade Mode attacks. Simply strike the section of her polearm that is glowing blue, then attack her repeatedly for some extra damage.
At around 70% health, Mistral will strike Raiden in a scripted attack, then Blade Mode will activate as she hurls you upside down. Slice her polearm to avoid sustaining extra damage and free yourself. If executed successfully, you will throw Mistral into the distance, and Phase Three will begin.
Third Phase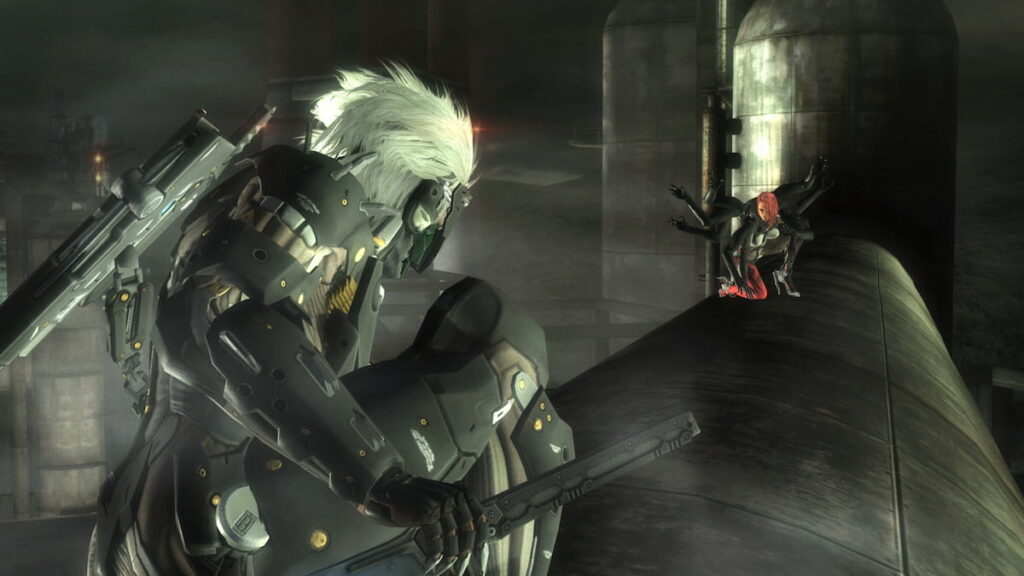 Mistral's third phase is relatively short. The battlefield has shifted to a horizontal pipe. She will repeat many of the attacks she used in the first and second phase. Mistral will also repeat her explosive attack, where she hurls bombs from the vertical pipe. Similar to the last rendition of this attack, simply stand close to the vertical pipe, and you should be safe from damage. After her health bar is around 50%, she will progress onto the fourth phase. This next phase will occur in a completely different battlefield.
Fourth Phase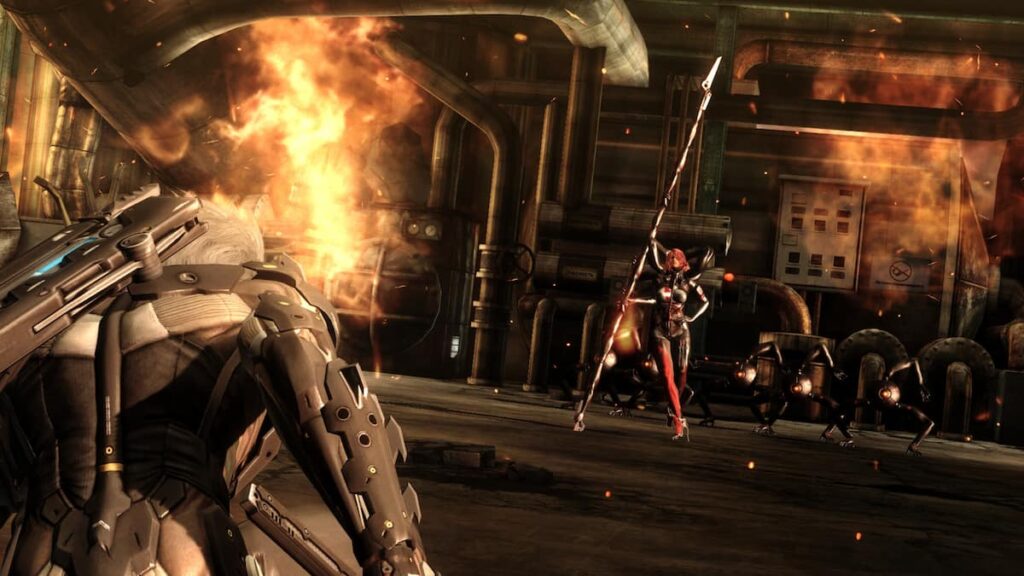 The fourth phase is fought in a flaming arena that is more spacious than the previous battlefields. Most of her attacks will be identical to previous phases, although she has a few new combos that she will throw at you.
One of these combos consists of three strikes and should be parried. Another new attack involves her striking the ground and creating a damaging crack in the floor. She will repeat her explosive attack, although it can be avoided by standing either under her or to the right under an overhead pipe.
Like the other phases, she will attack, and Blade Mode will be prompted. You should both slice the blue area of her polearm and deal some additional damage. The Dwarf Gekkos in this arena are especially brutal, since they add to the chaos and can stun you. The Dwarf Gekkos should be dealt with before focusing on Mistral.
When Mistral is at around 9% health, a quick time event will appear. If you succeed, Blade Mode will appear, and you can finish off Mistral. Congratulations, you have now beaten Mistral!
For more Metal Gear Rising: Revengeance guides, come check out How to beat Monsoon in Metal Gear Rising Revengeance – Boss Guide here on Pro Game Guides.