The first DLC for Minecraft Dungeons has been announced and is called Jungle Awakens! We're taking a look at all of the known information surrounding this release with details on the release date, leaks, and anything else that comes out about it.
Minecraft Dungeons came out in late May and has been doing quite well. However, a lot of players are already starting to get a full set of gear and have leveled up quite high already. If you're one of those people, you can rejoice because it looks like Jungle Awakens is coming soon, and you can expect an additional DLC following that. Mojang Studios has also announced the inclusion of some free content for everyone coming in the future:
The team is also working on adding cross-platform play functionality and cool new free content for Minecraft Dungeons that everyone will receive, regardless of edition!
Jungle Awakens Release Date
While the official post from Mojang Studios alluded to a July release, there has been a leak that says Jungle Awakens will be released on July 1st, 2020. This date could obviously change at any point, but don't be surprised if they look to get this out as soon as they can. Games like this have a tendency to lose players relatively quickly when there's nothing to grind, so I won't be surprised if they want to get this first DLC in your hands as early in July as possible.
Jungle Awakens Leaks
Leaks have been shared by Nanikos on Reddit, who is reporting from the Minecraft Dungeons Leaks Discord. All of this is subject to change, and was likely found in the files of the game. These could've been early renders of things, and it's possible that they receive major changes before release.
Introduction
Here's the story lore behind the Jungle Awakens map:
The Orb of Dominance may have shattered, but its powerful shards have scattered across the vast Overworld. One of those shards has landed in the lush jungle, where new threats roar to life beneath the dark canopies. The shard, the source of the corruption, must be destroyed to free this land from the Orb's dark manipulations.
Jungle Awakens Map
The leaks share a look at the map you'll be exploring. It appears there's at least three different areas that can possible be explored based on the different biomes. These locations are potentially going to be called: Dingy Jungle, Panda Plateau and Overgrown Temple.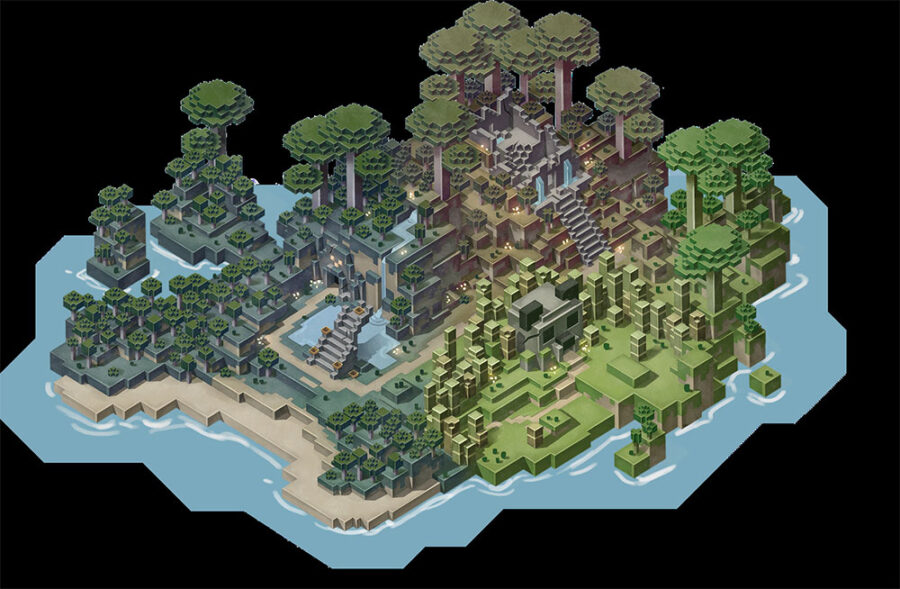 If you're wondering what you'll be finding in these areas, the description of them were apart of the leak:
Dingy Jungle: We've tracked the Orb's shard to the edge of a dense jungle where dangerous creatures creep out from under the thick canopy. What brave hero would dare cut through the twisting vines to reach the dark power that hides within?

Panda Plateau: Within a secluded bamboo forest, perched on the face of a sprawling cliffside, a community of pandas have escaped the corrupting presence of the shard - until now. We need to fight back against the sprawling, strangling vines which have threatened to take over the homes of these lovable, defenseless pandas.

Overgrown Temple: The shard fell deep within the Jungle where it spawned a horrible creature - This vile beast cannot be allowed to continue spreading the corruption of the Orb. Tread carefully, for these overgrown temples harbor monsters
Missions List
Abolish the Abomination
Behold the Jewel
Defeat the Jungle Abomination
Explore the Temple
Find a Way Out
Go to the Temple's Center
Open the Gate
Overgrown Overthrown
Reach the Sun Room
Unlock the Sun Gate
The Jungle Abomination!
Loading Screens
Here's a look at a couple of the loading screens from the DLC. These will show up when you're loading in to one of the new areas.
New Weapons
Whip
Vine While Whip (Unique)
Ocelot Armor
Ocelot Armor (Unique)
New Enemies
Jungle Abomination
Jungle Zombie
Mossy Skeleton
Poison Quill Vine
Quick Growing Vine
Whisperer
Leapleaf
The second DLC has also been announced and had itself some leaks as well. Learn more about this one in our Minecraft Dungeons Creeping Winter Guide!