Bookshelves are a great way to decorate rooms in your next build! They can be used as a library, spruce up a bedroom, or just add some visual flair to a room. They also serve a practical purpose in that they are needed to enhance your enchanting! So, we'll be showing you exactly how to make a bookshelf in this step-by-step tutorial.
How to make a Bookshelf
To make a bookshelf in Minecraft, we're going to need planks and books. While the plank part is easy, the book part can be a bit more difficult! We'll walk you through it all step-by-step below.
Step 1: Chop Some Wood
Go ahead and chop or punch some trees to obtain some wood logs! You will need at least two logs to create enough planks for the bookshelf.
Step 2: Create Planks
Stick the logs of any type into your inventory crafting area or into a Crafting Table to create some planks! You get four planks for each log.
Step 3: Get Ingredients for Paper
Paper is a bit trickier because we're going to need Sugar Cane. This spawns near water, so you might need to go search for it a bit. Here's an example of what it looks like: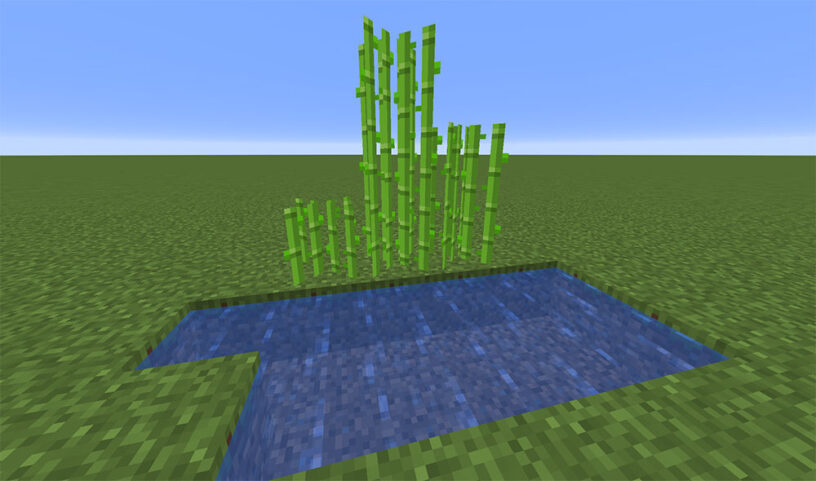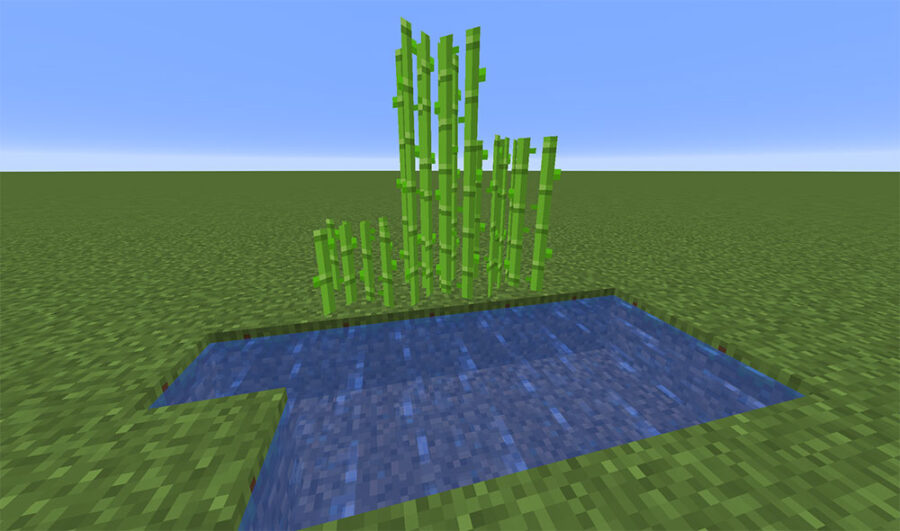 When you find some, make sure to punch it at the bottom because it will fully break and you can collect it quicker. I recommend planting some of this near some water at your base because it grows relatively quickly and you'll have a supply of it always available!
Step 4: Create Paper
Once you've got some Sugar Cane, you can craft pieces of paper. You'll need three cane for each piece of paper. We need three books to make one bookshelf, so that's at least nine cane! Here's the recipe for paper: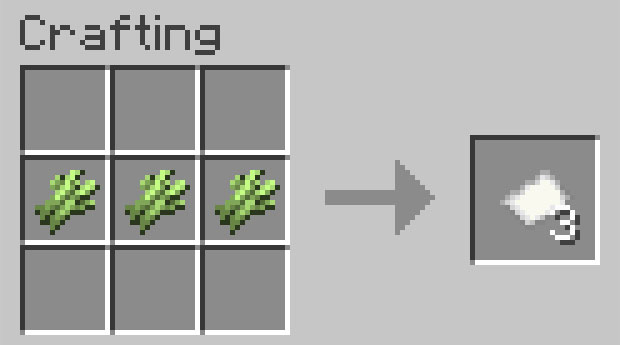 You can also find paper in chests, which can be found in Shipwrecks, Strongholds, and Villages. This obviously isn't going to be a steady supply, so you're always better off creating an area to plant Sugar Cane!
Step 5: Find Leather
Leather isn't too hard to find, but you'll need to locate certain animals to get it. You will need to find cows, mooshrooms, horses, donkeys, mules, llamas, or hoglins. When you kill one of these, you have a chance to get 0 - 2 leather per animal. If you find yourself some rabbits, you can turn four rabbit hide into one leather.
If you can find cows, I'd recommend starting a farm by fencing them in and breeding them. You can then kill some for the leather you require. If you have an enchanted weapon with Looting, the amount of leather increases by each level! We need at least three pieces of leather to make the three books for a single bookshelf.
Step 6: Create the Books
Now that we have paper and leather we can put them together! Since it's only four ingredients you can do this in your inventory or a Crafting Table. Here's the recipes to create a book: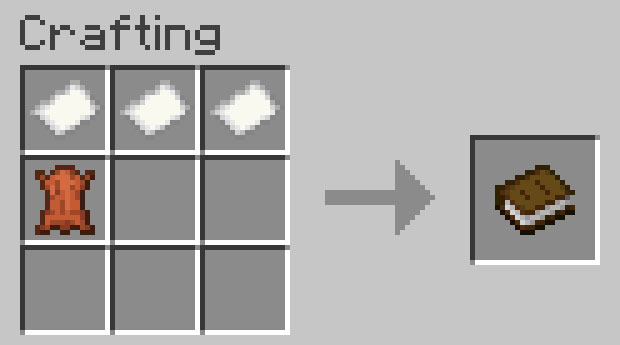 We need three total books to create the single bookshelf!
Step 7: Create the Bookshelf
Take your six wood planks and put three on the top and bottom of your Crafting Table. Place your three books across in the middle and you will have yourself a bookshelf!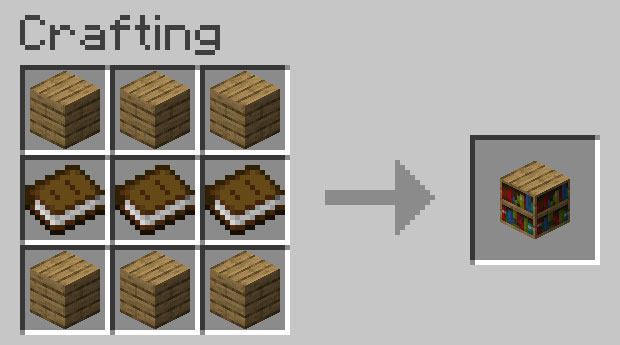 Finding Bookshelves
If you're having trouble locating leather, then you can obtain a bookshelf by heading to a village and taking some out of the houses that exist there. Yes, this is a bit of stealing, but hopefully they won't miss them! You can also find them in the large Woodland Mansions that spawn randomly on the map. If you head into a Stronghold, which is where you find the End Portal, you can find some rooms that have a ton of bookshelves in them!