For creators, Command Blocks are an essential block in Minecraft because they let you adjust the map in ways that you normally can't in Survival mode. One of the most popular uses for the Command Block is to make a teleporter, which allows you to instantly transfer a player from one point to another.
How to Make a Teleporter
This is a very simple task that only requires a few blocks and some basic knowledge of how the commands work in Minecraft. The first thing you need to do is get the necessary resources, all of which are listed below.
1 x Button or 1 x Pressure Plate
1 x Command Block
Building Blocks (any)
Block Placement
The way you place the blocks depends on whether you are operating it via a Pressure Plate or a Button. The image below on the left shows you how to place the blocks if you're using a Button, and the image below on the right shows you how to place them if you're using a Pressure Plate.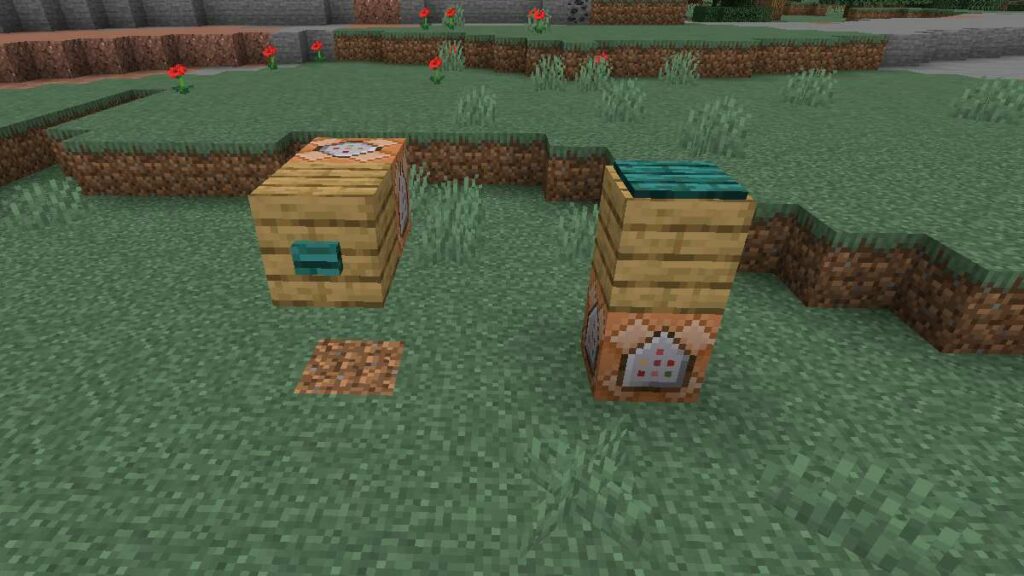 The building block placement doesn't matter so much as the placement of the activating block (Button or Pressure Plate) and the Command Block. You can change the design above to match whatever is aesthetically pleasing for your building.
Related: How to make a map in Minecraft
Setting the Command Block
There is a simple teleportation command to set in the Command Block itself. Open the Command Block edit menu and enter the following command.
/teleport @s [destination]
There are several variables that can be used here. You can replace @s with another variable that selects the players to be teleported. Here are some examples:
@a - Selects all living players
@s - Selects the player that executed the command (activated the Command Block)
@e - Selects all entities
@r - Selects a random player
@p - Selects the nearest player to the Command Block
You can also use your choice for the [destination] in the command. Generally, players will set the destination to the coordinates they want to teleport the player. However, you can also use it to teleport the player to another player by typing a username here.
Here is an example of the full command with its original intended use:
/teleport @s 100 75 100
Once you have the command set in the Command Block, any time someone presses the Button or Pressure Plate, they will be teleported to that location.
Don't forget to check out our Minecraft Homepage to see all the latest news, guides, and content for all things Minecraft!