End Portals are an end-game mechanic in Minecraft that allows you to transport from the Overworld to The End. There are two different ways to access them, one each for Survival Mode and Creative Mode. Building an End Portal is relatively easy, but many players are confused about the blocks' placement. In this guide, we will explain how to build an End Portal in creative and finish one in Survival.
How to Make an End Portal in Minecraft PE
The first thing you need to know is that no matter what mode you're building the End Portal, you're going to need 12 Eye of Enders in your inventory. If you're in Creative, you can simply grab them from your inventory. If you're in Survival, these can be crafted by combining the following items:
1x Blaze Powder

1x Ender Pearl
Creative Mode
In Creative mode, you can make an End Portal by placing the appropriate blocks in a specific orientation. The items you'll need to make the frame are listed below.
12x End Portal Frame

12x Eye of Enders
Once you have those in your inventory, it's time to build the frame. This is generally where people get confused, as many players don't know that the placement of the blocks isn't the only requirement. You must also have the blocks all facing the inside of the frame. Take a look below to see how they need to be placed.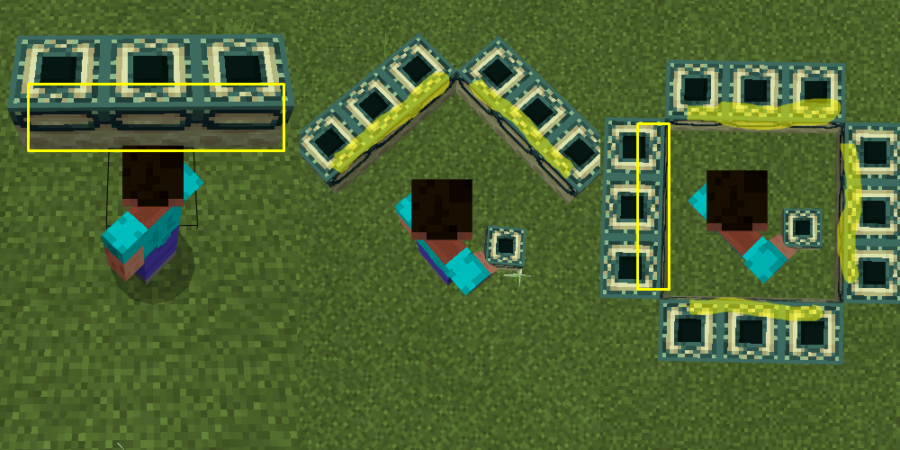 As you can see, the blocks are highlighted and cropped on the inside of the frame. This is to help you see how to make each End Portal Frame block face the inside. The easiest way to accomplish this is to follow the steps below.
While standing in one spot, place three End Portal Frames in a row.

Turn 90 degrees.

Repeat step one, but start the frame at the corner of the previous row.

Repeat steps 2 & 3 two more times.
When you're done building the frame, you should see something like the image on the right in the sequence above. Now it's time to place the Eye of Enders.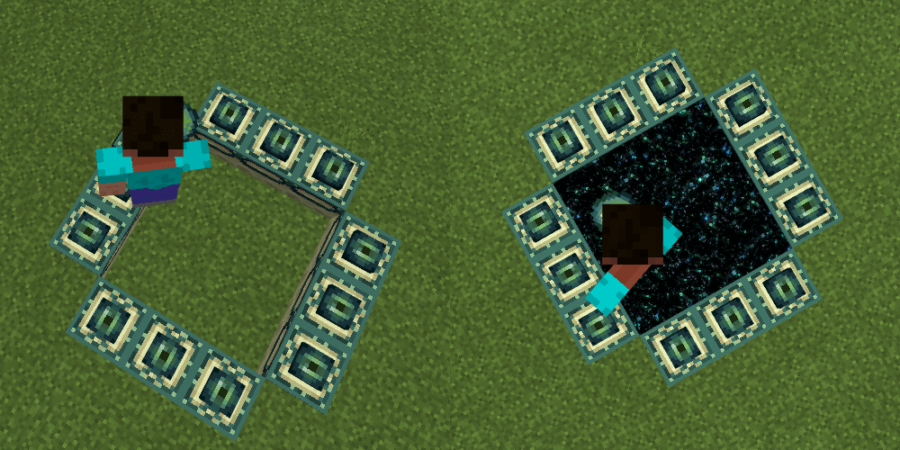 Place one Eye of Ender in each End Portal Frame block. When you've placed all 12, it will form the End Portal shown in the image on the right above.
Survival Mode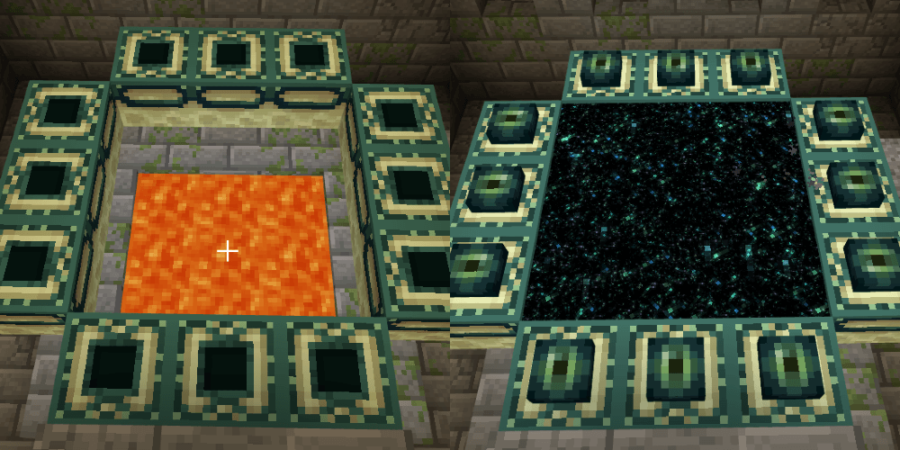 The trickiest part to making an End Portal in Survival Mode is simply finding the End Portal. Once you have found one, you only need to place one Eye of Ender in each End Portal Frame. After doing that, the inside of the End Portal will turn into the starry square you see above. You can then jump through it to go to The End!
Be sure to check back with Pro Game Guides for more Minecraft coverage.