Iron is one of the most important materials in Minecraft. Not only is it one of the best early game materials for weapons and tools, but there are also some essential items, such as buckets and cauldrons, that can only be made with iron.
As a result, it's in your best interest to get as much as possible. And rather than mining and smelting iron ore, the quickest way to gather iron is with an Iron Farm.
Basics of Iron Farming in Minecraft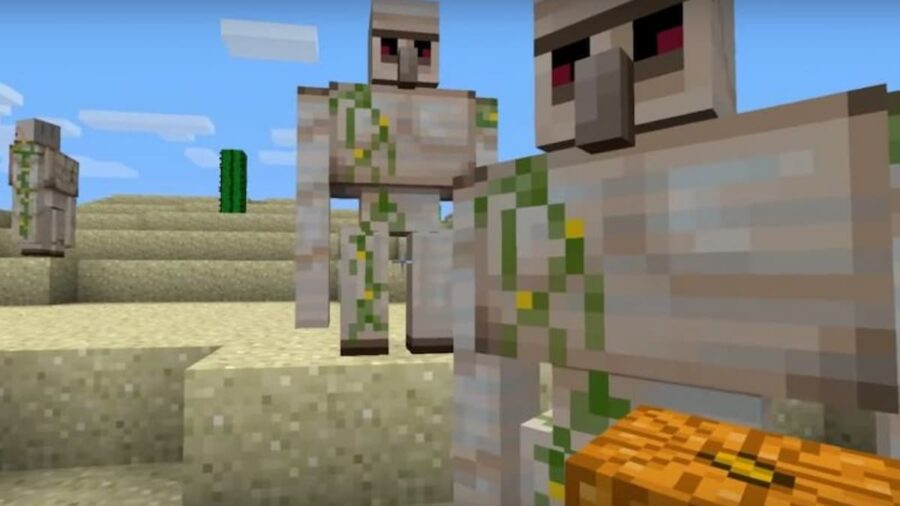 The quickest way to obtain iron is to kill Iron Golems. Iron Golems drop between 3-5 Iron Ingots when they die but are hard to kill. The iron farm will automate that process.
Iron Golems only spawn when a Villager is in distress (can see an enemy mob) and doesn't have an Iron Golem alive within 16 blocks. They can generate a new Iron Golem every 30 seconds. Knowing this, we can create an iron farm.
Building the Iron Farm
To create an Iron Golem farm, you first need a zombie, a helmet, a boat, and a name tag. First things first, throw the helmet to the Zombie until it picks it up and equips the item.
Next, you'll want to lure the Zombie to the boat to trap it and transport it to where you plan to build your iron farm. At this point, put the name tag on the Zombie and add a name. The helmet will prevent your Zombie from dying in sunlight, and the name tag will stop it from despawning.
You will next need to trap the Zombie on a platform eight blocks high. I used a minecart to push the Zombie into place before trapping him with blocks. The entire farm should be built this high, as it prevents Iron Golems from spawning below the farm.
The next step is gathering Villagers. For my example build, I gathered four. I trapped them similar to the Zombie, using boats and then minecarts to transport them. They are placed within eight blocks of the trapped Zombie. This allows them to 'see' the Zombie and start the spawning of Iron Golems.
The Iron Golem Killer
Build platform above Villagers and Zombie. This is where the Iron Golems will be forced to spawn. Use water and fences to prevent them from escaping, and have them slide gently down towards a "lava blade."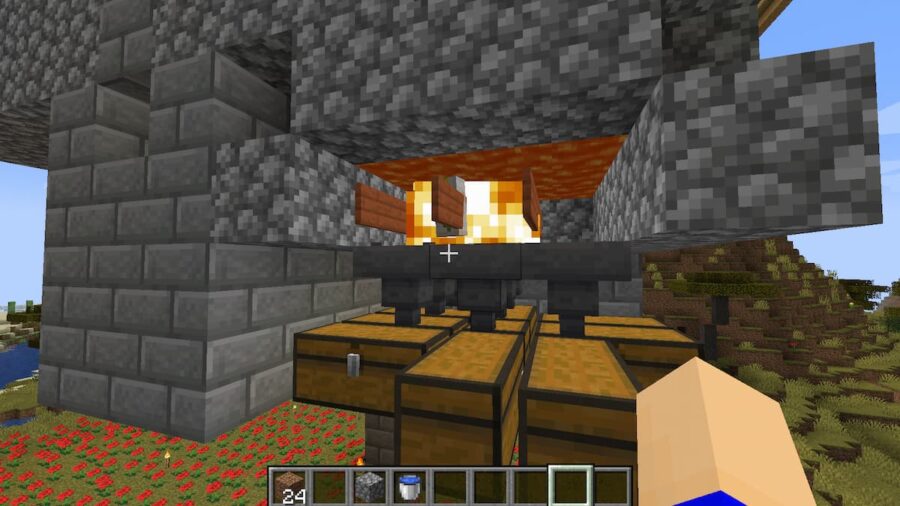 A lava blade is created by placing signs across an opening. Lava will not be able to pass through the signs, but the Iron Golem will. The Iron Golem is damaged by the lava but drops its iron ingots below. Place hoppers, connected to chests, below the sign layer, and you have completed your iron farm.
Advanced Concepts for Iron Farming
Iron Golems cannot spawn on minecart tracks, so if you need to create elevated areas near the farm, place tracks to avoid Iron Golem escapes.
In addition to iron ingots, Iron Golems drop poppies. This means you might want to add an item sorter to the system to prevent you from becoming overwhelmed with poppies.
Making an Iron Farm in Minecraft is hungry work! Check out PGG's Minecraft Food Tier List to fill your hunger.