Name Tags were first added to Minecraft in version 1.6, and since then, they have been a commonly sought-after item. They allow you to name any mob except for Ender Dragons and other Players. Unfortunately, they can't be crafted. This means players have to find them through other means in their Survival World. We're here to tell you how.
Where to Find Name Tags in Minecraft
There are currently only three ways to get Name Tags in Survival: world-generated Loot Chests, Trading, and Fishing. Let's start with Loot Chests since those are the most popular.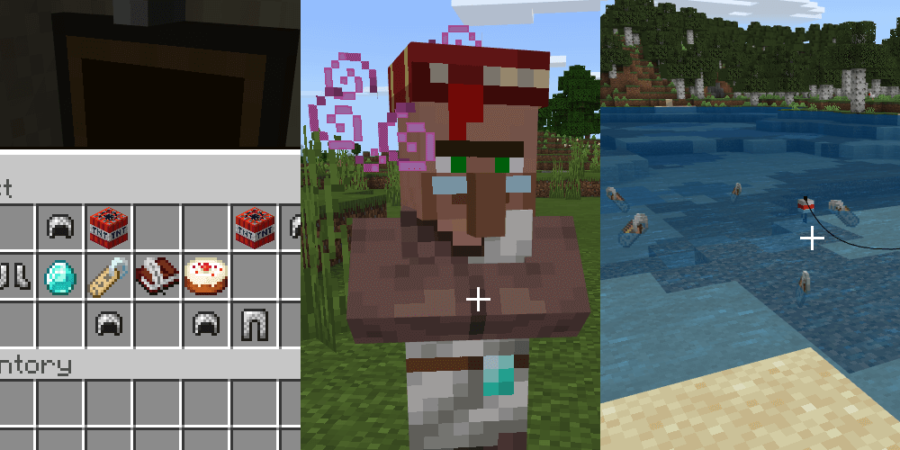 Loot Chests
There are many different Loot Chests throughout any Minecraft world, but only four of them have a chance of spawning a Name Tag. The types of Loot Chests and their chance of spawning a Name Tag are listed below.
Buried Treasure (Bedrock Only): 34.3%
Dungeon: 28.3%
Mineshaft: 42.3%
Woodland Mansion: 28.3% (Bedrock 27.9%)
Trading
When you trade enough with a Librarian, it will reach Master-Level Librarian. At this stage, they are willing to trade a Name Tag for 20 Emeralds. The price is steep, but if you really want to name your Pig Monsieur Piggles, it's worth it!
Fishing
You can catch a Name Tag while fishing as well! Whenever you fish, you have a five-percent chance of catching a treasure, and from there, you have one-sixth of a chance of that treasure being a Name Tag. This means that any time you fish, you have a barely less than one percent chance of catching a Name Tag. However, you can increase this chance by enchanting the Fishing Rod with the Luck O' the Sea Enchantment.
Now that you know where to get Name Tags, you can finally name Mr. Pigglesworth!
Did you know your Villagers keep their names if they are turned into a Zombie Villager? Still, you can change them back using our guide on How to Cure a Zombie Villager!