Our Mario Kart Tour Coin Rush Guide will teach you exactly what you need to do to play in Coin Rush. If you want to gain yourself a ton of coins, then you will want to take advantage of this game mode!
What is Coin Rush?
Coin Rush is a mode where you'll get to drive around a track that is filled with coins! Collecting coins is a great way to purchase racers, karts, or gliders.
How-to Play Coin Rush
It's pretty simple really, look to the top of your screen and find the box that displays your coins.
Go ahead and tap on that and you will open up the Coin Rush menu!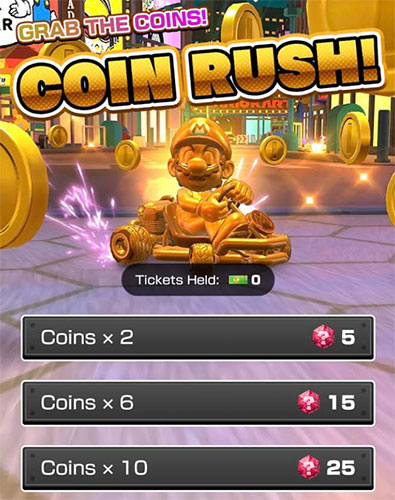 You can then pay Rubies to take part in a Coin Rush. The more Rubies you spend, the higher the multiplier will be. However many coins you collect in the Coin Rush will be multiplied by whichever one you select. So, if you pay 25 Rubies for the 10x multiplier and collect 200 coins, you will end up with 2,000 coins in total!
Make sure to be careful with your Rubies! These are hard to earn for free and will be in limited supply if you're attempting to play the game without purchasing anything with real money. One way you can earn additional Rubies is to make sure to login everyday! You earn a reward each day you open up the application, and sometimes that reward can be Rubies.
Coin Rush Guide
Make sure you have a pretty good grasp on how-to drive in Mario Kart because you will need to make sure to stay centered on the track to collect all of the coins possible. You don't have to fret too much though, you drive as Gold Mario who will suck up any nearby coins you drive by. Another thing to make sure you do is to drive through any different colored coins on the track because they are of higher values!
One last thing, you may want to wait until you unlock challenges. There's a challenge you can complete that will earn you a ruby in the Standard Challenges. All you need to do is complete Coin Rush 1 time, and you will earn back a ruby!