Monster Hunter Now is the all-action successor to the Pokemon Go crown. You'll need to spend time out and about with your mobile as you collect resources and battle enemies if you want to level up fast but it's not always easy to battle bosses on the move. This is where paintballs come in, so read on to find out how and when to use them in MH Now.
How paintballs work in Monster Hunter Now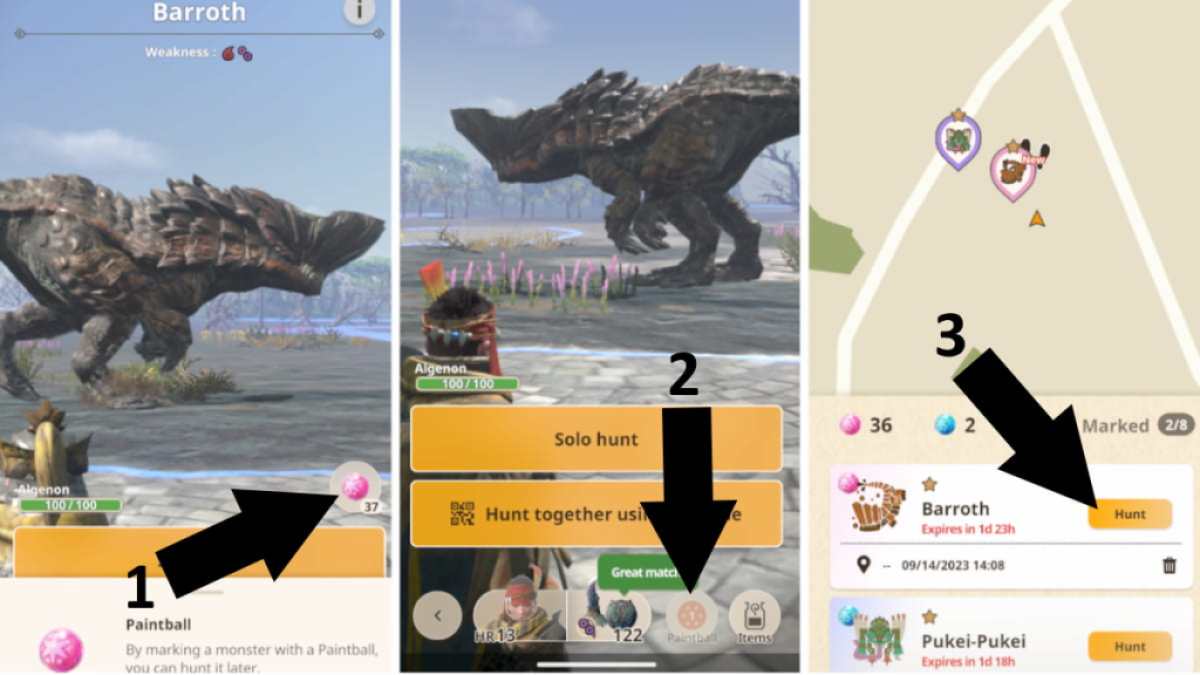 Paintballs are used in Monster Hunter Now to mark a boss enemy you want to deal with later. This means that you can avoid trying to battle in the wrong situation. Most often for me, this is when it's too bright to see properly, or when it's a tough enemy and I'm in a rush, or on a busy street. In this situation, click the Paintball button, tag them, and battle them when you have more time.
There are two colors of paintball which you use in the following ways:
Pink: Standard paintballs. You mark a boss with one manually by clicking the pink paintball button on the right of the screen (1, above) rather than clicking Hunt on the boss screen.
Blue: These are Palico's paintballs. Your faithful cat will use them to mark bosses when the game is playing in the background.
Later you just need to click the Paintball icon at the bottom of the main game map screen (2) to bring up a list of your saved bosses. Click one to battle (3) and the fight will play out exactly as normal. Just be careful, as the paint only lasts 48 hours. Leave it too long and the monster will escape.
Where to get more Paintballs in MH Now
Blue Palico Paintballs can't be obtained by us as players. Palico gets a new allowance of them each day (just three) and uses them as they please. I guess we're getting free boss battles so we shouldn't complain! Pink Paintbals are often given as rewards or can be purchased in the store (180 Gems each, or five for 900). 
Also, be sure to check out How to get Monster Hunter Now referral code (MH Now) here at Pro Game Guides!