Those looking to maximize their time in Monster Hunter Rise and its Sunbreak expansion have no shortage of content to explore. One of the more involved tasks requires hunters to track down notes left behind by an unknown hunter. There are 10 such Relic Records to track down in the new Citadel map. Fortunately, we have this handy guide to make getting them all a breeze.
Monster Hunter Rise Citadel Relic Records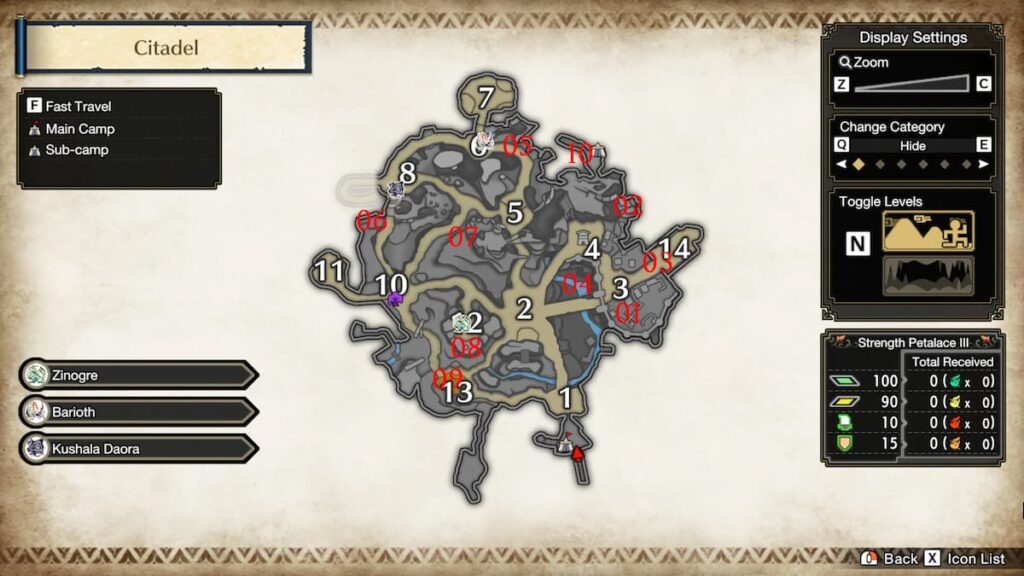 Related: Spiribird Locations in Monster Hunter Rise – Best Spiribird Routes
Message 1: Near the Great Wirebug in Area 3.
Message 2: Northeast of Area 3, hidden in a bush.
Message 3: Atop the large arch marking the entrance to Area 14.
Message 4: In the water west of Area 3 is a wooden door that can be destroyed using an Exploding Barrel.
Message 5: East of Area 6 and stuck in an iced-over ledge.
Message 6: Southwest of Area 8 is a rocky wall. Use three wirebugs to climb up to the hidden alcove.
Message 7: Located in a cave between Areas 5 and 10. After entering the cave, take the path to the right and then a left at the next intersection.
Message 8: Atop a broken tower in Area 12.
Message 9: Inside the broken tree stump in Area 13.
Message 10: Head to the Sub-camp, face the tent, and look to the left to spot a small hole. Going inside said hole will reveal the record.
For more Monster Hunter Rise goodies, check out All Jungle Relic Record Locations in MHR Sunbreak on Pro Game Guides.