Like in all of the Monster Hunter games, players can use certain ingredients they collect from monsters and elsewhere to upgrade their arms and armor. The Mountshroom is one of these kinds of ingredients. This special mushroom can only be collected from one area, and that isn't out in the fields. Instead, players will need to take a bit of a roundabout way to reach them.
Connect with the Meowcenaries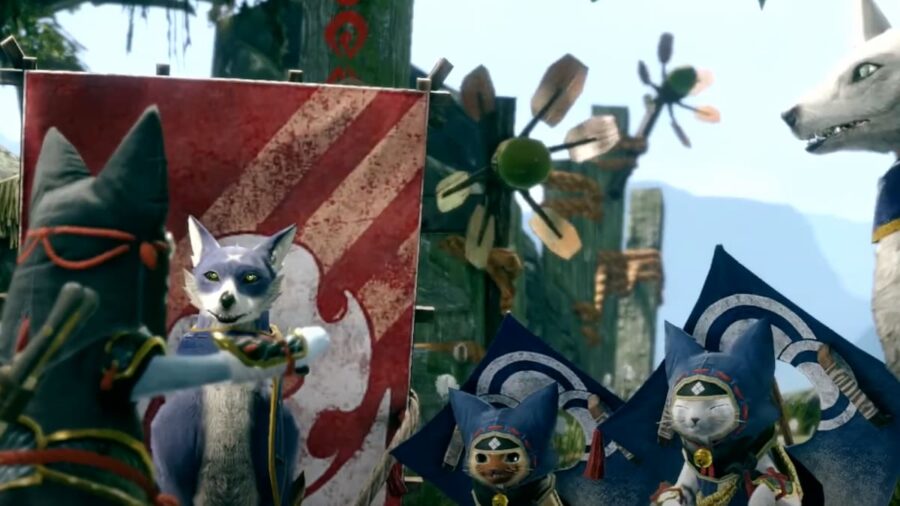 One of the first steps to this method is connecting with the Meowcenaries. They are accessed through the Kamura village's Buddy Plaza. This area is exclusive to "buddy" activities and accessing the player's new and old pets. Pets like the Palicos and Palamutes.
The group, the Meowcenaries, can be reached here as well. Players will need to hire them to collect rare items and ingredients. They are the key to collecting the Mountshrooms. Mountshrooms are one of the lower-ranked items that they can collect, alongside Stargazer Flowers, Sinister Cloth, Bumblepumpkin, and Cutejelly.
Related: What are Tigrex weaknesses, resistances, & drops | Monster Hunter Rise
Hire the Meowcenaries
To hire the Meowcenaries to speak with their leader Felyne Chief Kogarashi. This will allow players to access the Meowcenaries menu and select which ones to hire and where they should go collecting. To specifically have them collect Mountshrooms, players will need to send them to the Shrine Ruins.
After selecting the Shrine Ruins, the player will also need to pick a path for them to take. Look for a pathway that features sparkling mushroom icons. This will ensure that they find at least some Mountshrooms. They won't always be available, so players may need to do this on a couple of occasions to get enough for the Chaos set.
For more Monster Hunter content, be sure to check out What are Power Charms used for in Monster Hunter Rise? on Pro Game Guides.