Sunbreak is an explosion of content for Monster Hunter Rise. Part of the experience is grinding out the same monsters we've hunted in Low and High Rank quests, but fans of particular weapons and armor won't want to miss the opportunity to collect the Master Rank versions of their favorite sets. Those fond of the creepy Khezu will have their hands full with this creature while trying to harvest enough Pearl Glosshide for this new and improved set.
Where to find Pearl Glosshide in MHR Sunbreak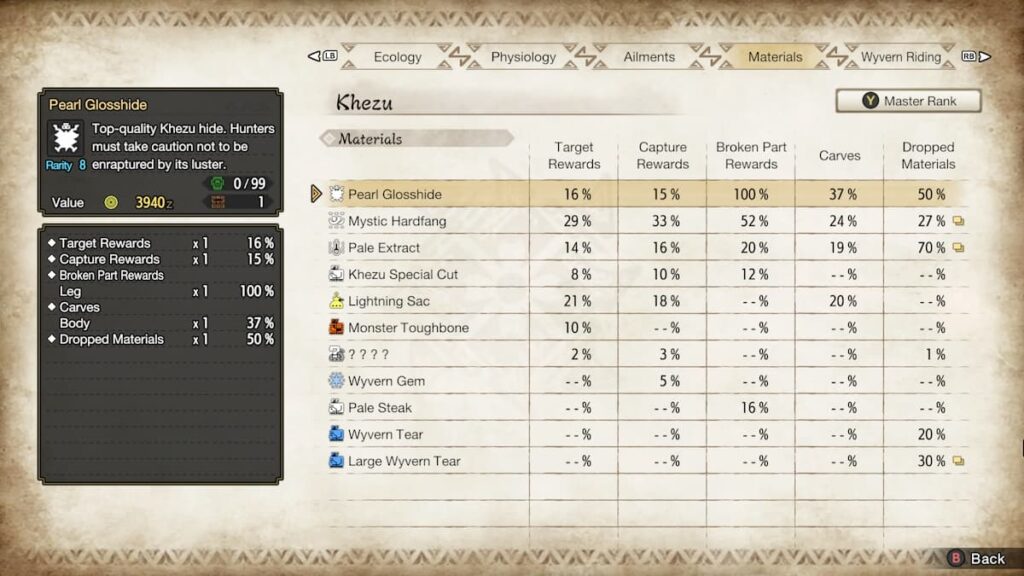 Pearl Glosshide is a crafting component that can be obtained from the Khezu in Master Rank hunts. The easiest way to farm this component is to equip a hammer or hunting horn with the Destroyer Jewel which imparts the Partbreaker skill, making it easier to break parts off a Monster. Otherwise, there are different percentages for different ways of handling the Khezu.
Target Rewards - 16%
Capture Rewards - 15%
Broken Part Rewards (Leg) - 100%
Carves (Body) - 37%
Dropped Materials - 50%
Gear requiring Pearl Glosshide
Pearl Glosshide is used to craft several pieces in the Master Rank version of the Khezu set. To complete the set, hunters will need to gather 12 of the component.
Khezu Coil X (x3)
Khezu Greaves X (x1)
Khezu Helm X (x4)
Khezu Mail X (x4)
For more Monster Hunter Rise goodies, check out How to get a Timeworn Crimson Horn in Monster Hunter Rise Sunbreak on Pro Game Guides.