The Monster Hunter World and The Witcher 3: Wild Hunt collaboration released for MHW as part of the 6.0 patch. It added a new Monster to fight and a quest that let you pay as Geralt of Rivia. But with a pair of side quests, a complicated investigation (compared to the normal Monster Hunter World ones), and one of the most frustrating fights from a non-High Rank monster, this mission can be a tough one. Here's how to complete the whole Witcher collaboration in MHW.
Investigate The Anomaly at the Research Base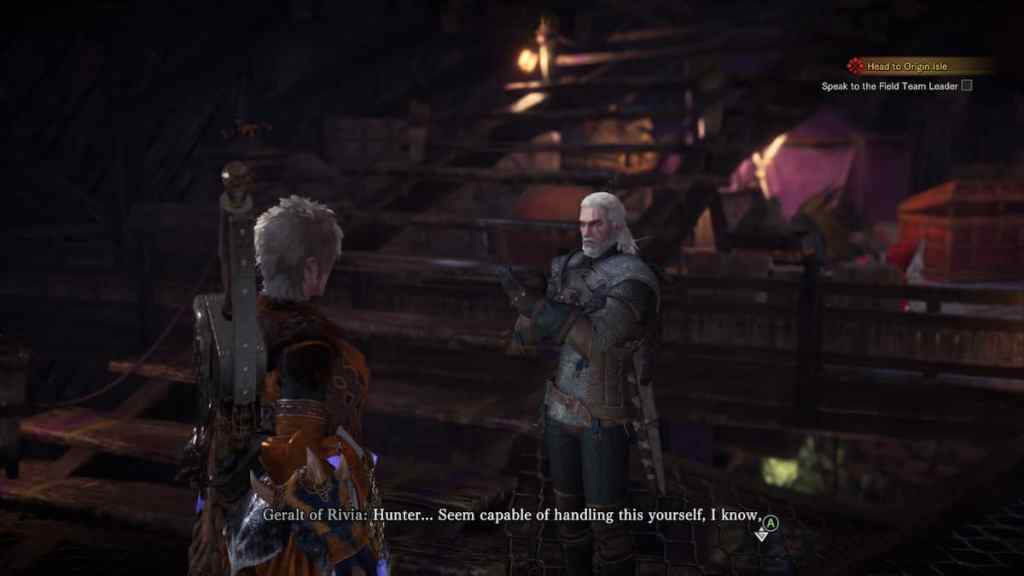 The first stage of the Witcher quests is to complete a short mission called Investigate The Anomaly at the Research Base. This will appear once you've accessed the Coral Highlands and gained access to the Research Base. This mission is pretty short, and requires you to find a Nekker in the Ancient Forest. Once you've completed this, you'll head to the Research Base and be able to talk to Geralt of Rivia to start a quest where you play as him. Talking to Geralt and accepting the quest lets you take control of him in the mission Completing Contract: Trouble in the Ancient Forest.
Related: How to get Dragonbone Artifacts in Monster Hunter World
Completing Contract: Trouble in the Ancient Forest
After talking to the first commission member, you can head north or west. Heading West will lead you to a dead Aptonoth in Area 2 which you can search for clues. This will unlock a trail of black feathers for you to follow. Following them will lead you to another dead Aptonath in Area 1. You'll have to dispatch the black birds surrounding the dead Monster using the Witcher's Igni ability.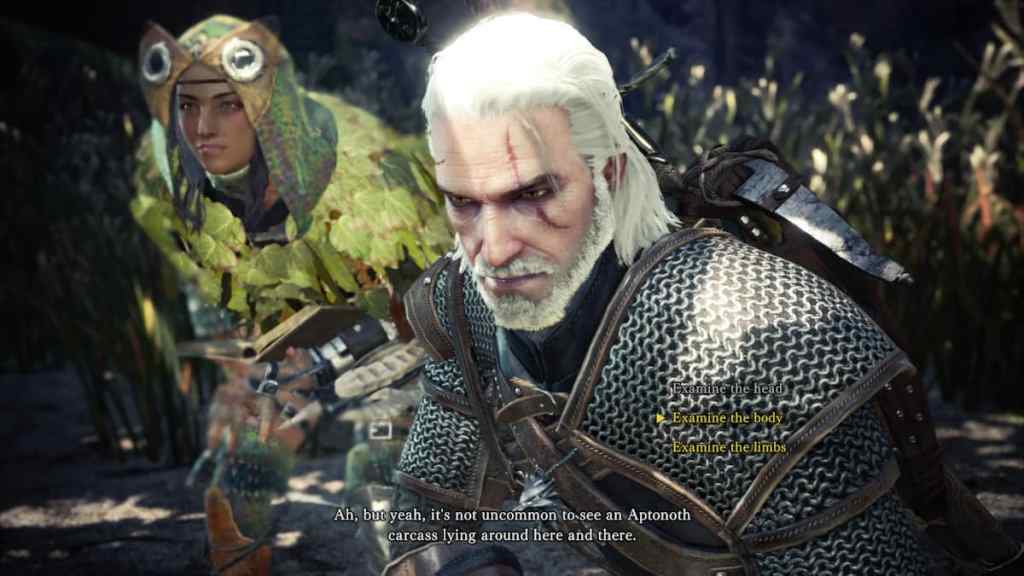 Heading north will lead you to a journal which will give you a trail of footprints to follow. These footprints will eventually lead you to tree roots in a cave. From there head to Area 9 and rescue the researcher. Now you'll have solved all the investigation clues, and if you head to Area 12 you'll start the fight with the Leshen. You'll have to complete any Side Quests before starting this fight.
Monster Hunter World Witcher Side Quests
There are two possible Side Quests in the Completing Contract: Trouble in the Ancient Forest mission. The first appears in the small path leading between Area 1 and Area 9. You'll find a red-marked set of drawings on a rock face. This will activate a side quest called Side Quest: The Chief Issue. To complete this quest you'll need to have unlocked all the Palico Gadgets before the quest.
Optional Quest: Save the Pukei-Pukei
The second Side Quest is to rescue a Pukei-Pukei. Freeing the Pukei you find trapped in Area 8 will activate the side quest Optional Side Quest: Pukei-Pukei in Peril. Once you've freed the Pukei-Pukei using Igni, it'll help you in the fight against the Leshen. And if the Pukei-Pukei survives, you'll receive an Attack Jewel 1 as a bonus reward. The best way to make sure this happens is to use the Dust of Life that you start the mission with, but also use the EZ Dust of Life from the Chest at Base Camp.
Related: How to get the Buff Body Layered Armor in Monster Hunter World
Fighting the Leshen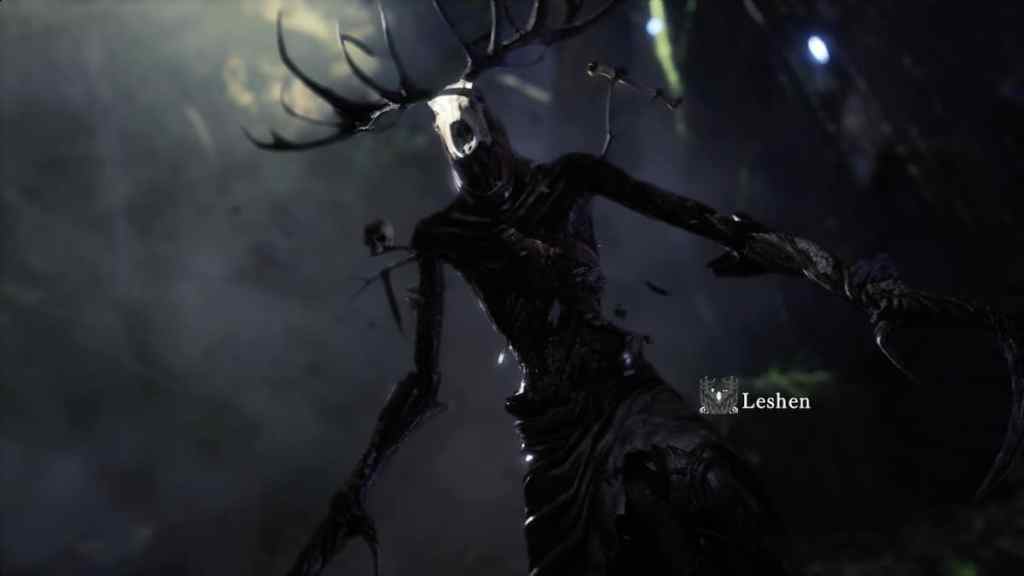 Once you've completed the Side Quests it's time to fight the Leshen. This is a difficult fight with a few wrinkles to it. First is the Leshen's crows. He'll constantly summon crows which will deal passive damage to you while you're within melee range. These can be dispelled by using Igni, but you'll need to have Igni on hand for some of his other ability, so only use it if you're really struggling.
His roots are another major source of attacks. He has three main root attacks, one that summons roots around him which knock you up, a line of roots that shoots towards you, and a wall of roots that can prevent you from attacking. The first two attacks should be dodged, while the wall can be dispatched with Igni.
The Leshen has two melee attacks. A regular swipe and a second more powerful one that inflicts bleed. This is especially annoying with this other main source of damage: Summoned Jagras'. He will constantly summon Jagras to attack you. This can be mitigated by breaking the Antlers on his head. Otherwise, you'll just have to use Igni again to burn away the Jagras.
Best way to beat the Leshen
Poison and Paralysis are some of the best ways to damage the Leshen. Luckily, the fight will usually take you to Area 6, where poison cups will allow you to create damaging zones for the Leshen. Additionally, you can use the Poison Knives and Paralysis Knives in the Chest at any Camp. If you've rescued the Pukei-Pukei, he'll also be able to poison the Leshen, dealing great damage. And like most monsters, he's really susceptible to Mounting and Knockdowns.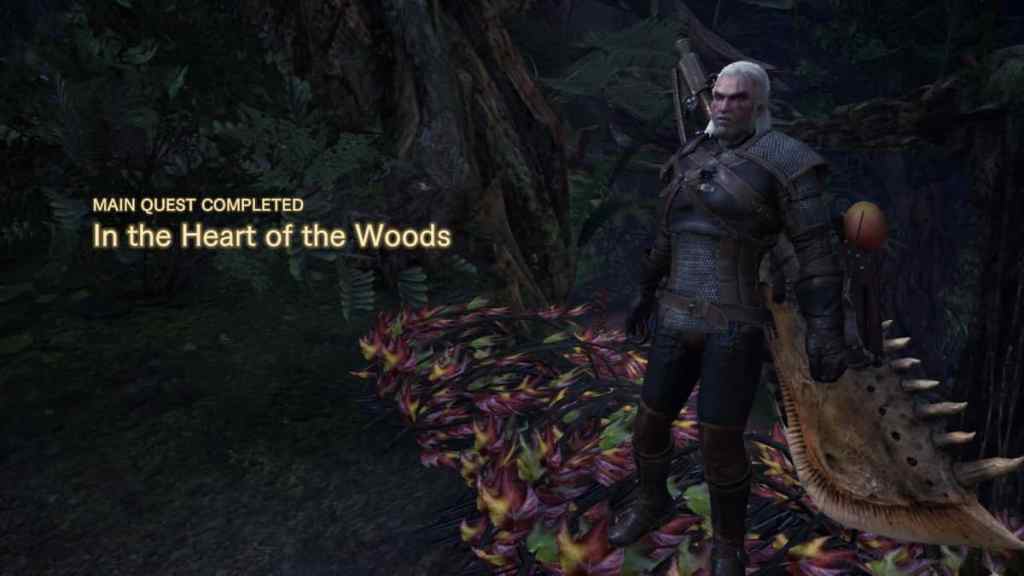 MHW Witcher quest rewards
Hunter Runestone
Attack Boost Decoration (Rescue and keep the Pukei alive for the decoration)
19800 Zeny
MHW Witcher quest unlocks
Leshen hunts and Investigations
Witcher's Silver Sword
Witchers Silver Sword +
Geralt Alpha Armor Set (Full Armor Set)
For more Monster Hunter World guides and info, check out How to get Fulgurbugs in Monster Hunter World on Pro Game Guides.