The dizzying world of Magrasea is in danger as Sanctifiers exist to eliminate the existence of Dolls, which are characters you can summon using a system called the Neural Search. This acts as Girls Frontline: Neural Cloud's summoning system, where you can pull for waifus, husbandos, and the like using free and premium currency.
There are different banners that you can pull Dolls from, and each has a unique system that's great to know to help you plan out your future summons.
How does Basic Search work in Neural Cloud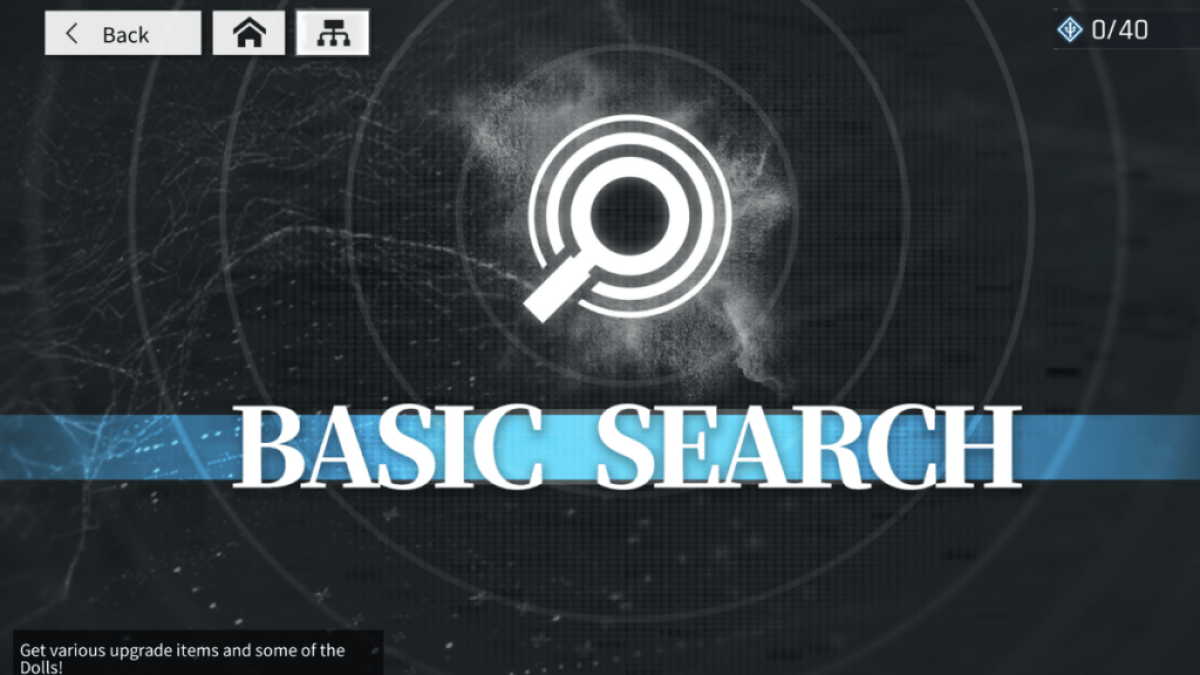 The Basic Search is a permanent banner that uses an easily-obtained currency called the Basic Search Command. It drops a plethora of items, including Dolls and consumables. However, the availability of Dolls depends on the level of your Search Terminal in the Oasis. This banner has no pity system or guarantees.
How does Advanced Search work in Neural Cloud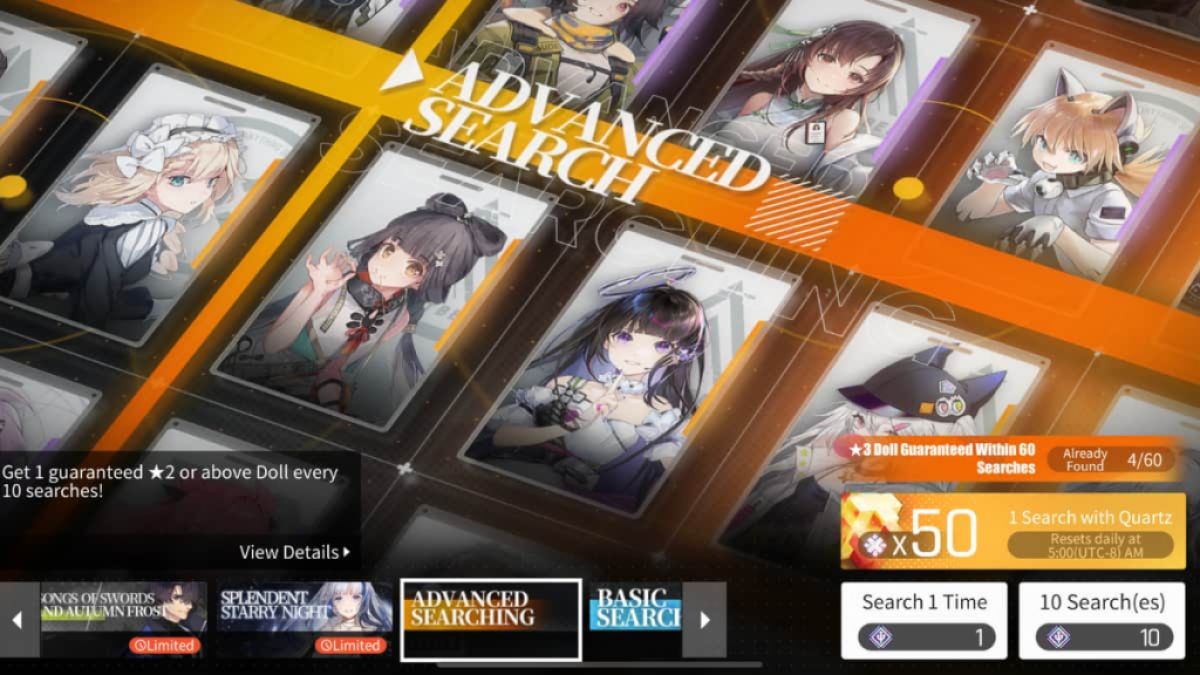 Advanced Search is a permanent banner where you can summon 2-star and 3-star Dolls. Each Search costs x1 Search Command or x150 Quartz Sand, which are freemium currencies that can be obtained sparsely in-game.
You're guaranteed the following in this banner:
2-star Doll or above every 10 Searches
3-star Doll within 60 Searches
The pity counter resets even if you get a 3-star Doll before 60 pulls. For instance, if you get a 3-star at 25 pulls, your guaranteed 3-star will take 60 pulls instead of 35. Since this banner doesn't feature a specific character, there's no contingency to help you get a Doll that you really want. Dolls from Targeted Search banners eventually enter the Advanced Search banner.
How does Targeted Search work in Neural Cloud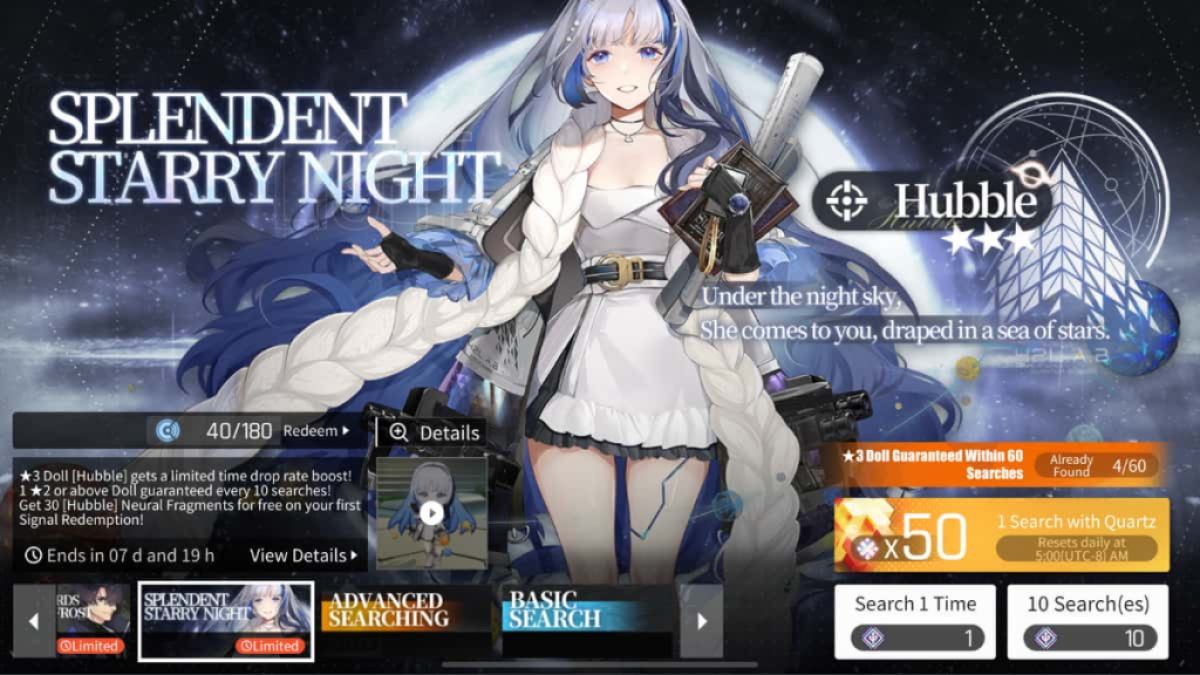 Targeted Search is a time-limited banner that features a 3-star Doll. You can Search using x1 Advanced Search Command, x150 Quartz Sand, or x150 Quartz. You can also do one Targeted Search at a discounted rate of x50 Quartz per day.
This banner type only runs for more or less 20 days before switching featured Dolls, but it's the best way to get a character that you really like. During this period, you can attempt to get the featured character on rate-up and are guaranteed to get them after a number of pulls:
2-star Doll or above every 10 Searches
Random 3-star Doll within 60 Searches
Featured 3-star Doll after 180 Searches (via manual redemption)
Like the Advanced Search, the pity counter for Targeted Search banners also reset even if you get a 3-star Doll in less than 60 pulls. You're not guaranteed the featured character on rate-up in the 60-count pity. However, each Search attempt will grant you x1 Discrete Signal. Discrete Signals are unique to each Doll, so if two Targeted Search banners are running, the Discrete Signals you collect will not overlap between the two.
Collect x180 Discrete Signals to redeem the featured character before the banner period ends. Once the banner is over, Discrete Signals are converted into Discrete Points at 1:1. These can be used to make purchases in the Points Redemption Center of the Supplies shop.
Does Neural Cloud have limited banners?
Neural Cloud has a limited banner system introduced in the Chinese server. However, none has been announced for the Global server, so its banner system is currently uncertain.
Check out our compilation of Neural Cloud Codes here on Pro Game Guides to get free in-game resources.