Love is in the air over at Blizzard, which has released an Overwatch minigame for the occasion – LoverWatch, Love Never Dies. The standalone mini-game is a spin-off from Overwatch 2 in which you can attempt to woo your choice of popular characters Genji, Mercy, and Hanzo. It's a purely text-based bit of fun that you'll just need to sign into your blizzard account to enjoy. And better still, you can enjoy access to some unique LoverWatch Rewards upon completion. You can find LoverWatch here. Below you'll find a walkthrough guide on how to get all endings in LoverWatch.
How to get Cupids Kiss Hanzo
Once you start the Official (but Non-Canon) Overwatch 2 Dating Sim and enter your name (which isn't important to gameplay), you can choose whether to meet up with Mercy or Genji. If you complete the game with each of them, then start again, you'll meet up with Hanzo. Completing all three paths will net you in-game icons for each of the three characters, the Cupid's Kiss Hanzo game intro, plus some downloadable Valentine's Day cards.
Related: Map Pool for Overwatch 2 Season 3
Once you have chosen which to make your Valentine, follow this guide to successfully woo them. Basically, you need to follow Cupid Hanzo's tips as you go and get through three dates with each character. You'll need to start by being love-struck and accept their love at the end of both stories to gain access to the locked Hanzo ending.
Dating Genji
Focus on his interests, compliment him, and when he doubts himself give him reassurance. Tell Hanzo he is being judgemental, then tell Genji you like the outfit and that you love that game. Choose to go for it and tell a joke about ninjas in the Laff Attic, then tell him making him laugh was your goal and say absolutely to round off date one.
Compliment his hoodie say you gamed on the way there, then order Genji's favorite food (Rikimaru Ramen) in Café Azur. Try to lighten the mood, say that you're sorry, then hold his hand. Say you want to go somewhere he finds special, then ask what's in Nepal. Say the hike was worth it to be with him, say it's wonderful to meet you to Zenyatta, and finally suggest you can try to know your true self.
Dating Mercy
Generally, you want to be going for humor, compassion, and kindness, to see her how she really is. Her real name is Angela Ziegler and she likes chocolate. For the next question say the quiz is rigged, then say you'll tell her how much you played Overwatch 2. Joke about surgeons in the Laff Attic, then call her Dr Ziegler and tell her she is smart and funny and say you'd love to join her.
In Café Azur, say it happens to the best of us and then order Bircher Muesli. Ask her about her hobbies, then about being a hero, then tell her you need her. In Cairo, drink the coffee enthusiastically then tell Ana you're Angela's date.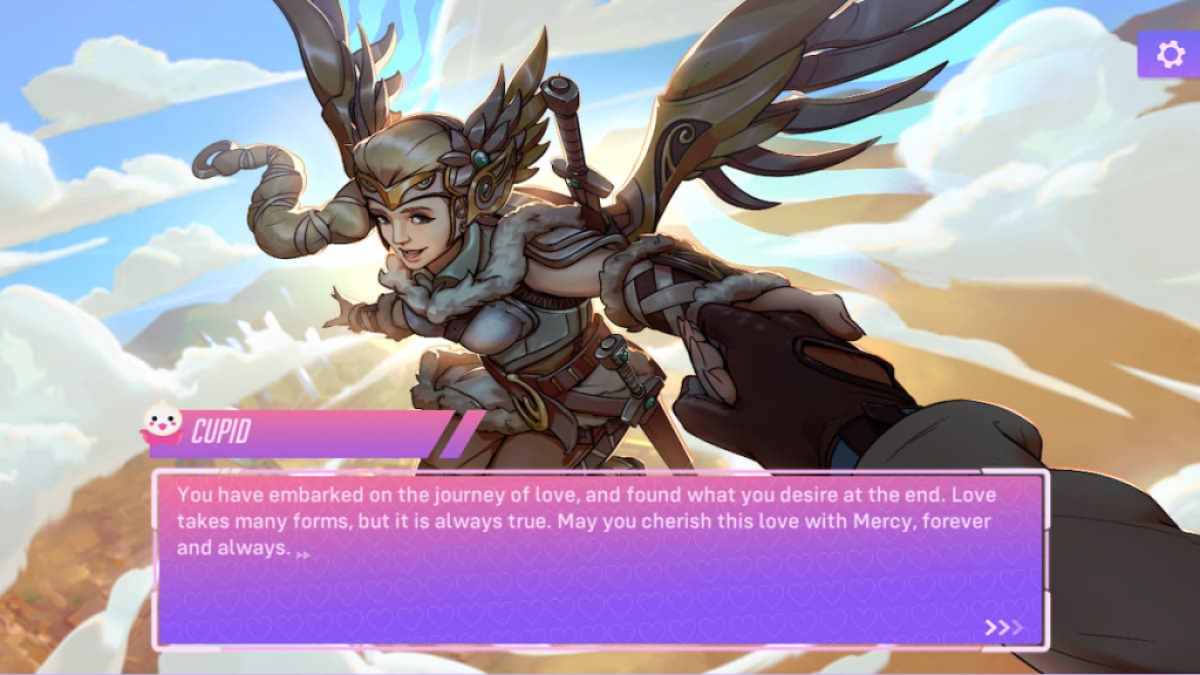 With these complete, start the game again to enter the Realm of Love and get a token of Cupid Hanzo's respect, which equates to the final set of rewards. You can now go to the Rewards section of the main LoverWatch menu to redeem your icons.
Looking for more on Overwatch 2? Check out All Hero Changes for Overwatch 2 Season 3 and How to play Sojourn in Overwatch 2 post nerf here at Pro Game Guides.