OvO is a free-to-play 2D platformer game players can play in Coolmath Games. It is one of the best games to try speedrunning, with the goal being simple: navigate your way through several objects to reach the flag at the end of the level. However, with options like sliding, jump diving, wall running, and wall jumping, it is up to the player to make use of the dynamic movement of their character to make it through each one as quickly as possible. As you progress through the game, you might hit a roadblock on level 19—but we have you covered. This guide will tell you how you can beat level 19 on OvO.
How to complete level 19 on OvO
Level 19 on OvO can be quite the head-scratcher, thanks to the obnoxiously placed spikes you must jump and glide through. Named the Little Spikehouse, this is an S-shaped level with three floors to cover. As you start the level, the first two sets of spikes can be easily crossed by simply sliding below them. Then, when you reach the tall wall, grab onto it by pressing the Right Arrow key, and then jump by pressing the Up Arrow key on your keyboard. Doing so will make your character vault up against the wall and gain more height, allowing you to pass through the black wall with ease.
Use the trampoline and a few wall jumps to reach the second floor of this level. Now, you need to pull off a smooth slide, jump over the small set of spikes on the ground and pass through the dotted wall above it. To do a sliding jump, press the Down Arrow key on your keyboard to enter a slide, and then press Up Arrow key to jump. Once you cross this section, jump onto the dotted ledge above you, and then perform a diving jump to cross through the dotted wall on the left and the subsequent spikes beyond it. To perform a diving jump, press the Down Arrow key while jumping and moving in any direction.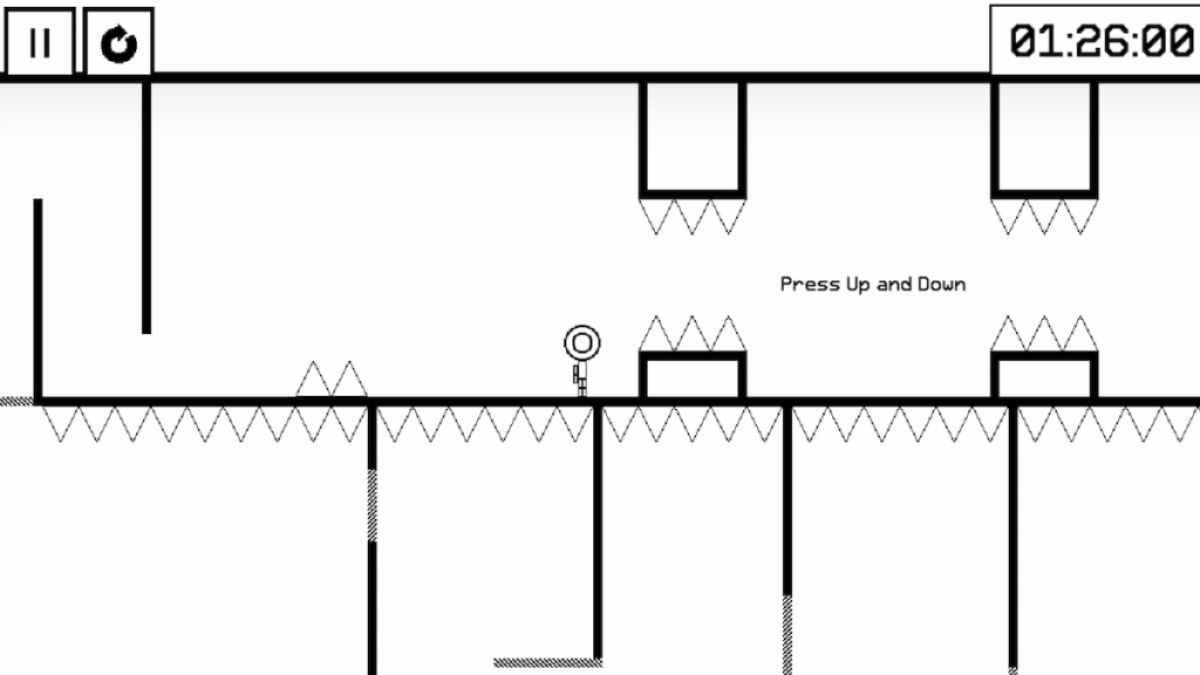 Finally, use the trampoline once more to reach this level's third and final floor. To cross the first couple of spikes, you need to perform a well-timed slide jump. After that comes the tricky part, two sets of up and down spikes with a narrow opening in the middle to cross through. The easiest way to cross this part of the level is to slide jump through both the spike sets. Successfully doing so will complete level 19 in OvO.
Looking for more cool games to try speedrunning? Check out How to beat Johnny Upgrade boss, right here on Pro Game Guides.