The Trial of Ancestors League is on now in Path of Exile. The league mechanic this time is an auto battler featuring collectible warriors that do battle against enemy NPC teams. In order to get started, you will need to collect an item known as Silver Coins, which can be found starting in the Mud Flats. This league mechanic is pretty complicated, and it took me awhile to pick it up.
How to Play Trial of the Ancestors League Mechanic in PoE 3.22
Beginning in the first Mud Flats, you can start to find Silver Coins. For those who have been playing PoE for a while, you may recognize both the item Silver Coin and the NPC that is asking for them: Navali. She was a big part of Prophecy League all the way back in 2016. Silver Coins are picked up as random as drops from enemies and from chests. The first coin collected will allow you to begin interacting with the auto-chess battler found in the Halls of the Dead.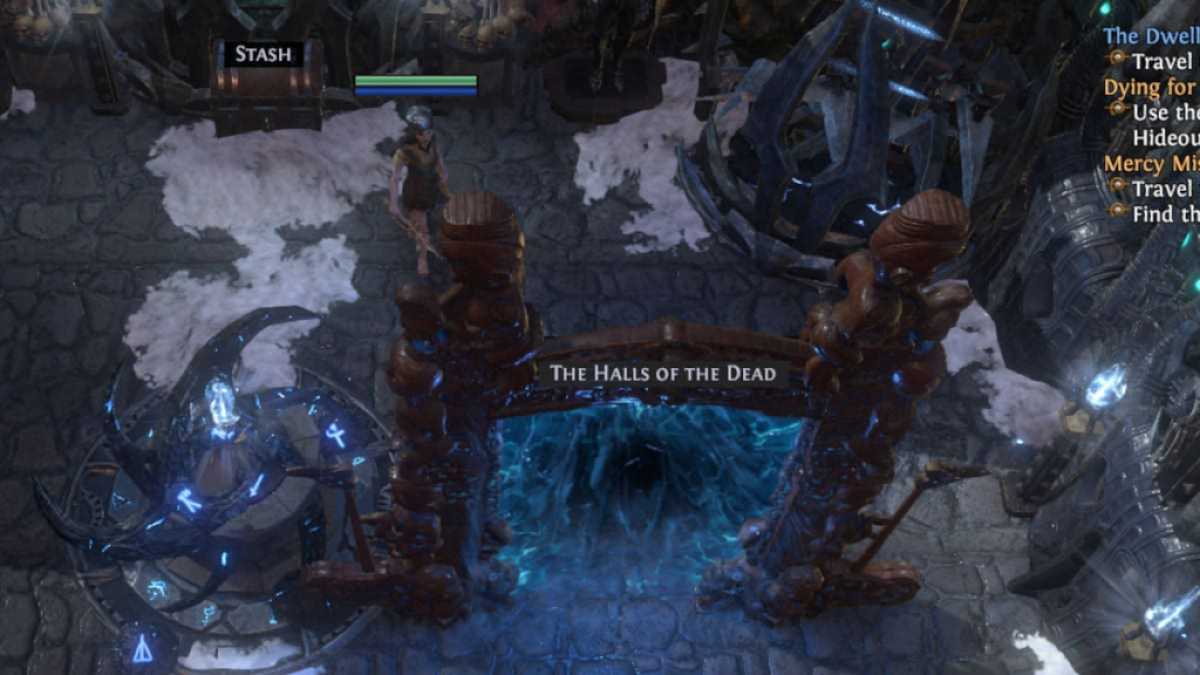 All Tribes in the Trial of the Ancestors
There are a total of ten tribes in Trial of the Ancestors, not including Navali's "Tribe" of generic units that can also be purchased. You start each Trial with three generic Karui warriors on your team. When you take on a challenger and win, you will earn favor with teams that oppose them. Each team has at least three teams they are in opposition with, a head NPC to buy from and sell to, and a unique that can be earned in auto battle.
Related: Path of Exile vs Diablo 4 – Similarities and Differences
Ngamahu Tribe
Head NPC: Kaom
Theme: Strength and Armor, Fire Damage
Passive: Stun Resistance
Tribe's Unique: Koam's Binding +(25-35) to Strength. +(30–40) to Strength; +(300–500) to Armor. Take no Burning Damage if you've stopped taking Burning Damage Recently. Nearby Enemies Convert 25% of their Physical Damage to Fire.
Tasalio Tribe
Head NPC: Rakiata
Theme: Field manipulation, cold and water
Passive: Can swipe enemy flask charges
Tribe's Unique: Rakiata's Dance 60% increased Global Accuracy Rating Adds (150–200) to (300–350) Cold Damage. Adds 1 to (550–600) Lightning Damage. (15–20)% increased Attack Speed. Treats Enemy Monster Elemental Resistance values as inverted.
Arohongui Tribe
Head NPC: Ikiaho
Theme: Water and Ice, movement
Passive: Can steal mana from enemies
Tribe's Unique: Ikiaho's Promise Regenerate (2-4) Life per second. Regenerate (3-5) Mana per second. (15–30)% increased Life Recovery from Flasks. (15–30)% increased Mana Recovery from Flasks. Life Flasks used while on Low Life apply Recovery Instantly. Mana Flasks used while on Low Mana apply Recovery Instantly.
Valako Tribe
Head NPC: Kiloava
Theme: Lightning and storms
Passive: Critical resistance
Tribe's Unique: Kiloava's Bluster 3% increased Movement Speed(100–150)% increased Evasion Rating. (15–25)% chance to Avoid Elemental Ailments. +(3–8)% Chance to Block. (30–40)% chance for Elemental Resistances to count as being 90% against Enemy Hits.
Hinekora Tribe
Head NPC: Tawhanuku
Theme: Chaos DOTs
Passive: Curse Resistance
Tribe's Unique: Tawhanuku's Timing +(15-25) to maximum Energy Shield. (30–40%) increased Spell Damage. +(60–80) to Maximum Mana. (5-10)% chance to Freeze, Shock and Ignite. Spells cause you to gain Energy Shield equal to their Upfront Cost every fifth time you Pay it
Tawhoa Tribe
Head NPC: Maata
Theme: Better flasks
Passive: Aliment Resistance
Tribe's Unique: Maata's Teaching 26% increased Elemental Damage+(30–40) to Intelligence. (25-50)% increased Critical Strike Chance. +(1–2 to Levels of all Minion Skill Gems. Minions' Base Attack Critical Strike Chance is equal to the Critical Strike Chance of your Main Hand Weapon.
Kitava Tribe
Head NPC: Utula
Theme: Physical DOTs
Passive: Resistances to Leeching
Tribe's Unique: Utula's Hunger (60-100)% increased Armour. Recover (1-3)% of Life on Kill. (30-40)% increased Stun and Block Recovery. +(700-1000) to maximum Life if there are no Life Modifiers on other Equipped Items.
Rongokurai Tribe
Head NPC: Kahuturoa
Theme: Defense, Physical damage
Passive: Can't be Slowed or Stunned
Tribe's Unique: Kahuturoa's Certainty (100-150)% increased Armour. 5% reduced Movement Speed. (100-200)% increased Stun and Block Recovery. Unaffected by Damaging Ailments.
Ramako Tribe
Head NPC: Ahuana
Theme: Cold
Passive: Accuracy, Evasion
Tribe's Unique: Ahuana's Bite Gain (6-8) Life per Enemy Hit with Attacks. Adds (30–40) to (60–70) Cold Damage to Attacks. +(20–30)% to Cold Resistance. Enemies Chilled by your Hits have Damage taken increased by Chill Effect. Chill Enemies as though dealing (60–100)% more Damage.
Tukohama Tribe
Head NPC: Akoya
Theme: Protection
Passive: Can't be taunted, ignores some enemy blocks
Tribe's Unique: Akoya's Gaze +100 Strength Requirement. (20–25)% increased Warcry Speed. Life Leech from Exerted Attacks is instant. Non-Exerted Attacks deal no Damage.
Head NPC: Navali
Theme: Basic units
How to Interact with the Ancestors League Mechanic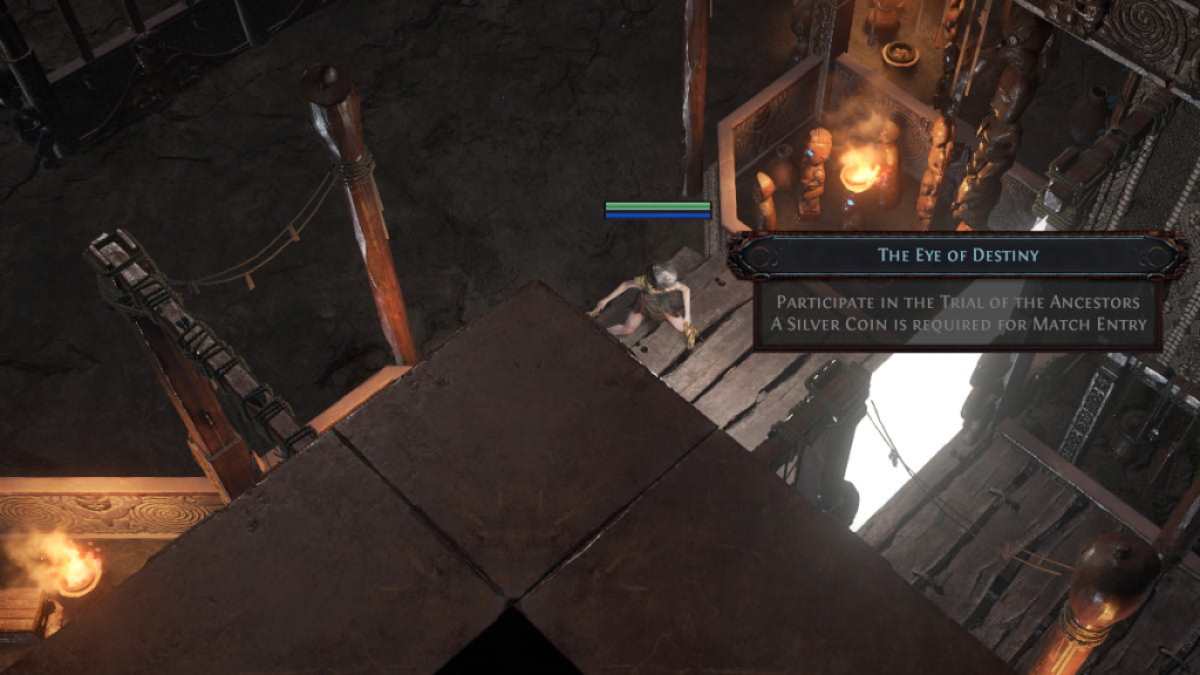 After the first time you enter Halls of the Dead, you can visit it again through any Waypoint. Once inside, you will see all the different tribes' leaders and learn how to earn their favor, buy units, and play matches.
At the beginning, you will only have your starting team and no favor, so you will need to take on an enemy team. Head to the southeast corner of the map of the Halls of the Dead and look for a shining door called the Eye of Destiny. Click on it to start a match.
Choosing a match
In the first round, you can choose from any of the other tribes to battle, but as the rounds continue, fewer and fewer teams will make it through, leaving you with fewer choices to take on. Choose who to battle based on the favor you will earn from winning, the rewards, and the theme of the tribe. For example, if your build and your team is particularly strong against, say, fire, you would want to choose Ngamahu to battle, if available.
Deploying units
While you will only have your generic Karui warriors to start with, in the later rounds you will have the favor to buy more units. You can place units in each of these positions to help, attack, or defend. There are 16 total positions (four of each type).
Escort: The unit will follow the player's unit around the battlefield and fight alongside them. You are in complete control of your avatar during matches. Debuff units are great here.
Attacker: These will attack enemy units. Use high-damage units here.
Flanker: Flankers will head straight for the enemy totems, full force. Look for speedy units here.
Defender: The goal tenders of the Trial of the Ancestors, defensive units hold back and guard the totems from harm. Ranged units or crowd control units are best here.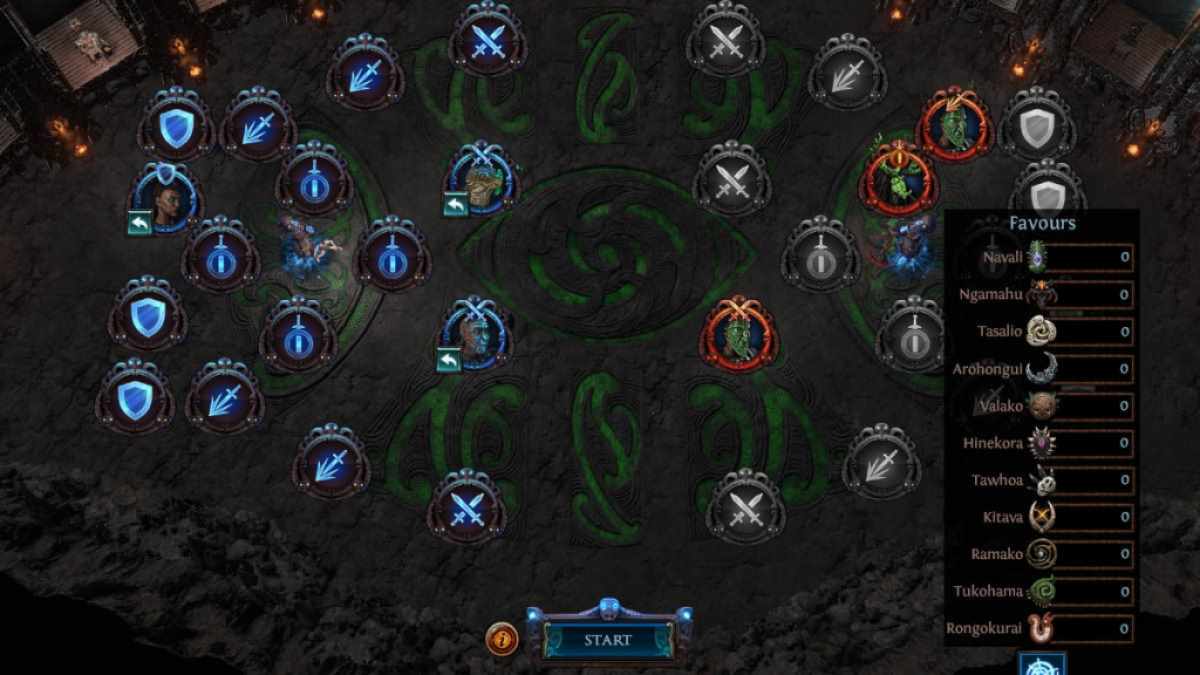 Once all the units you have are assigned, you can also assign items you have purchased in any of the empty slots on your side of the battlefield. Items can include things like Field Items and Equipment (e.g. Dying Roar—a Ngamahu item costing 500 favor that makes the enemy's revive timer 50% longer). Field Items are single use.
Playing a Round
Now that all the units you want have been placed, start the match. The player character will need to support the units on the field while going after the enemy totems. Here are some things to keep in mind while battling:
A totem cannot normally be healed once it has taken damage, unless you have an item that states otherwise. It's best to keep your totems well protected instead.
If you are interacting with an enemy totem to destroy it and you take damage, you are frozen in place for five whole seconds while the enemy team attacks you. Stun immunity does not affect this at all. This is true for all units, so make sure to plan your attack with this in mind.
Even if you lose in the tournament, you will not lose your Hardcore character, as this is a separate domain.
Losing twice in the tournament ends the tournament. You'll need another Silver Coin to play again.
A totem can only be destroyed by channelling on it or holding the left mouse button.
Each team has a champion that mimics your role on the field. A strong contender that can go anywhere, they will be the strongest possible enemy unit and will personify the team's theme. Make sure to always keep an eye on their position.
If you die on the field, you will revive on a timer. Each unit's revive timer gets longer each time it dies in that match.
Each winning round gives you 250 favor points to spend with Navali on top of the other listed rewards.
You can sell old, unwanted units for favor with any of the Tribal leader NPCs, but they will only gain you 50% of their value.
If you win a tournament, you will inspire some units that will want to fight with you, so you will start the next match with them, in addition to your three basic fighting units.
With every win, you will climb the tournament's ladder in a roguelite manner, giving you more difficult battles, more inspired units, and much better rewards like better PoE gear.
Always try to choose to battle the team that will give the highest amount of favor; more units is always better than cherry picking which tribes you want to gain favor with.
How to win Trials of the Ancestors Matches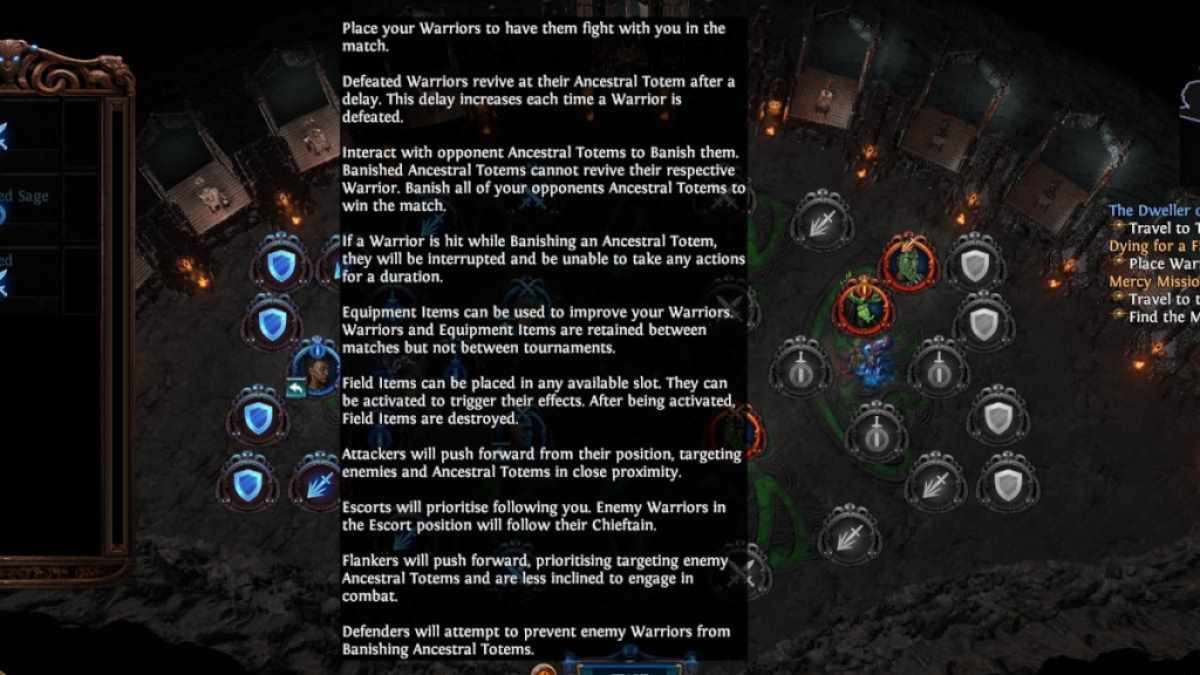 While everyone has their own unique ways of making matches go their way, I have a few pointers that have helped me to snowball wins in the Trials of the Ancestors league. I hope some of these can also help you to build a great team, get some wins, and better loot.
Caution is better than charging forward in most cases, especially in early matches. It's better to hold back a little and avoid losing totems or units over rushing in and dying early.
Crowd control units make for wonderful additions to any team. Shutting down the other team's units is almost always the best possible strat in any situation.
Items that give your units shielding against the enemy's attacks can make some of the AI absolutely useless.
A user on reddit named u/Kaelran has a strat that has been shockingly effective to battling in Trials. You basically just need high speeds on yourself and Fieldmaster units: set the Fieldmasters as Flanker units, then stand in the middle to kill off the enemy. When a Fieldmaster puts up a wall around a totem, you will be immune to ranged attacks, and can blink in and channel the heck out of the totem.
For more Path of Exile, check out Path of Exile Corrupted Gear, Explained on Pro Game Guides.