Double Battles are a Pokémon staple, with some games consisting of only Double Battles. But as they are still far less common than Single Battles, there's still plenty of reason to not know all the ins and outs of two-on-two Pokémon battles.
Single-Trainer Double Battles
In single-trainer Double Battles, the player is on their own against either one or two opposing trainers. This is the most common occurrence, as you'll find plenty of partner trainers during your adventure who will challenge you at the same time. This is also the most common setup for PVP Double Battles.
In these cases, you'll send out the first two Pokémon in your party to face two opposing Pokémon. You'll select an action for both of your Pokémon (using a move/item or swapping Pokémon), then the turn progresses as it normally would. Swapping Pokémon and using items happens first, then each Pokémon that selected a move will go in the order of their Speed.
Most of the time, when selecting a move, you'll pick a single target. However, there are moves that hit both opponents, such as Razor Leaf. Some moves, like Earthquake, will hit both of your opponents, along with your ally Pokémon. Using a move that hits multiple targets will reduce the amount of damage each individual Pokémon takes, but it can still drain a solid amount of HP.
There are also fun strategies that are only doable in Double Battles. As an example, you can have a Kadabra or Alakazam use Skill Swap to get rid of Regigigas' Slow Start ability, removing the need to wait for five turns before it becomes a destructive powerhouse.
Related: Barry's full Pokémon team in Brilliant Diamond and Shining Pearl
Double-Trainer Double Battles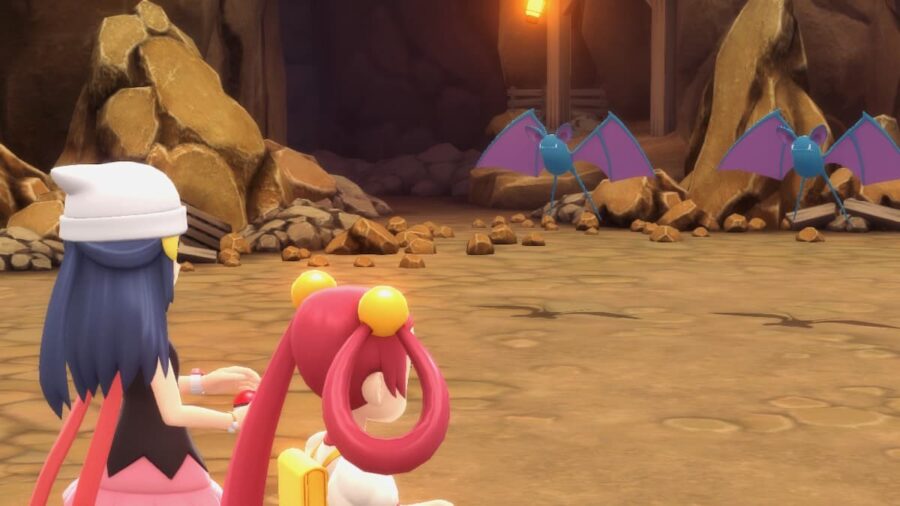 In double-trainer Double Battle, you engage in a Double Battle alongside another trainer. Most of the time, this will be with an NPC and not another human player.
In these instances, you'll only send out the first Pokémon in your party. Your partner will send out their first, as well. Naturally, since it's their Pokémon and not yours, you won't be able to select what their Pokémon does. Beyond this, every other aspect is exactly the same as if you were the only trainer on your side.
At certain points in the game, you'll be accompanied by certain NPC's. During these times, you can run into Double Battles against wild Pokémon. In these cases, if you want to catch one of the Pokémon, you'll need to defeat the other and pray that your AI partner doesn't KO your prospective catchee before it stays inside a Poké Ball.
Check out some of our other informative Pokémon guides here at Pro Game Guides!