The difficulty spike between Victory Road and the Elite Four is abnormally high. But the jump from Lucian to Cynthia is no joke. Not only will you be dealing with Pokémon with abnormally high IVs (read: nearly all of her Pokémon's IVs are maxed), but they're also very fast.
You can go about beating Cynthia in three ways, outspeed her Pokémon, tank her Pokemon's attacks, or deal super-effective damage (while also outspeeding Pokémon or tanking attacks).
Before we begin, here are all of Cynthia's Pokémon:
Spiritomb (Dark/Ghost)
Roserade (Grass/Poison)
Gastrodon (Water/Ground)
Lucario (Fighting/Steel)
Milotic (Water)
Garchomp (Dragon/Ground)
Outspeeding Cynthia's Pokémon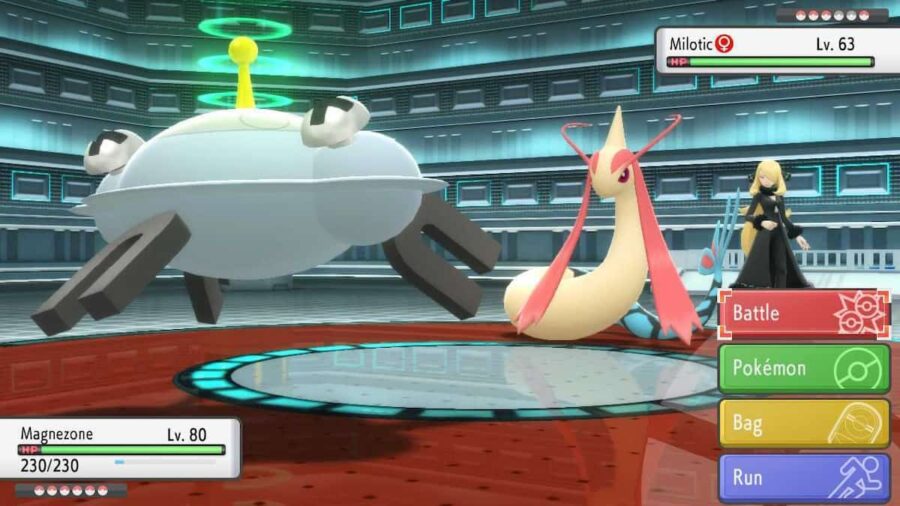 As long as it's not Lucario and Garchomp, there's a very good chance that you'll outspeed Cynthia's Pokémon. In fact, hit Roserade or Milotic with a powerful super-effective attack and they're out of the game.
Roserade is weak to Flying, Fire, Psychic and Ice attacks.
Milotic is weak to Grass and Electric attacks.
Gastrodon is weak to Grass. If you don't have a grass Pokémon in your party, that's okay! Unlike Roserade and Milotic, Gastrodon doesn't hit as hard. As long as you don't pit a Pokémon weak to Ground moves against it, they'll very likely survive.
Related: All Grand Underground Pokémon in Brilliant Diamond and Shining Pearl
Spiritomb doesn't have weaknesses and is immune to Psychic, Fighting, and Normal attacks. She has high Defense and Special Defense. If you keep hitting her though, she'll go down eventually.
However, if you have Empoleon and spam Surf and other water moves on her, Cynthia will swap Spiritomb for Gastrodon. Gastrodon has an Ability called Storm Drain, which boosts its Special Attack when hit with a water move. Be careful!
Tanking Cynthia's Pokémon attacks
Lucario and Garchomp are both extremely fast and very heavy hitters. Furthermore, they both have natures that boost Speed by 10% (Timid for Lucario and Jolly for Garchomp). Unless you have EV trained your Pokémon before this battle, never expect to outspeed them. The goal is to survive the first attack and hopefully take them out with one of yours.
Battling Lucario is easier. He's extremely fragile—one super-effective hit will knock him out. His attack moves are Aura Sphere, Dragon Pulse, and Flash Cannon. Dragon Pulse is tankable since it won't gain same-type attack bonus (STAB) with Lucario being a Steel/Fighting Pokémon. You'll survive Aura Sphere and Flash Cannon as long as the Pokémon you use isn't weak to Fighting and Steel.
How to beat Cynthia's Garchomp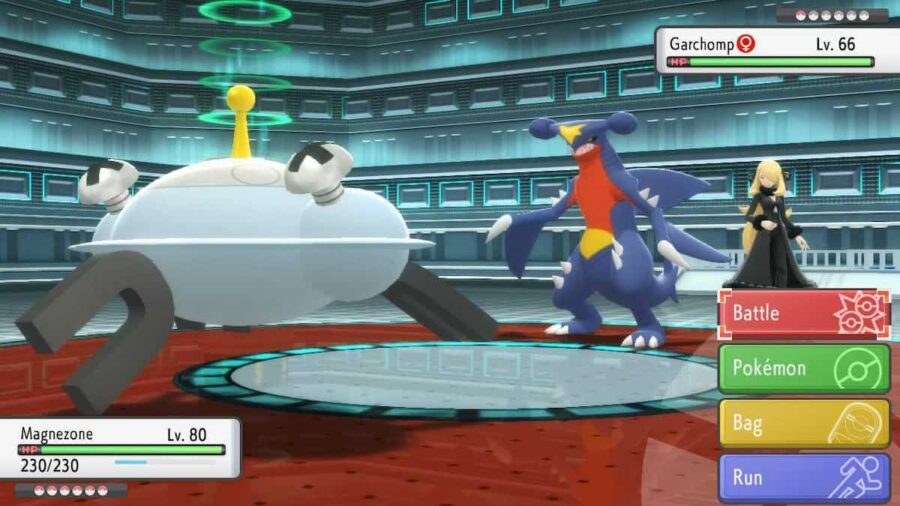 There's a reason why Garchomp is Cynthia's ace. She's only weak to three very rare Pokémon types: Ice, Dragon, and Fairy.
A lot of Fairy types, like Gardevoir, have really low HP and Defense, so it's really not recommended that you take one. Meanwhile, using a Dragon Pokémon is super risky, simply because Dragons are weak against Dragons. It might not survive Garchomp's Dragon Claw STAB move, especially if it's only five or so levels above her.
Garchomp can be beaten by most starters, believe it or not. Infernape and Empoleon are weak to Earthquake due to typing, but that move only has 10PPs. If you make Garchomp waste Earthquake on a Pokémon who can tank the move (while spam-healing it with Hyper and Max Potions), you can send either of them out for the kill after. Empoleon, in particular, can even learn Ice Beam. You can purchase Ice Beam from the Veilstone Department Store. Many Pokémon can survive Earthquake, but Water, Grass, and Ice Pokémon are resistant to it.
Related: All TM locations in Pokémon Brilliant Diamond and Shining Pearl
Meanwhile, Torterra's biggest asset is its extremely high Defense stat; It will survive Earthquake and Dragon Claw. Torterra trainers need to watch out for Poison Jab, which has 20PPs, so the above method might not work (or it could, it'll just take a while, and you may need to use a ton of Potions).
Torterra trainers should bring a Pokémon that's not weak to Dragon, Ground, or Poison moves. Said Pokémon also need a decent Defense stat. We prefer Water types, such as Quagsire, since most Water Pokémon have high HP/Defense and they can learn Ice moves. Just avoid Floatzel since Defense is not its strong point.
There's no one correct strategy to take on Cynthia, especially when we bring different Pokémon to challenge the league. If you lose the first time, don't worry—just reload your save and try again. You can even take the loss, capture or grind the Pokémon you need to, and just rebattle the Elite Four. The key to success is preparedness.
For more help with Pokémon Brilliant Diamond and Shining Pearl, we at Pro Game Guides have you covered.