Pokémon Go's Gible Community Day is scheduled for June 6, 2021, which is quickly approaching. On June 4, the option to purchase the ticket for the highly-anticipated event's Special Research Just a Nibble was introduced to the in-game shop menu. Use the image and instructions below to see how to get it.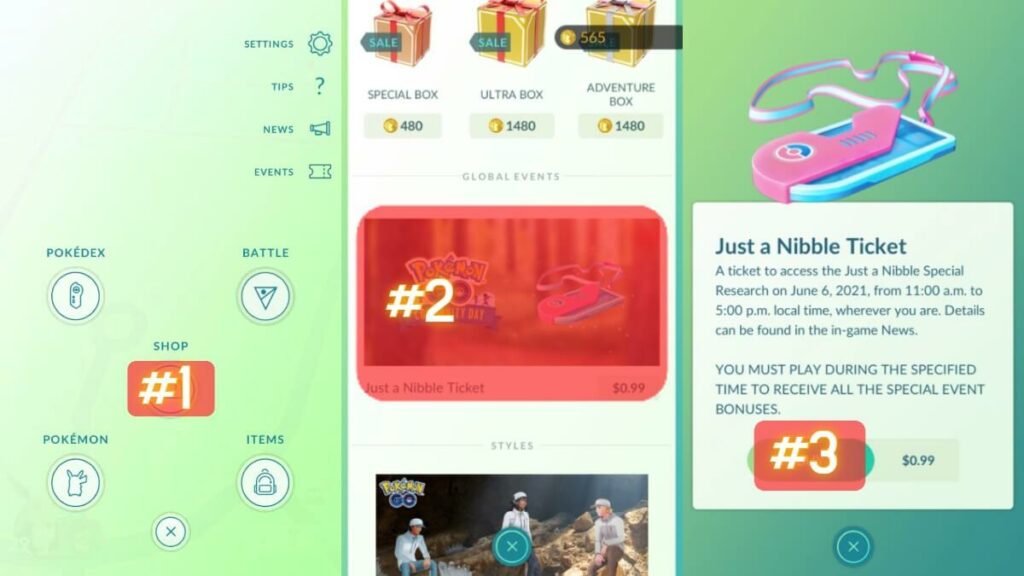 On the left you'll see the first step. From the Main Menu tab, tap the Shop button in the middle. It will open up a screen where you can purchase many different game objects and special boxes. When it opens, scroll down about half a screen and select the Just a Nibble event image that is highlighted red in the middle image above. On the next screen press Buy to purchase the ticket.
On the next screen, you may be required to put in your card information, or it may just require that you confirm it with your passcode. Once you've done that, you will receive a ticket for the event!
Don't forget: The Community Day Special Research is time-limited and must be completed during the event's time frame of 11am to 5pm local time.
Did you know we have guides for everything in Pokémon Go? Check out our guides on Fairy Pokémon Weaknesses and Electric Pokémon Weaknesses.