You may have saved the world and rolled the credits of Pokémon Mystery Dungeon DX, but there's still plenty of exploring to do! We've put together a list of some of the post-game activities you can look forward to.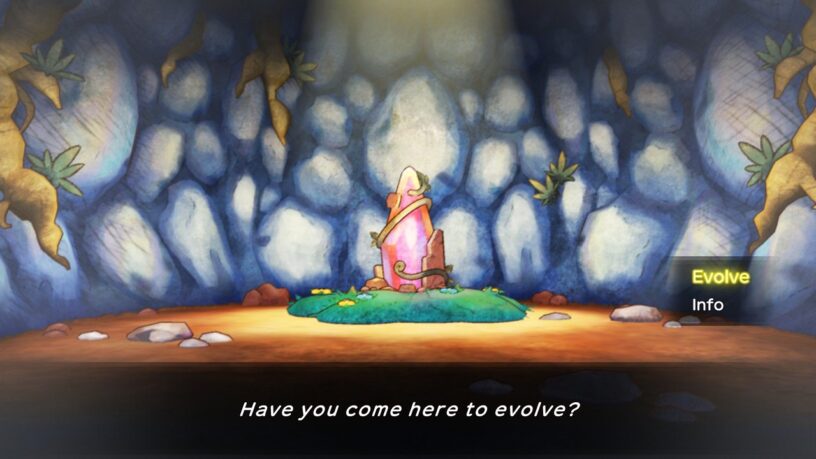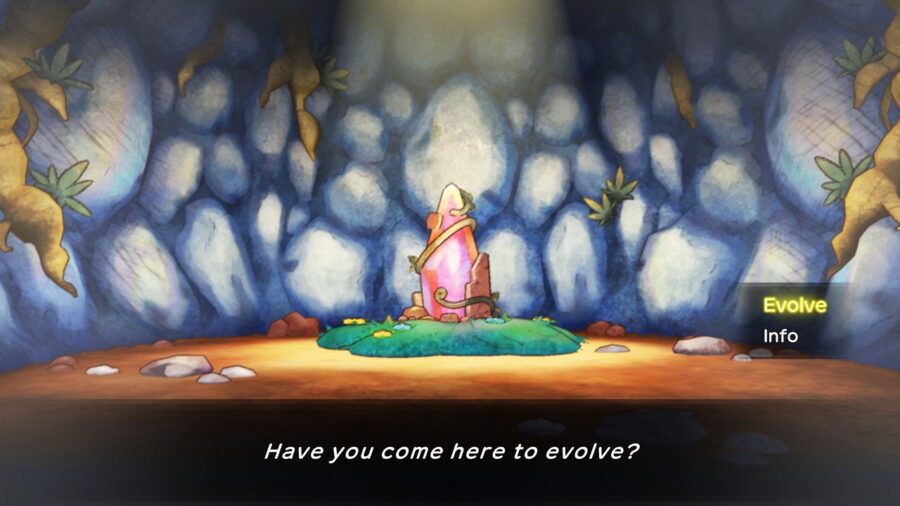 Evolve your Pokémon
Once you return to Pokémon Square, you'll notice a new cavern has opened up in Whiscash's pond. Upon entering you'll find the Luminous Cave, a special area that allows your Pokémon to finally evolve. Most evolutions will be based on a Pokémon's level, but for a few you'll need Evolution Crystals – these are rare items found in postgame dungeons and as rewards for special missions. This applies to any Pokémon that use Friendship, Evolution Stones, trading, or other special items and techniques to evolve in the main series Pokémon games. For example, any of Eevee's evolutions will require several Evolution Crystals to obtain.
Reaching their fully evolved forms may even enable some of your team to Mega Evolve – if you started with Bulbasaur, Charmander, Squirtle, Treecko, Torchic, or Mudkip, you'll be able to use this feature with these Pokémon. For more about Mega Evolution in Mystery Dungeon DX, check out our guide here.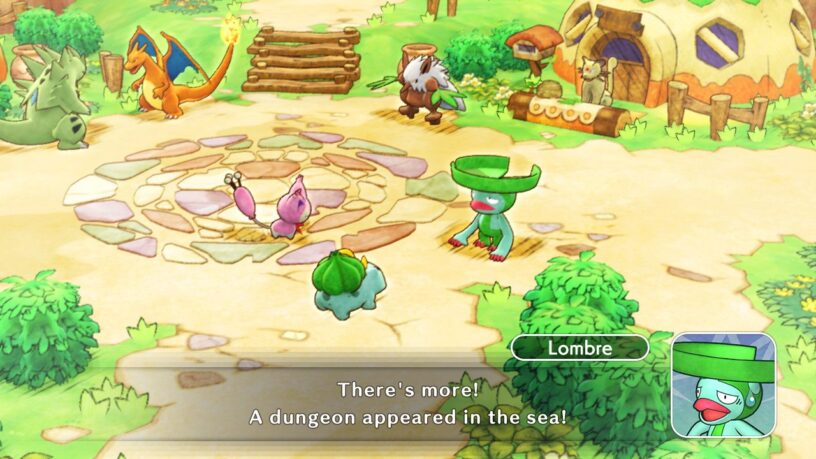 New Story Missions
The post-game of Mystery Dungeon DX comes with a plot all of its own, as new areas of the world map open up, revealing new Legendary Pokémon and attracting new explorers to the area. You'll end up taking on missions to encounter the remaining legendaries, and you'll even be able to recruit the Gardevoir who'd been appearing in your visions until now.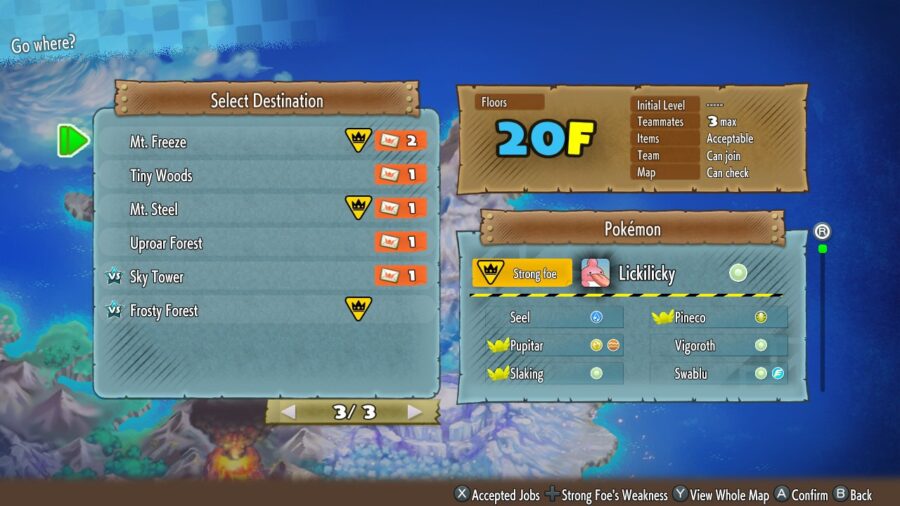 Recruit Shiny Pokémon
Once you've obtained a Friend Bow from Mt. Faraway or Joyous Tower, you'll be in with a decent chance of recruiting the various Shiny Pokémon that appear occasionally as Tough Foe enemies in various dungeons (some of which you may have come across before beating the game). While this takes time and patience, you'll be able to recruit Shiny Pokémon of 27 different species via this method. You can find a more in-depth guide to this mechanic here!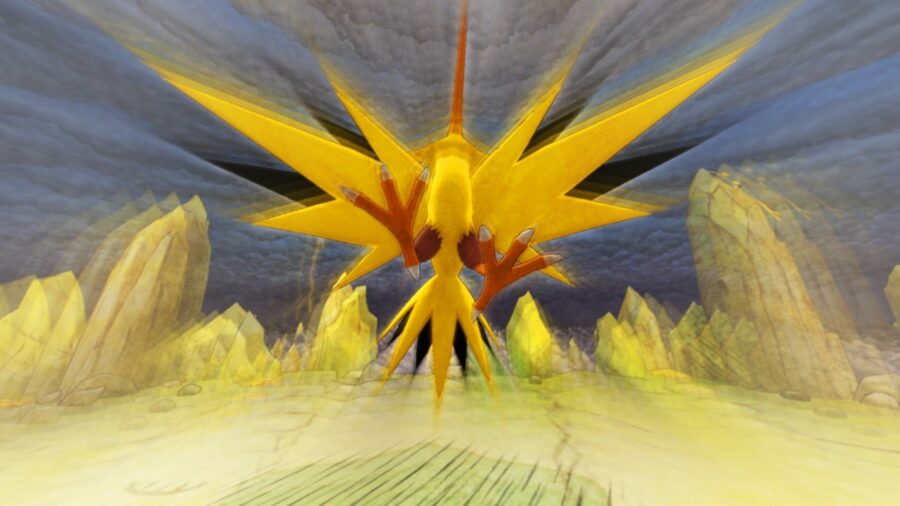 Take on the Legendaries
You may have noticed a "VS" marker on some of the dungeons after you've cleared the game – this indicates that there's a boss battle awaiting you in these areas! Many of these will be rematches with familiar Legendary Pokémon like Articuno, Zapdos and Moltres, while others – like Kyogre – you may not have come across yet in this game. What's more, all of these are recruitable, although it'll usually take several rematches to successfully recruit all of them. As with the shiny Pokémon, you'll want to be heavily prepared and very lucky. You generally don't need to purchase Rescue Team Camps for Legendary Pokémon, as you'll gain access to these areas automatically after you recruit them.
New dungeons to explore
Several new dungeons will be added once you complete the game, letting you encounter and recruit a whole host of new Pokémon, as well as giving you access to vital exploration items like the Friend Bow. You'll also be able to find Evolution Crystal items in many of these, and you'll finally have the opportunity to encounter and recruit the various starter Pokémon you didn't pick originally.
Among the new dungeons added, some present special, exceptionally tough restrictions – like preventing you from bringing items, forcing you to explore without your teammates, or temporarily reducing your level back down to 5. Some of these dungeons (like the infamous Wish Cave and Purity Forest) have up to 99 floors, each offering greater risks and rewards than the last. Thankfully some of these dungeons don't have bosses, and in a few you'll be able to recruit a Legendary Pokémon without a battle if you can make it to the top floor.
Like the last few dungeons of the main storyline, the post-game features a wider range of rooms, puzzles and challenges than the early-game dungeons did – this includes many more Monster Houses (rooms where you can be ambushed by huge gangs of strong Pokémon). You'll need to be prepared for these at almost any time – this is where the Orb items you've been collecting will come in handy, as they can help your entire team or neutralize all enemies in a room. You'll also come across more Mystery Houses – locked rooms that you'll need an Invitation item to enter. These items can be bought from the Kecleon shop, and will grant you access to a room filled with treasure, as well as recruitable Pokémon you may not be able to find elsewhere.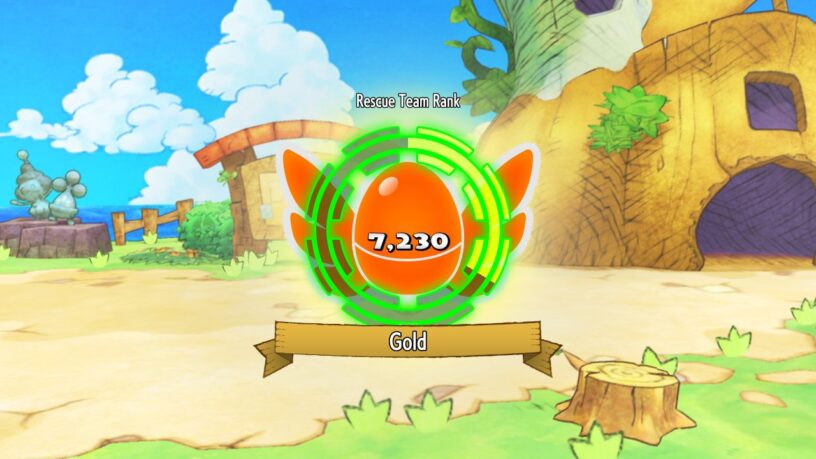 Increase your Rescue Team Rank
Most of the rescue missions you've been taking on so far have been between F and C rank, but you'll soon be able to take on B, A, and S rank missions, and eventually 1-star to 3-star missions. These will pay out useful items (including Evolution Crystals) as well as substantial numbers of Rescue Team Points. With these you can increase your Rescue Team rank all the way to Grand Master, allowing you the maximum Bag size, Rescue Team Camp capacity, and number of jobs available. Certain ranks will allow you to encounter new Pokémon too, such as Riolu. Increasing your team size also makes it possible to recruit one of every Pokémon species in the game, if you're still looking for that extra level of challenge!