Mystery Dungeon DX adds a long-awaited feature to the Mystery Dungeon series: the ability to recruit Shiny Pokémon! As in the main series Pokémon games, getting yourself a shiny will take a lot of preparation, patience, and luck, but we've put together a guide to make the hunt easier!
Which Pokémon can be Shiny?
Not every Pokémon in Mystery Dungeon DX has the potential to be Shiny; in fact, only 27 of the game's 418 Pokémon species can be encountered or recruited as Shinies. These will tend to show up as "Strong Foes" in dungeons, with each of these species having a specific dungeon where it can appear. However, not all Strong Foes will be shiny, so you may need to retry a dungeon several times to get one to appear. The Strong Foes that can appear in any particular dungeon will be shown on the map screen before you choose which dungeon to visit, so you'll be able to prepare ahead of time for the Pokémon you'll be facing (the map selection screen will even show you the Strong Foe's weakness)! Strong Foes are encountered like any other ordinary enemy within the dungeon, but are specially marked on the dungeon map with a yellow triangle symbol – and of course, they're much more powerful than other wild Pokémon in the area.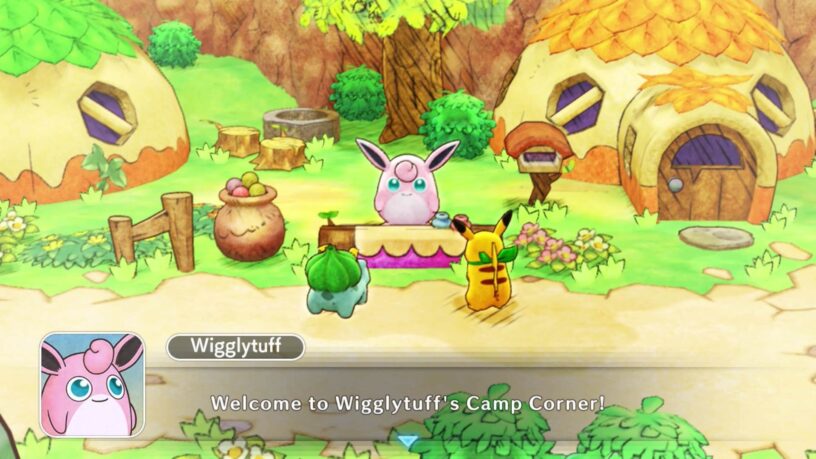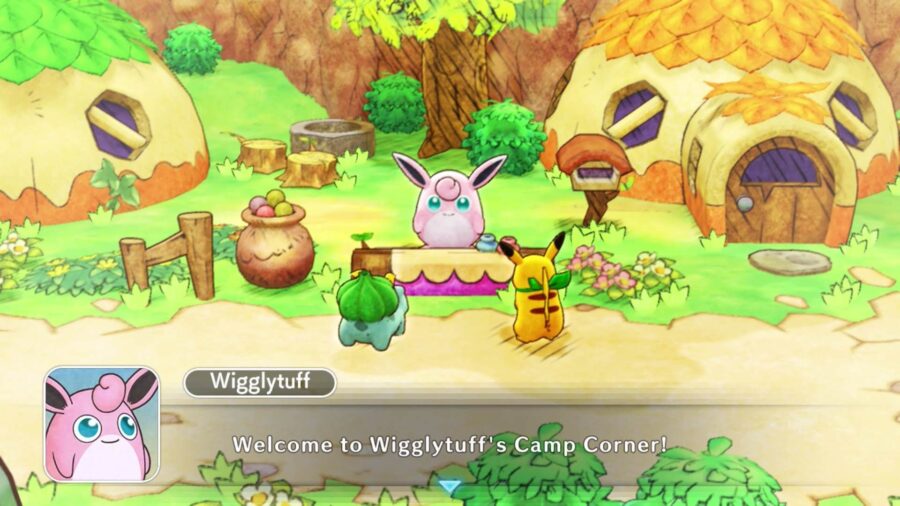 Getting Ready
To recruit a shiny Strong Foe, you'll need to have several things prepared in advance. First of all, make sure you have the appropriate Rescue Team Camp for the Strong Foe you want to recruit – for example, if you want to recruit a shiny Azumarill you'll need to have the Turtleshell Pond camp ready (for more info on Rescue Team Camps, check our guide here). It's also best to attempt this after you've completed the game's main storyline, as you'll be able to access the Friend Bow – this item greatly increases your chances of recruiting a wild Pokémon, and is especially useful for recruiting Shiny Pokémon. The Friend Bow can be found in a locked room on 30F of Mt. Faraway, and more are sold at Kecleon shops within the Joyous Tower dungeon. It's better to try Mt. Faraway first, as the Joyous Tower is particularly challenging.
Recruiting a Shiny Pokémon
After obtaining the necessary Rescue Team Camps and equipping your Friend Bow, you should be ready to hunt for Shiny Pokémon! There are still quite a few things to keep in mind as you attempt the dungeon of your choice: first of all, remember that you need to be the one who knocks out the Strong Foe, or you won't be able to recruit it! While you can switch which character you're controlling at any time, you'll need to make sure the Friend Bow is attached to the Pokémon you want to use the finishing blow, and that you're controlling the Pokémon as it does so. If you're worried about your allies knocking out the Strong Foe and wasting your recruitment chance, you can use the Tactics feature to stop them from attacking once you encounter the Strong Foe. Temporary allies, on the other hand, won't listen to Tactics orders, so it's usually best to avoid bringing these along. It's often easiest to make sure you're playing as the strongest team member, or one that the Strong Foe is weak to, to ensure the fight goes smoothly. Even if you don't manage to recruit a Strong Foe, you'll obtain some loot from the Treasure Box it drops upon defeat, so this method is also a good way to farm rare items. Additionally, several Strong Foes can appear during the same expedition – so it's best to keep going even if you don't recruit the first one you encounter.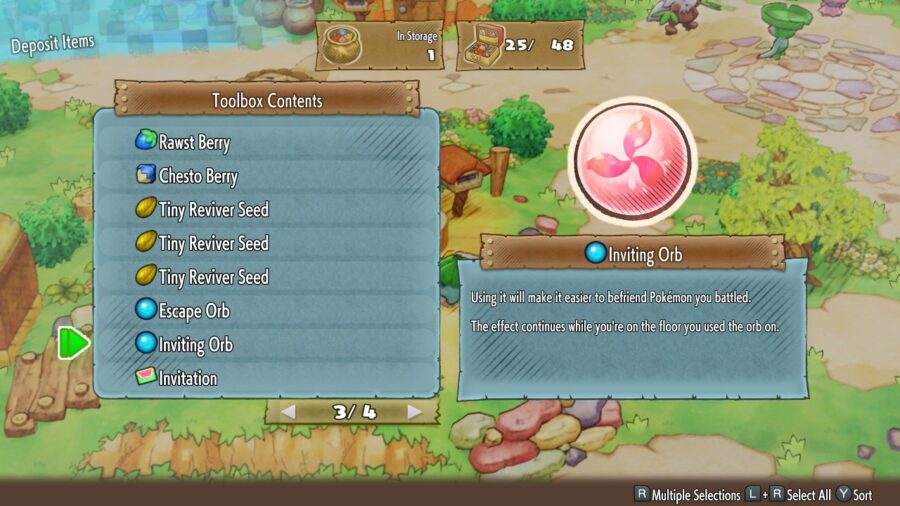 Optional Extras
You can further increase your chances at recruiting a Pokémon in several ways, and it's best to use as many as possible. These include Rare Qualities – both the Rare Qualities "Friendly" and "Squad Up" can increase your chances of recruiting a wild Pokémon. Your starter Pokémon will have "Squad Up" as its initial Rare Quality too, so a trio of these Pokémon with one or the other of these traits shouldn't be too hard to find. You might also have more luck if you use the Inviting Orb, an item that increases the chances of recruiting wild Pokémon on the floor where it's been used. As Strong Foes can sometimes spawn on the same floor where another Strong Foe was knocked out, you can keep exploring the same floor where you used the Orb until the shiny Pokémon respawns.
You'll also increase your chances of recruiting a Pokémon if you knock it out with the move False Swipe; this move's available as a TM, and can be learned by quite a few Pokémon. It's even available to potential starter Pokémon Cubone, Marowak, Grovyle and Sceptile just by leveling up!
Mystery Dungeon DX Shiny List
Finally, here's a list of all the currently available Shiny Pokémon that can appear as Strong Foes, along with their typical locations and the Rescue Team Camps needed to recruit them.
| Pokemon | Location | Camp |
| --- | --- | --- |
| Butterfree | Howling Forest | Stump Forest |
| Ninetales | Northern Range | Darkness Ridge |
| Rapidash | Mt. Steel | Scorched Plains |
| Electrode | Mt. Faraway | Power Plant |
| Exeggcute | Wyvern Hill | Jungle |
| Exeggutor | Pitfall Valley | Jungle |
| Starmie | Grand Sea | Bountiful Sea |
| Magikarp | Marvelous Sea | Waterfall Lake |
| Gyarados | Waterfall Pond | Waterfall Lake |
| Ditto | Buried Relic | Decrepit Lab |
| Dragonite | Mt. Thunder | Mystic Lake |
| Hoothoot | Murky Cave | Flyaway Forest |
| Noctowl | Lapis Cave | Flyaway Forest |
| Ampharos | Sinister Woods | Thunder Crag |
| Azumarill | Mt. Blaze | Turtleshell Pond |
| Sudowoodo | Desert Region | Overgrown Forest |
| Aipom | Solar Cave | Vibrant Forest |
| Espeon | Remains Island | Evolution Forest |
| Wobbuffet | Darknight Relic | Echo Cave |
| Shuckle | Southern Cavern | Mt. Green |
| Corsola | Far-Off Sea | Shallow Beach |
| Spinda | Frosty Forest | Mt. Green |
| Altaria | Fantasy Strait | Flyaway Forest |
| Zangoose | Western Cave | Wild Plains |
| Metagross | Silent Chasm | Magnetic Quarry |
| Ambipom | Great Canyon | Vibrant Forest |
| Lickilicky | Mt. Freeze | Sky-Blue Plains |