Every character in Triangle Strategy is built differently. Each of them have unique skills, terrain advantages, and a variety of uses depending on the situation. Some units work better with others. Others are great for farming coin or items but shouldn't be taken to main stage battles.
In this guide, we'll teach you how to use Decimal, the dancing automaton.
Decimal character guide
The math may throw you off, but Decimal is a pretty good unit to have in small maps or maps where you plan to lure your enemy to your location. All its skills deal area-wide effects within ten tiles. So, as long as it doesn't walk and every ally and enemy is within range, it's pretty broken.
For example, Target [HP3] will deal area-wide magic damage tp every unit whose current HP is divisible by three. Meanwhile, Target [HP5] is a magic plus instant-kill if you get lucky. All of its offensive skills are magic, by the way, so equip magic-boosting accessories onto it.
Related: Triangle Strategy Unit Tier List
Of course, to offset its brokenness, Decimal doesn't naturally generate TP every turn. However, so long as it doesn't do anything for one turn, it generates three TPs automatically. This means it just needs to rest every one to two turns.
You can also use Decimal in zero-TP teams (teams that don't have characters like Julio and Medina). It has a skill that can boost the strength and magic attacks of all allies that have no TPs.
Class promotions and weapon upgrades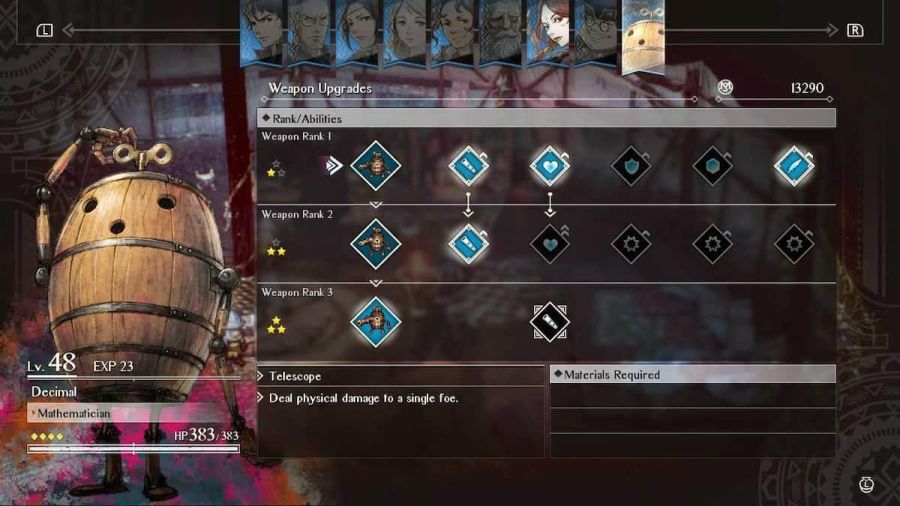 Prioritize Weapon Potency upgrades for Decimal. At Weapon Rank two, also unlock the Damage Up upgrade for Target [HP3], since more numbers are divisible by three. After that, you can focus on the HP and Defense upgrades.
Decimal doesn't need Weapon Rank three unlocked unless you have the resources to spare. It contains a skill that allows it to deal magic damage to any enemy on the map whose HP is divisible by seven. The range is impossibly big but the TP cost equally so. Plus, not a lot of numbers are divisible by seven.
You can leave Decimal's Elite upgrade for last and, really, it'll only be for the stat boosts. The skill that you unlock with the upgrade, Target [Height+5], is pretty good too—though only on height maps. As its name implies, it can deal damage to all enemies within range who are positioned five tiles above it.
For more help with Triangle Strategy, take a look at some of the other articles here at Pro Game Guides.