Raft can be a fairly difficult game if you aren't able to keep up on all of the various resources you are going to need to upgrade your raft and tools. There are a lot of materials you will need, and some of them come from surprising places. For instance, you would think sand would be readily available on any island you land on, but unfortunately you will need to dig it up from underwater with your hook, instead of just gather it on the beach. One such item that also fits this description is Vine Goo. Based on how it sounds, you would think it would have limited usage, but in practice, you will actually need quite a bit of it to get through the game!
Making and Obtaining Vine Goo
To get Vine Goo in Raft, you will first need to obtain Seaweed. This can only be found near islands where seaweed may or may not spawn. It is random if it appears, so you might need to visit multiple islands to find some. Jump into the water and gather up as much of it as you possibly can. Now that you have it, you will need to have a Smelter to transform it. Place the Seaweed into the Smelter, and add some Planks to head it up. After a short period of time, the Smelter will transform your Seaweed into Vine Goo.
Here's what Seaweed will look like in the game: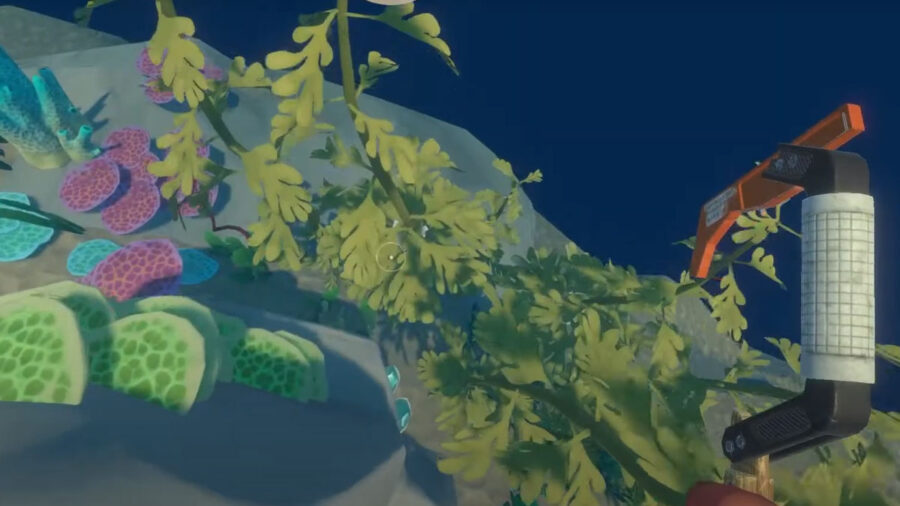 You can generally seed it sticking out of the water from your raft, which makes it fairly easy to locate when you are near an island. Creating the Smelter is a bit difficult, because you will need a lot of Sand and Clay. You will then need to create Wet Bricks and place them on your raft somewhere. These will eventually lose their moisture and turn into Dry Bricks. You can then use these to craft the Smelter, which is going to be one of the more important things you make in the game.
Vine Goo is used for quite a bit of recipes, one of the most important is the Circuit Board, which is required to get you through some of the early story stages. You will also need it to craft an Empty Bottle, which is great for holding an increased amount of water. You can also create Flippers, Oxygen Bottle, Basic Bow, Cooking Pot, and a Sweep Net as well!
For a more visual guide on the creation process of Vine Goo, check out this video: