A Bizarre Universe is an action-packed adventure anime RPG based on JoJo's Bizarre Adventure. Complete quests by taking down local thugs in your neighborhood or saving people from burning buildings. As you strengthen, explore the city and find tougher quests and bosses. And once you've joined a gang, help defend their honor in PvP combat. Can your gang become the strongest in this bizarre universe?
A Bizarre Universe codes can give you Cash to spend on new skills and stands (special powers) or orbs that allow you to change a variety of in-game options, including skills and style choices. If you want to get ahead in the game, free Cash is certainly going to help!
If you like a good Roblox ARPG, also check out our other codes pages, including Your Bizarre Adventure Codes, Dio Dio's Bizarre Sleep codes, Untitled Jojo Game codes, A Piece codes, and School of Hierarchy codes.
All A Bizarre Universe Codes List
Updated December 5, 2022

Added a new ABU code.
A Bizarre Universe Codes (Working)
Here's a look at all the working A Bizarre Universe codes.
MINIUPDATE!—Redeem for two Orbs (New)
RELEASE!—Redeem for 1,000 Cash
UPDATE!—Redeem for three Orbs (Stand Orb, Skill Removal, and Style Removal)
A Bizarre Universe Codes (Expired)
These codes for A Bizarre Universe no longer work.
There are no expired codes for A Bizarre Universe.
How to redeem codes in A Bizarre Universe
Redeeming codes for free rewards in A Bizarre Universe is easy. Follow our guide below.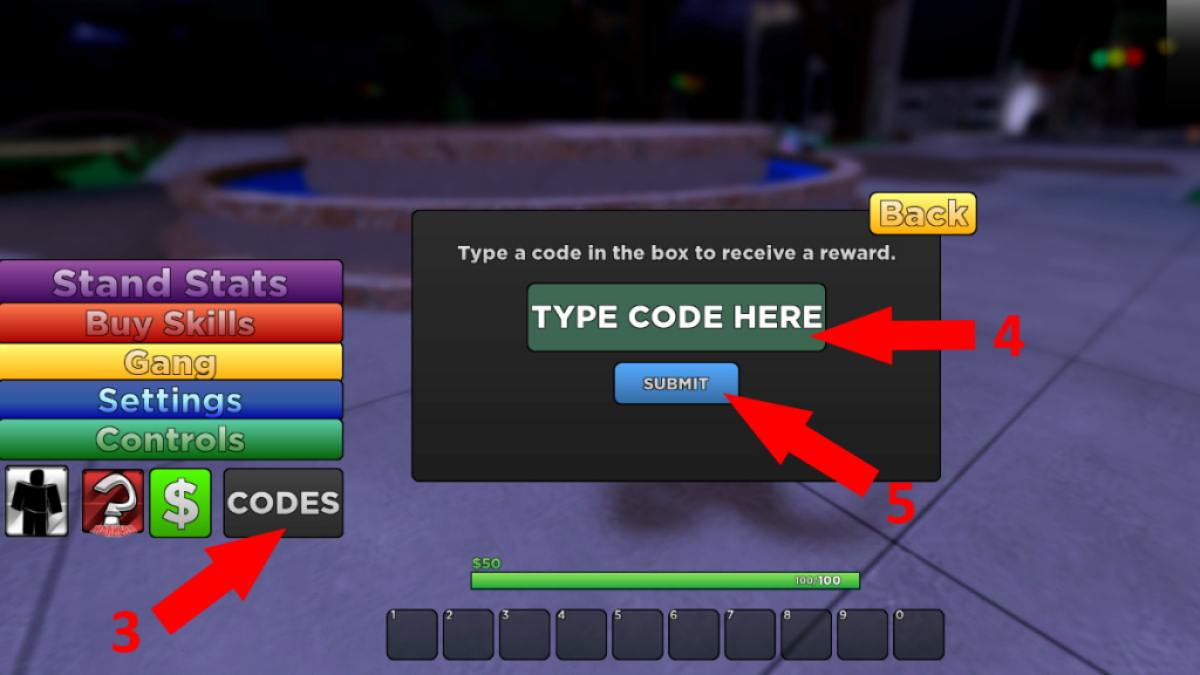 Launch A Bizarre Universe on Roblox.
Press M on your keyboard to bring up the left Menu.
Press the grey CODES button at the bottom of the left menu.
In the window that opens, enter the code exactly as it appears here in the grey box.
Press the blue SUBMIT button to claim your reward!
How can you get more A Bizarre Universe codes?
We're probably off in bizarre universes, searching for codes right now. But if you want to try and hunt out your own A Bizarre Universe Roblox codes, try joining the A Bizarre Universe Discord Server and the Untitled Unmastered Roblox Group. The Discord server has a Codes section in the Important tab.
Why are my A Bizarre Universe codes not working?
Could you have made a type? The codes for A Bizarre Universe need to be inputted exactly as they appear here, including capitalization. It can also be easy to mistake a letter for a number, so we always advise players to cut and paste the codes directly from this site into the code box. Unfortunately, the code may have expired if you've done that, and it still isn't working. This happens to most Roblox codes in the end. But don't worry, as we're likely out on the interwebs right now looking for more codes. Check back soon!
What are the most important locations in A Bizarre Universe?
You'll want to quickly get to know several locations in A Bizarre Universe if you want to get ahead in this world.
The Casino: A spin costs you a minimum of 500 Cash, but you have a random chance to get an item. And you'll want plenty of items.
Library: Visit here to pick up the Suspicious Man quest. You'll be grinding them anyway, and this way, you'll get a bonus of 500 Cash for each three you defeat.
Gymnasium: Next to the Library, you can head here to meet the boxing trainer and fight The Champ for 1,000 Cash.
What is A Bizarre Universe?
A Bizarre Universe is an anime-style action game in which you will fight AI opponents and other players in PvP. As you progress, you'll obtain skills and then stands, which give you bonuses to strength, speed, health, and attack range. Complete quests and fight thugs to gain Cash, which you spend gacha-style in the casino to gain skills and items.
If you're looking for codes for other Roblox games, we have loads of them in our Roblox Game Codes post! You can also get a bunch of free stuff via our Roblox Promo Codes page.