We often think about Roblox in terms of the hit video game on PC and mobile, but the brand has also expanded into toys. These toys, which are available as action figures and entire playsets, are largely inspired by the lovable experiences and characters created from the video game. What's so fun about Roblox toys is that they can be mixed and matched just like LEGOS. Even better, each toy and playset includes a virtual item that can be redeemed online and played in the video game.
Whether you're interested in purchasing a Roblox toy for yourself, for your favorite Roblox gamer, or as part of a growing collection, these are the best available Roblox playsets to buy in 2020. At the end of this article is a particular popular playset that won't be available until 2021.
Best Roblox Playsets to buy in 2020
Roblox Action Collection - Meme Pack Playset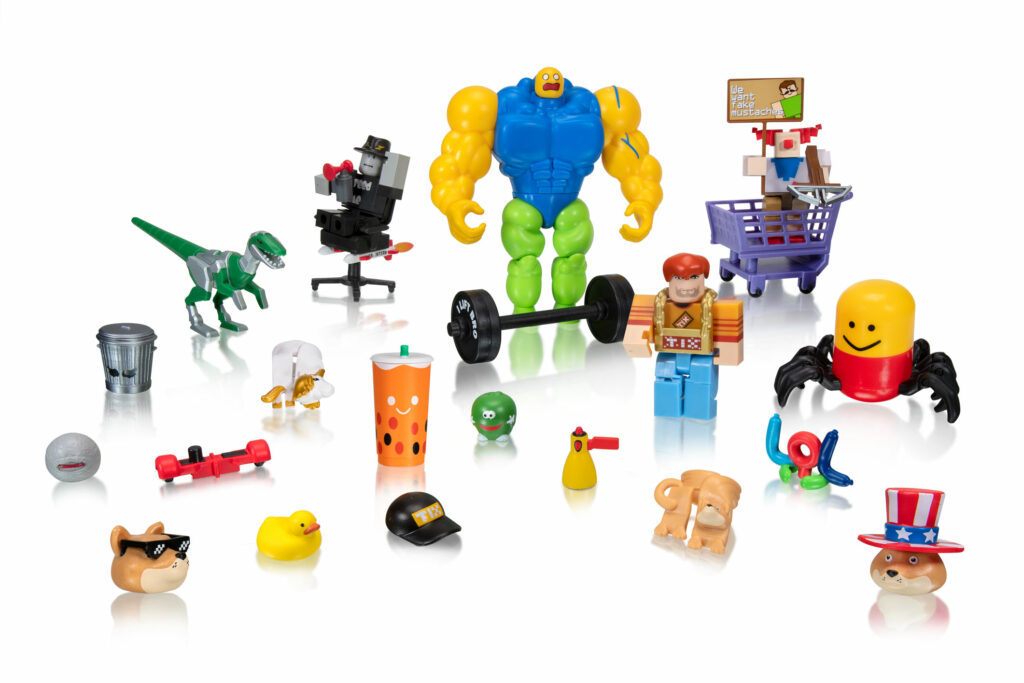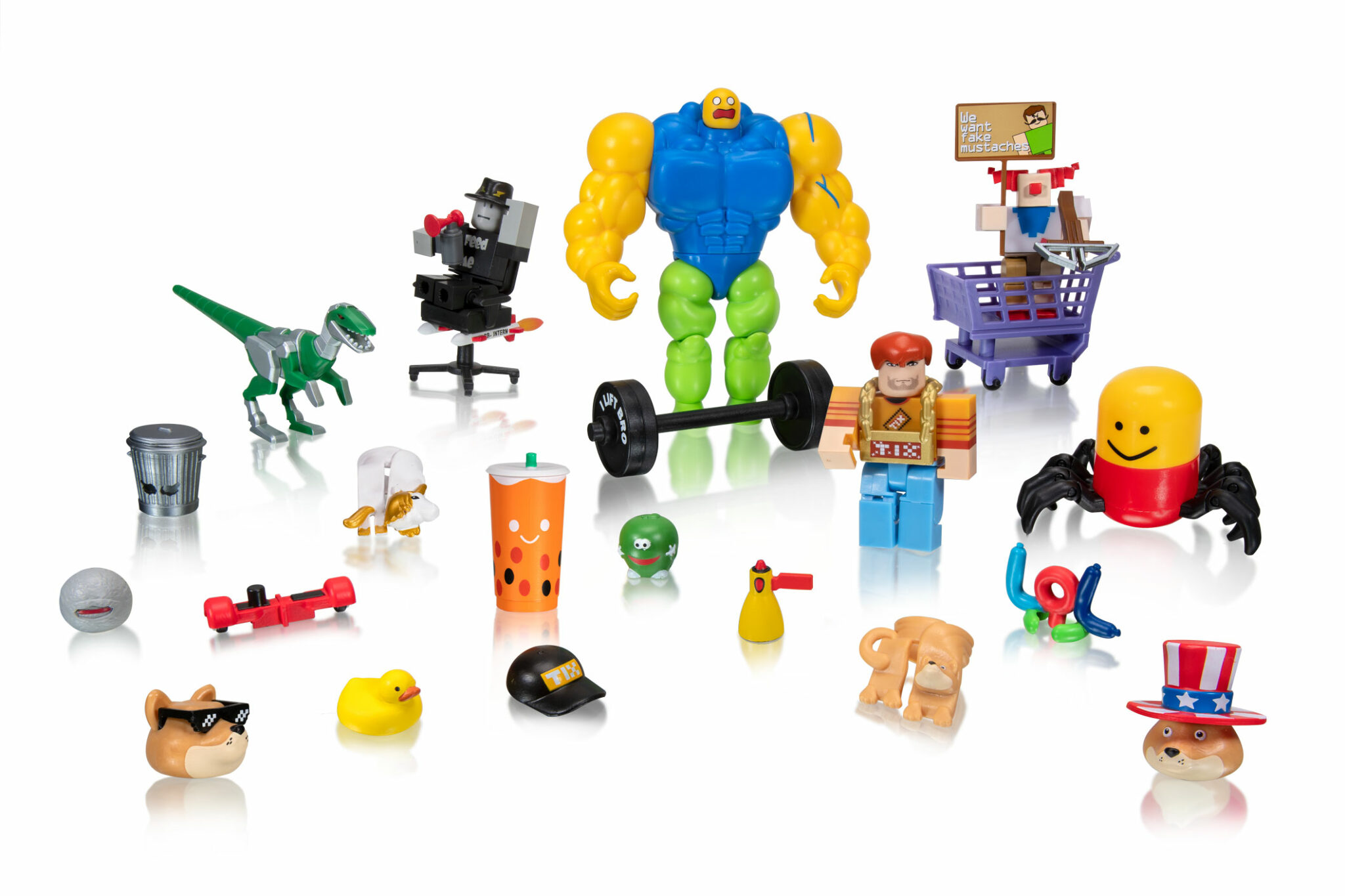 The best Roblox memes have been recreated as toys and compiled into one hilarious pack. From thunder1222's swolemate Meganoob, the iconic Robloxian Highschool character Despacito the Spider, or the Clown from Spectrabox's Fantastic Frontier, this playset is all about the memes you joke about on the Internet. Nitenity Studios' Velociraptor from The Labyrinth is even included.
Like all Roblox toys, the meme characters in the Meme Pack Playset can be mixed and matched into an even wackier concoction of your own meme creations. There are plenty of accessories included to make your play experience all the more unique.
Roblox Celebrity Collection - Dance Your Blox Off Playset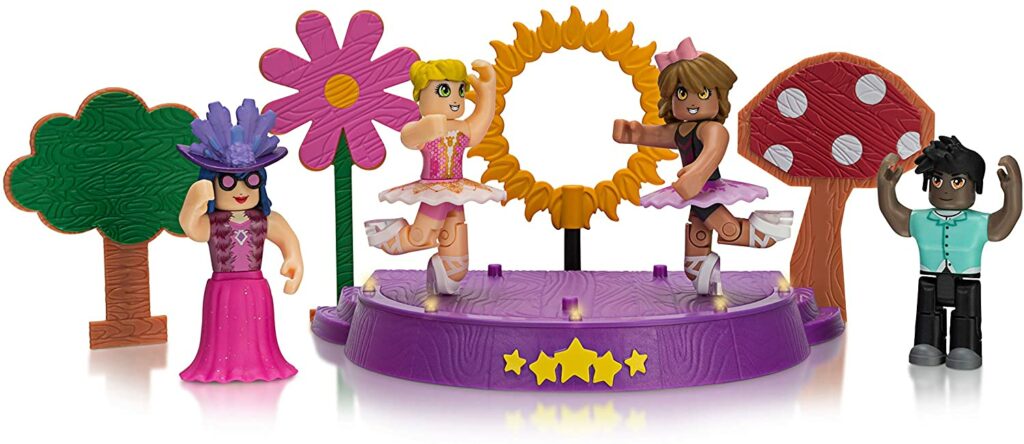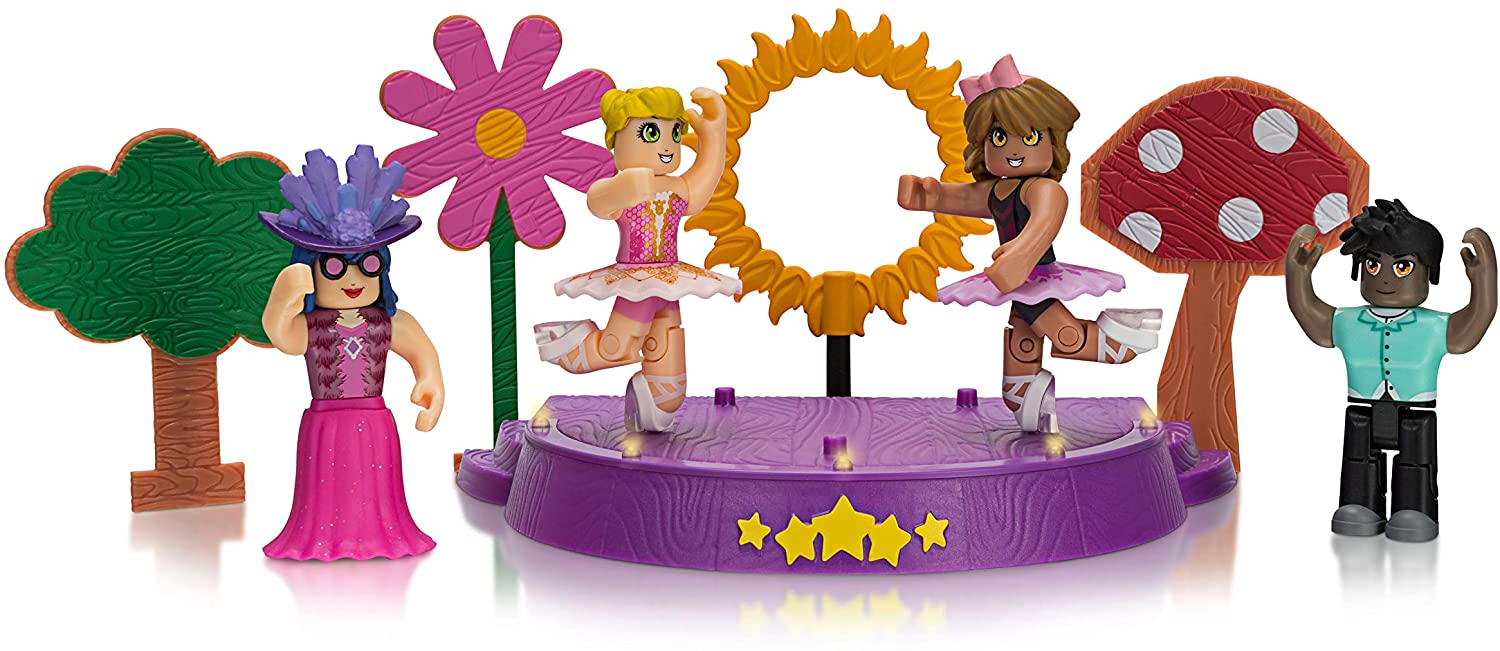 We hope you've got your dancing shoes for this one - the Roblox Dance Your Blox Off Playset is calling all music lovers to the dance floor. Inspired by the Bloxy Award-winning game from Mimi_Dev, this playset lets you roleplay your own dance choreography on the glamorous stage backdrop that's included. It comes with a bunch of accessories and costumes to dress your Roblox figures to the perfect music performance.
What's even more awesome about this playset is that it lights up! This feature will make your concerts even more immersive. Don't forget to redeem your virtual code to receive an item in the Dance Your Blox Off video game.
Roblox Action Collection - Jailbreak: Museum Heist Deluxe Playset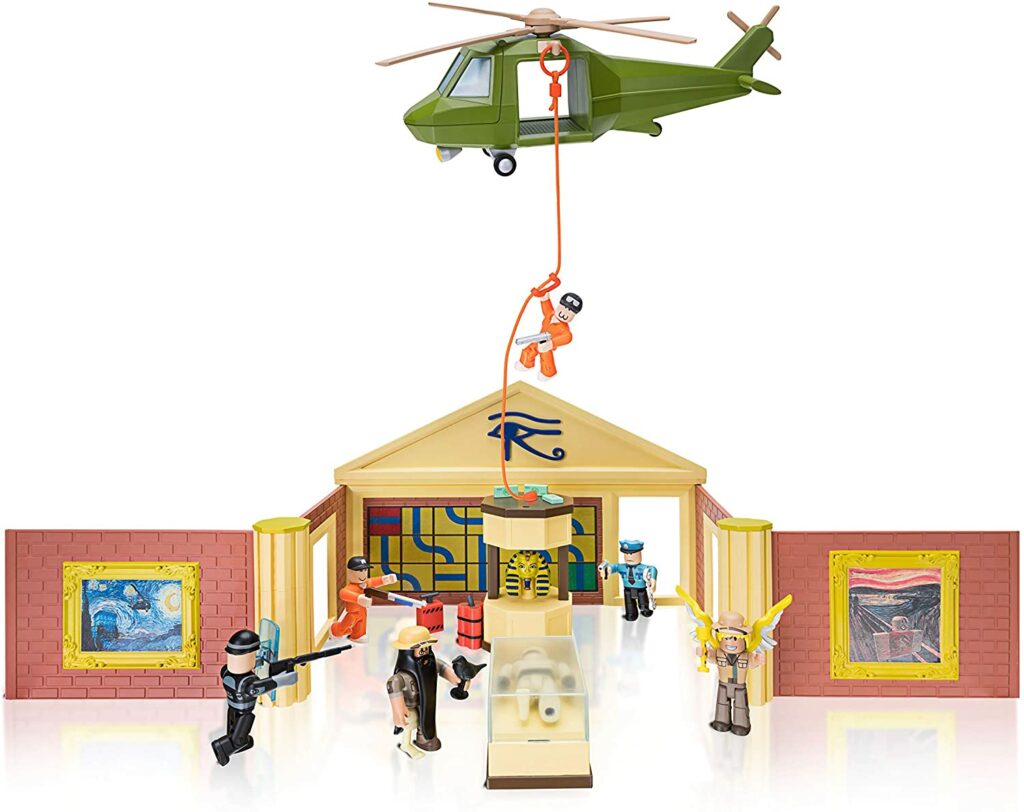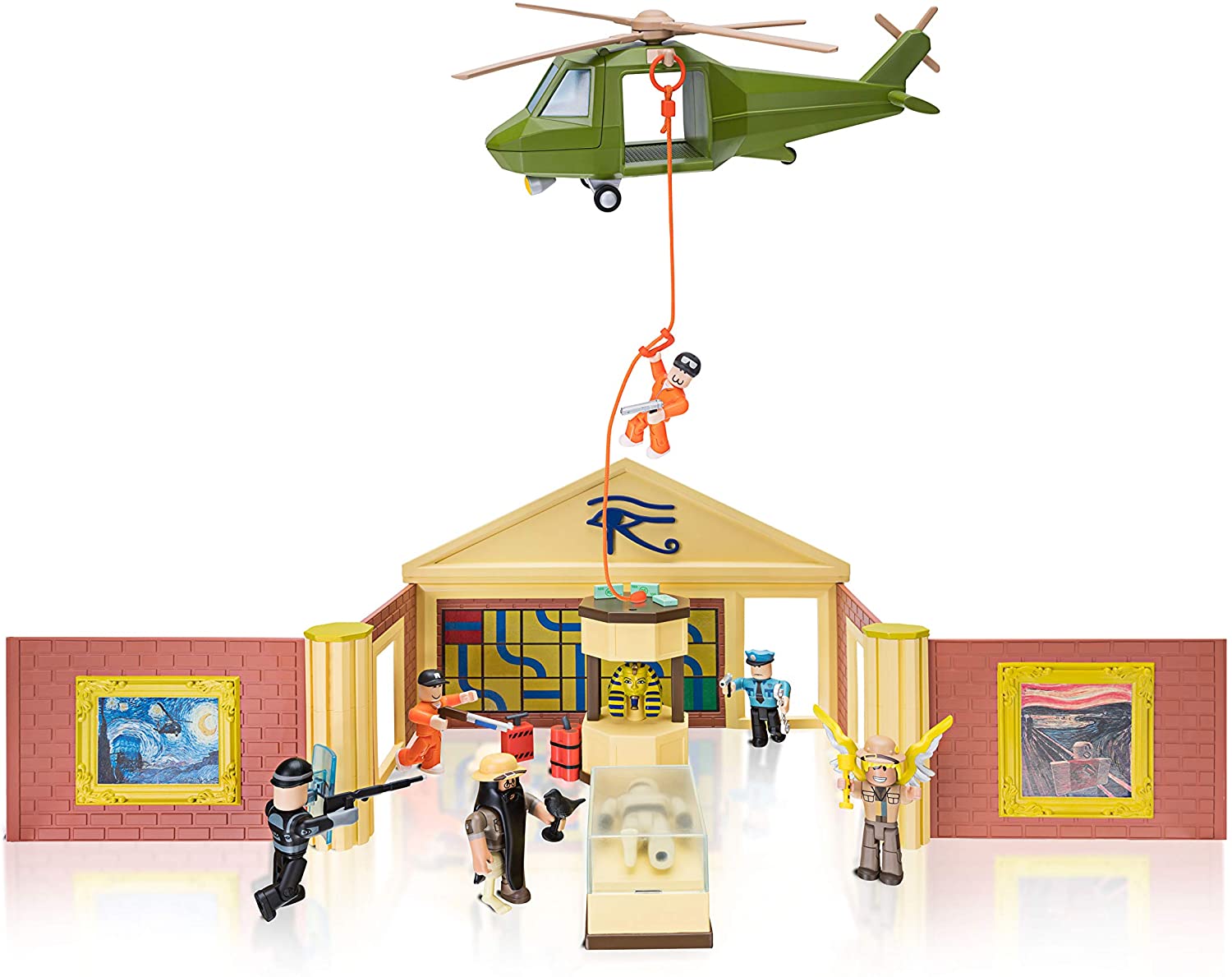 Now you can reenact those heart-thumping heists for real with this high-stakes heist playset. The Jailbreak: Museum Heist Deluxe Playset comes with the entire museum backdrop with a helicopter - the perfect getaway vehicle for the most calculated heists. This set includes 6 characters you'll recognize from the game: the Sneaky Criminal, Thieving Criminal, SWAT Boss, Scared Cop, Unkempt Collector, and Kempt Collector. Upon purchase of this playset, you'll get the T-Rex Skeleton from the exclusive virtual item code. Just go online and redeem it at your own convenience and it will show up in your Inventory.
Loads of helpful heist accessories are also included in the playset, like TNT, a crowbar, handcuffs, Riot shields, and more. The Jailbreak: Museum Heist Deluxe Playset is perfect for groups of friends to roleplay cops and robbers.
But if you're looking to take it one step further, this playset also pairs perfect with the Roblox Action Collection - Jailbreak: Great Escape Playset. The Jailbreak playset allows you to reenact awesome breakout scenes in case the heists don't go as originally planned. You get more backdrops, like jail fences, a ramp, and 4 more characters.
Unfortunately, however, the Jailbreak: Great Escape Playset appears to be out of stock. Keep an eye out on your favorite retailers in case it returns before the holidays!
Roblox Action Collection - Heroes of Robloxia Playset
Message to all superheroes out there: crime is through the roof and the streets you need now more than ever! With the Heroes of Robloxia Playset, suit up as your favorite heroes to defeat the villainous Darkmatter from unleashing an all-powerful secret weapon. His evil minions Cicada, Dynamo, and Atomic Waste are also included to cause more trouble. Also choose between Tessla, Captain Roblox, Overdrive, and Kinetic!
This playset is perfect for the crime fighters who love playing InsanelyLuke's Heroes of Robloxia video game. Because all of these toys can be mixed and matched, the Heroes of Robloxia Playset would pair great with any of the Action Collection playsets listed above, like the Museum Heist playset. Your imagination is boundless when it comes to Roblox toys.
Roblox Celebrity Collection - Adopt Me: Pet Store Deluxe Playset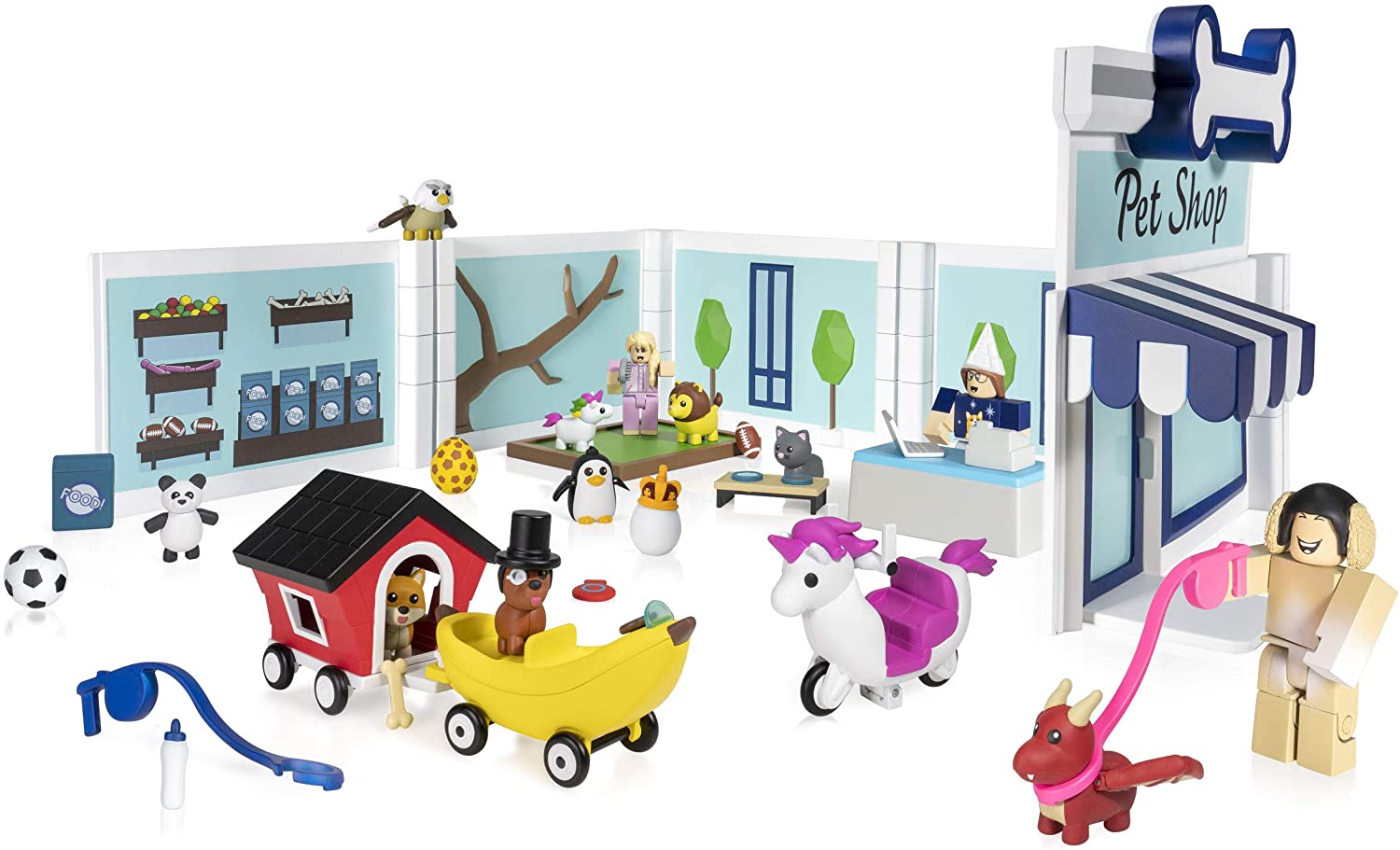 One of the most popular Roblox experiences is also available as a playset. Take over the counter with the Roblox Adopt Me: Pet Store Deluxe Playset. This playset is great for animal lovers, as the Pet Store also comes with lots of crawling, flying, and hopping critters. It includes three iconic Adopt Me characters: Anna, Doug, and Holly. The figures come with lots of accessories to decorate and change up the play experience every time.
At this time of writing the Adopt Me: Pet Store Deluxe Playset unfortunately appears to be out of stock at most major retailers. However, due to the holidays fast approaching, there's a chance more stock might arrive, so be on the lookout and sign up for stock alerts if you're actively looking to purchase a playset.
Bonus: Coming Soon...
Roblox Piggy Deluxe Building Set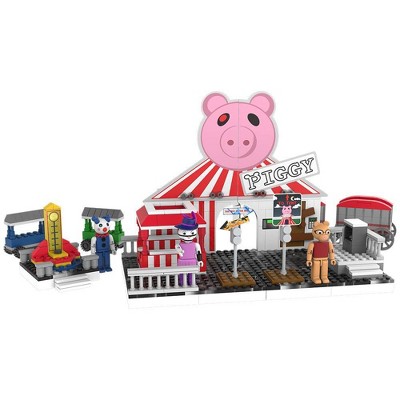 The Halloween festivities might be over, but there's an evil Piggy lurking right around the corner. This January, amp up the scares early with the Roblox Piggy Deluxe Building Set. This set includes the Carnival backdrop that players will recognize from PIGGY Chapter 8, along with 3 additional figures. There are also carts included for your Roblox toys to hide behind while Piggy lurks around the Carnival.
The Piggy Deluxe Building Set also teases that its exclusive in-game redeem code will be used to unlock items, like Badges, Piggy Tokens, and Skins. The Roblox Piggy video game appears to only be growing in popularity, so you should have this toy playset marked in advance for the January 10th release!
---
Do you own any of these playsets? Which one is your favorite? Let us know in the comments which one! After the Piggy Deluxe Building Set releases in January, what playsets from your favorite Roblox games do you hope to see in 2021?