Blade Simulator starts you off with a regular sword, and you must learn from the elderly knight how to use it well. As you get new equipment and kill bandits, you'll eventually become strong enough to enter the Tower of Heaven. The Tower of Heaven is a lot more fun than killing regular bandits but it is difficult and requires a team of people or a lot of pets.
The codes below will give you a lot of gold, which will give you enough to buy at least the first dozen swords and around seven to eight auras easily. This is great because it helps you slide past the early quests so you can get to the Tower of Heaven, which is the main arena mode in the game.
If you want more codes for games like Blade Simulator, check out Roblox Blade Throwing Simulator Codes, Roblox Ninja Blade Codes, and Roblox Demon Blade Tycoon Codes here on Pro Game Guides. The codes above will give you a good boost so you don't have to deal with early game grinding.
All Blade Simulator Codes List
Updated July 14

Added new Blade Simulator codes
Blade Simulator Codes (Working)
Here's a look at all the working Blade Simulator codes.
russo—Redeem this code for 10,000 Gold (NEW)
flamingo—Redeem this code for 10,000 Gold (NEW)
gravy—Redeem this code for 10,000 Gold (NEW)
razor—Redeem this code for 10,000 Gold (NEW)
update4—Redeem this code for 40,000 Gold (NEW)
goldenninja50—Redeem this code for 50,000 Gold (NEW)
snuglife—Redeem this code for 10,000 Gold (NEW)
update5—Redeem this code for 50,000 Gold (NEW)
update1—Redeem this code for 10,000 Gold (NEW)
Blade Simulator Codes (Expired)
These codes for Blade Simulator no longer work.
There are no expired codes for Blade Simulator
Blade Simulator FAQ
Your Blade Simulator frequently asked questions are answered below.
How to redeem Blade Simulator codes
Redeeming codes for free rewards in Blade Simulator is easy.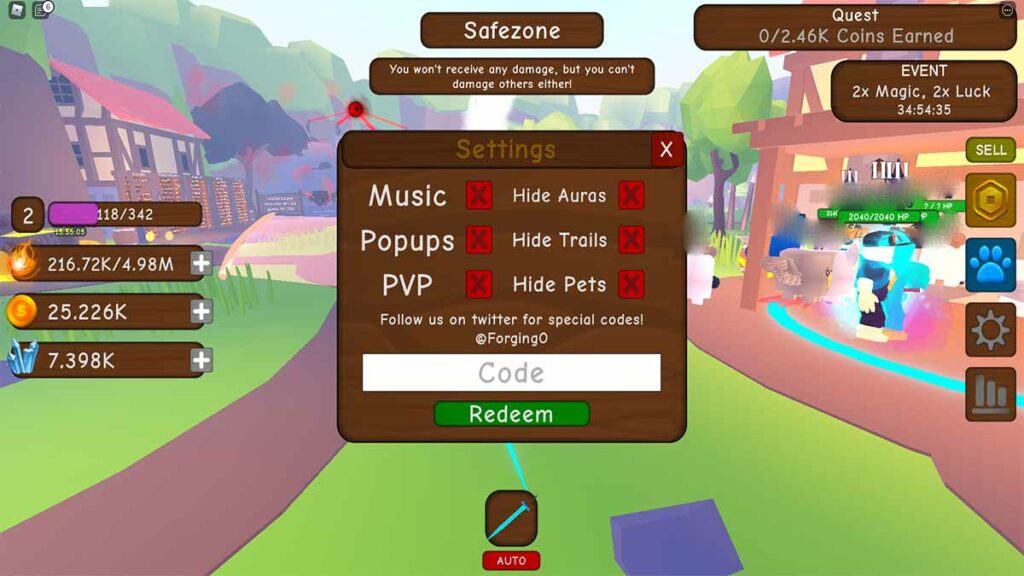 Launch Blade Simulator.
Press the gear button on the right side of the screen.
You must enter the code exactly as it appears in the list above in the text box.
Press Redeem to claim your reward!
How can you get more Blade Simulator codes?
Pro Game Guides provides the most recent codes on multiple games. Make sure to bookmark this page and return regularly if you want to stay as up-to-date as possible. You can also follow the developer on Twitter and join the Discord to find more Blade Simulator players. As soon as a new code is released, developers usually inform their Discord members and post it on Twitter.
Why aren't my Blade Simulator codes working?
One issue we've found is that the game doesn't recognize the enter key in the codes. You cannot press enter to submit a code or the code will go away without giving you a reward. You have to make sure to press Redeem. We also recommend copying the code above and then pasting it into the game, because that will keep you from entering the code incorrectly. If you are sure you entered the code correctly and did everything right, but you still aren't getting a reward, let us know in the comments. We will double-check any codes in the comments to ensure they still work.
What is Blade Simulator?
The Blade Simulator starts everyone off with the bare minimum equipment and makes them kill bandits to earn Gold and Crystals. Gold is used to buy new equipment, auras, and swords that make the player stronger. You can buy pets that attack enemies for you with crystals. After you reach the Tower of Heaven, you'll only be able to go to the beginning of the game, which is a maze you must fight through. Your progress in the tower will determine the rewards you receive based on how high you climb.
If you're looking for codes for other games, we have a ton of them in our Roblox Game Codes post! You can also get a bunch of free stuff via our Roblox Promo Codes page.