Updated: October 16, 2023

We checked for more codes today!
The planet Namek is in danger, and it's up to you to battle the enemies invading Budokai! Choose your favorite race from the Dragon Ball franchise and level them up to have the strongest transformations and powers. There is a whole universe to explore. Will you choose to save it or destroy it?
The codes you can use in Budokai will give you extra Spins. Spins are used to reroll for different powers and character traits. These codes are perfect if you start with a character you don't like.
Goku and the gang are all here on Roblox. We have the codes to help you get to that next Super Saiyan transformation. Try these codes for Roblox Dragon Ball Hyper Blood Codes, Roblox Dragon Blox Codes, Roblox Dragon Blox GT Codes, Roblox Dragon Ball Revenge Codes, and Roblox Dragon Ball XL Codes.
All Budokai Codes List
Budokai Codes (Working)
DENJI—Redeem for 5 Race Rolls
BANETHEBOT—Redeem for 3 Race Rolls
BANEGIVESBACK—Redeem for 25k Zeni and 3 Gene Spins
BUDOL—Redeem 5 for Race Spins, and 5 Gene Spins
BUDOL?—Redeem for 5 Gene Spins, and 2 Race Spins
BUDOW—Redeem for 3 Race Spins
MYBAD—Redeem for 3 Gene Spins
LDEV—Redeem for 1 Race Spin
SUBTOEXCELSTUDIOS—Redeem for 1 Race Roll and 3 Gene Rolls
FREESTUFF—Redeem for 2 Race Rolls and 10 Gene Rolls
RESETME—Redeem to reset Wish, HBTC, Zenkai, and Absorb Cooldown
ONEYEAR—Redeem for 3 Race Spins, 5 Aura Spins, and 5 Gene Spins
Budokai Codes (Expired)
GIVEMEZENI—Redeem for 25k Zeni
WEEKENDGIVEAWAY—Redeem for 2 Race Spins and 3 Aura Spins
GENETICS—Redeem for 5 Gene Spins
ZENI—Redeem for 15k Zeni
GIVEAWAY—Redeem for 3 Race Rolls, 3 Gene Rolls, and 3 Aura Rolls
CITYBOYS—Redeem for 2 Race Rolls, 3 Aura Rolls, and 1 Gene Roll
WEUP—Redeem for 10k Zeni
banesbroke—Redeem for 2 Gene Spins
meow—Redeem for 25k Zeni
COMMONLUPDATE—Redeem for 1 Race Spin, 3 Aura Spins, and 1 Gene Spin
GIVEBREAD—Redeem for 10K Zeni
COMMONBANEBUG—Redeem for 2 Gene Spins

BANEBAD—Redeem for 10k Zeni and 1 Race Spin
BANELDEV—Redeem for 1 Race Roll and 3 Aura Spins
BUDOK—Redeem for 1 Race Spin
BUDOBAD—Redeem for 1 Race Spin and 1 Aura Spin
COMMONBANEL—Redeem for 1 Race Spin
Budokai FAQ, answered
Here's everything you need to know regarding Budokai codes.
How to redeem Budokai codes
It's easy to redeem codes for free rewards in Budokai. To do so, follow the instructions below: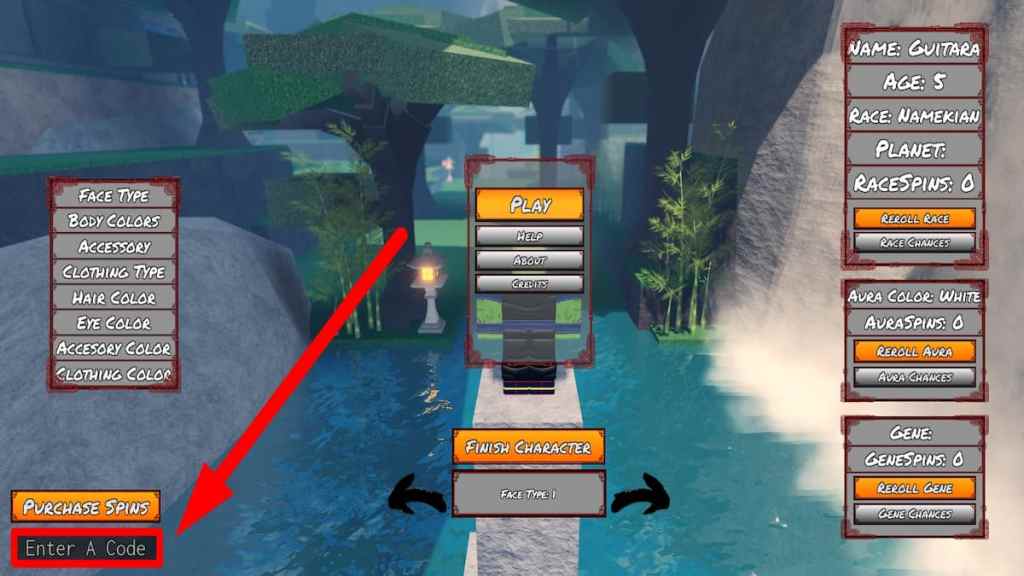 Launch Budokai on Roblox.
In the lobby menu, click on the Enter A Code text box.
In the text box at the bottom of the screen, enter the code exactly as it appears in the list above.
Press Enter to redeem your reward.
How can you get more Budokai codes?
To get the latest Budokai codes from the developer Bane join them on their Bane Unincorporated Discord Server. We here at Pro Game Guides have all the latest codes from the developer; bookmark this page never to miss out on another freebie again!
Why aren't my Budokai codes working?
There may be several reasons why your Budokai codes are not working. The codes may be expired, codes for most Roblox experiences have time-sensitive codes that can last several hours. Claim the codes as soon as you see them in our working list to avoid missing out on any rewards. The codes could be misspelled into the text box; copy and paste them from our list to avoid making any mistakes while claiming them.
What are Spins do in Budokai?
Spins in Budokai are used to reset your character presets. When creating your character, you will spin for certain presets that will give your character certain powers or traits. Use the spins to get a new race, aura, or gene. These spins can be valuable if you face an opponent with a specific weakness.
What is a Budokai game?
A Budokai game is an action RPG game. Complete quests and defeat bosses on the planet Namek to grow stronger in power and collect resources to level up your character. Unlock new worlds as you progress and choose which characters to be friendly with. Can you become the strongest fighter in the game and climb to the top of the leaderboard?
If you're looking for codes for other games, we have a ton of them in our Roblox Game Codes post! You can also get a bunch of free stuff via our Roblox Promo Codes page.