From the creators of Dream Life, Roblox Empire VI is an open-world cops and crooks simulation game where you can play the role of an honest civilian or take to the streets of Miami and engage in combat to steal money and other valuables. Purchase mansions, helicopters, yachts, and other big-ticket items while increasing your bounty and staying away from the cops' eyes.
I highly recommend claiming the codes below for Empire VI, as they will reward you with in-game cash. If you like similar crime simulation and roleplay games, check out our compilation of Clover City Codes and Roblox Dream Life Codes to not miss out on amazing, limited-time rewards.
All Roblox Empire VI Simulator Codes List
Roblox Empire VI Codes (Working)
12MVISITS—Redeem for 25,000 Money
11MVISITS—Redeem for 25,000 Money
7MVISITS—Redeem for 25,000 Money
8KLIKES—Redeem for 10,000 Money
3MVISITS—Redeem for 50,000 Money
Roblox Empire VI Codes (Expired)
There are currently no expired codes for Roblox Empire VI.
Related: Roblox Ohio Codes
How to redeem codes in Empire VI
Follow the steps below to redeem codes in Roblox Empire VI: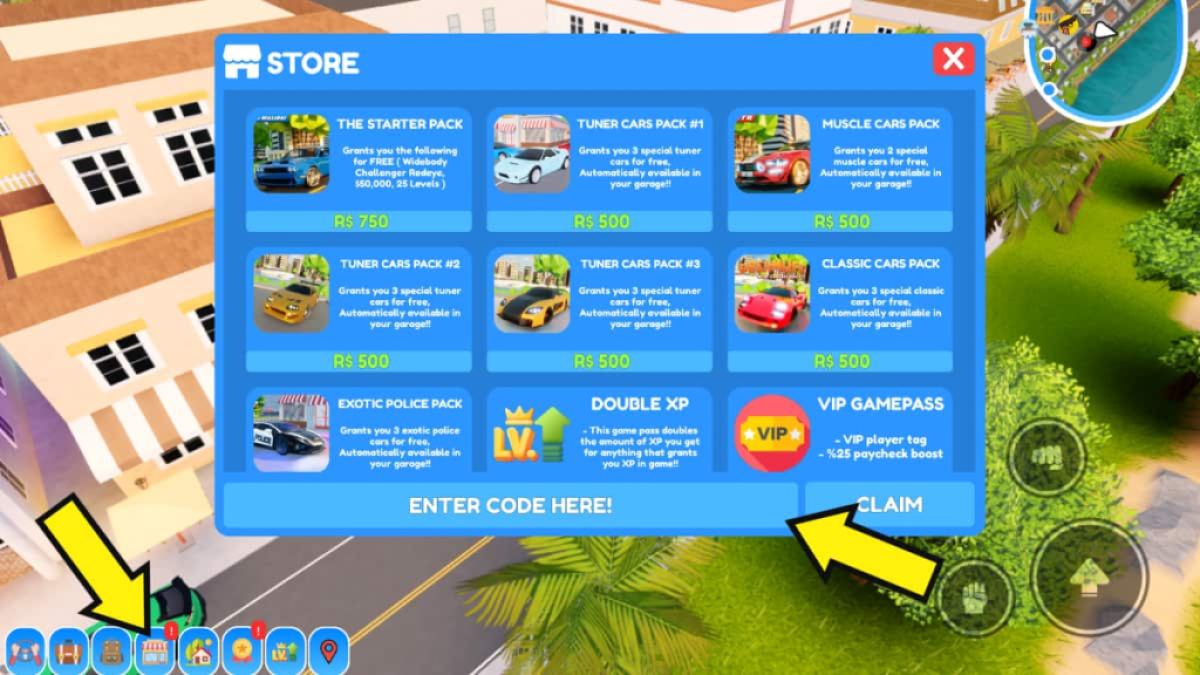 Launch Empire VI on Roblox
Click on the STORE icon on the bottom left of the screen.
Type the code exactly as-is in the ENTER CODE HERE! textbox.
Click the CLAIM button to obtain rewards.
How can you get more Roblox Empire VI Simulator codes?
To find more codes for Roblox Empire VI, follow the developer's @Tura_Studios X account and join the Tura Studios Discord Server, where codes may regularly be posted. Alternatively, you can bookmark this page, as we'll constantly update it with all working codes, so you don't have to look for them yourself.
Why are my Roblox Empire VI codes not working?
Roblox Empire VI codes may not work for a few reasons. First, you might have mistyped it (which happens to the best of us). Make sure to type in the codes exactly as they're written above to prevent errors. Second, you might have already claimed the code before. Codes can only be claimed once! Finally, the code might be expired. If that's the case, let us know in the comments below so we can remove it from our working codes list.
How to get more free rewards in Roblox Empire VI
To get more free rewards in Roblox Empire VI, click on the medal icon on the bottom left of the screen. Here, you can claim rewards just by staying online and playing, but keep in mind that your progress will reset when you get disconnected or leave the game. Some achievements will also be shown at the bottom of the pop-up. Complete them to get even more rewards.
What is Roblox Empire VI?
Roblox Empire VI is a cops vs. crooks heist simulation game where players can drive around the dangerous streets of Miami and commit a plethora of crimes. Players can use stolen money to purchase big-ticket items, from mansions to yachts, jewelry, and more. With the game's open world and unrestrictive combat system, players are free to roleplay and build immersive stories within the experience.
Like Roblox games? Check out our Pro Game Guides Roblox Game Codes post! You can also get a bunch of free goodies via our Roblox Promo Codes page.