The second half of Pet Simulator X's Christmas Update has been released and with it has come more Gingerbread, a limited edition egg, and a new way to get around! As of Dec. 24, 2021, hoverboards can be purchased and used by all players to fly from area to area—there's even a free hoverboard designed after Santa's Sleigh that can be unlocked for free by anyone who completes the Christmas Quests! To find out what these quests are and how to check them off your Christmas list, continue reading below.
Christmas Quests
In order to unlock the Sleigh Hoverboard, and the Saved Christmas achievement, players will need to complete the five quests listed below.
Break 100 Candy Canes
Break Two Gingerbread Chests
Collect 20 Million Gingerbread
Break 1,250 Candy Canes
Break 40 Gingerbread Chests
To track the progress of your quests, enter the cannon in Spawn World's Shop Area to shoot yourself to Christmas Zone—here you will see a sign in front of Santa's Sleigh that tells you your current quest and its details. Once you've completed the five quests listed on the sign you will be able to unlock the Sleigh Hoverboard.
Related: Pet Simulator X faces backlash from fans after NFT release
Breaking Candy Canes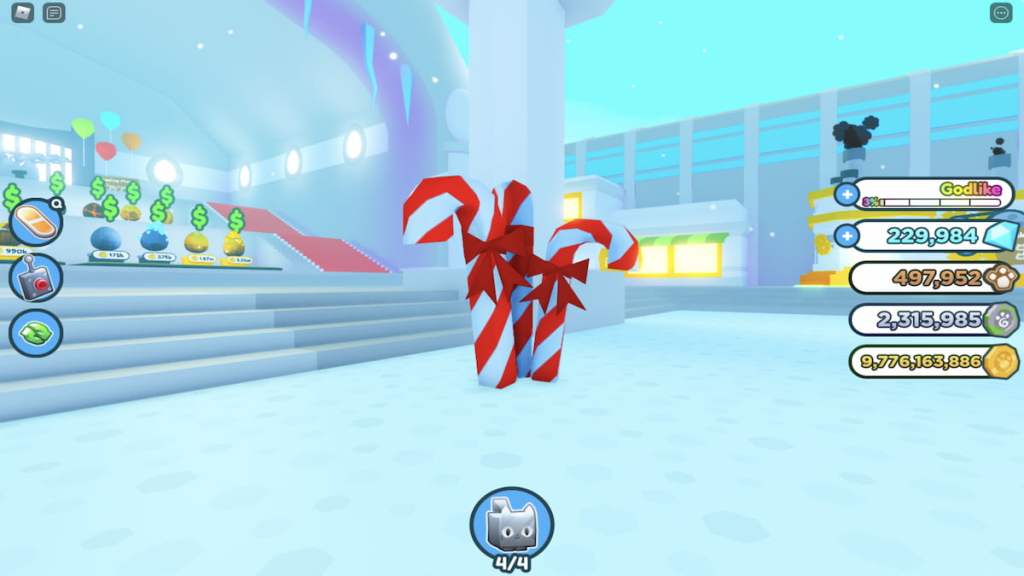 Candy Canes can spawn in any world and in any area—there is no area where Candy Canes spawn more frequently. Because of this, the best method to find Candy Canes quickly is to move throughout Spawn World and hit each area one at a time. Upon spawning into Pet Simulator X, you'll notice a plethora of Candy Canes littered across the world—after you've destroyed a handful of them however, you'll also begin to notice that it takes a while for them to reappear.
For the best chance at collecting Candy Canes, send your pets to destroy everything in the area—this includes coin piles, diamonds piles, crates, gifts, safes, etc. The more open your area is, the higher the likelihood of Candy Canes spawning becomes. It's also best to find an area without other players, as Candy Canes are typically targeted by everyone as soon as they appear.
The health of Candy Canes is dependent on which area you're in, meaning that Candy Canes found in lower level areas will have less health, while those found in higher level areas will have more health and require more time to destroy. Thanks to the Christmas Eve update, Candy Canes also award the player with 2x the normal amount of Gingerbread when destroyed.
Breaking Gingerbread Chests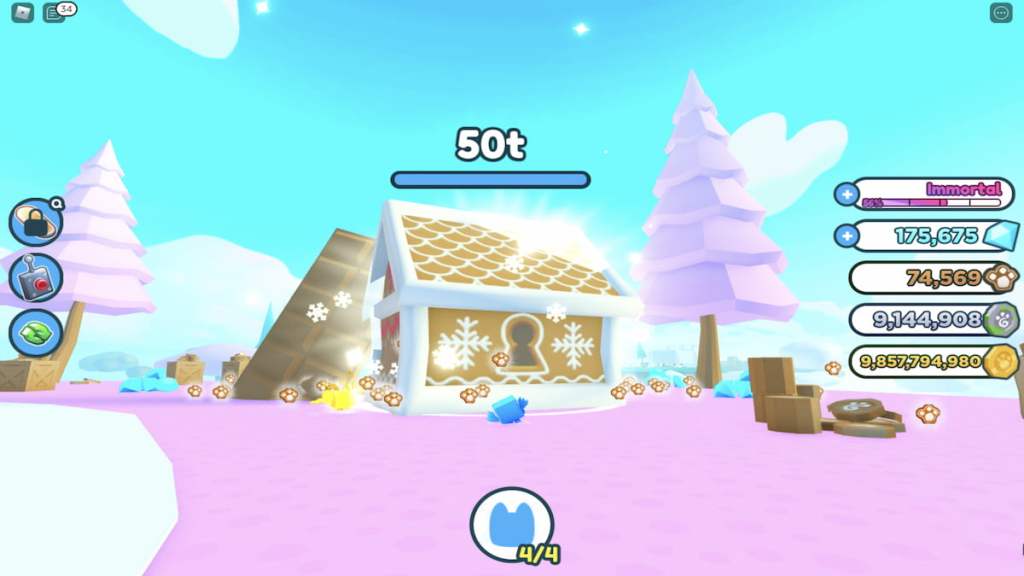 Similar to the Jack-O-Lantern Chests that were introduced during the Halloween event, Gingerbread Chests serve as large, seemingly indestructible, chests that randomly appear in various worlds. These chests do give out a decent amount of Gingerbread, however they have a massive 50 trillion health, so you may want to gather some friends if your pets aren't highly leveled! The spawn time of these chests is around every 30 minutes.
Collecting Gingerbread
Gingerbread can be collected the same way coins and diamonds can be—by breaking piles, gifts, crates, safes, vaults, and chests. For each bundle that your pets open, you will now receive Gingerbread along with the pre-existing coin and diamond rewards!
The best way to obtain Gingerbread quickly is by locating large chests that your pets can break in the shortest amount of time. Depending on which worlds you have unlocked, there is often a main, themed chest to be destroyed in every area from Volcano forward. Volcano is the best place to start for those with lower-level pets, while those with higher-level pets would greatly benefit from taking on the massive chest in Tech World.
These massive chests also have a chance of spitting out Gingerbread loot bags, which often contain 100+ Gingerbread per bag. Considering how much Gingerbread a normal chest releases upon its destruction, taking the extra time to farm these larger chests is noticeably worth it.
Related: All Roblox Adopt Me Updates | Winter Sale + Last Chance
Quests note
These quest requirements take, on average, around 20 hours to complete, so don't feel discouraged if it begins to seem impossible—you're not alone! Hoverboards can always be purchased with Robux if you decide that the Christmas Quests aren't worth your time.
Hoverboards list
All of the Hoverboards currently available in Pet Simulator X can be found in the list below.
Blue Flying Carpet – Be in the top 10 on the Global Leaderboard
Flame Hoverboard – Be a BIG Games Partner
Sleigh Hoverboard – Complete the 2021 Christmas Event Quests
Red Flying Carpet – Be in the top 100 on the Global Leaderboard
VIP Hoverboard – Own both the Hoverboard and VIP Gamepasses
Cat Hoverboard – Meow
Original Hoverboard – Own the Hoverboard Gamepass
Rainbow Hoverboard – Redeem a merch code
Bling Hoverboard – Spend over 100,000 Robux
Full Christmas Eve Update patch notes
Christmas Event Quests
8 New Hoverboards
x2 Gingerbread
Limited Time Christmas Egg
Candy Canes
Super Magnet Gamepass
Menu Buttons Uplift
Looking for more Roblox content? Check back with the Roblox section of Pro Game Guides often for the newest code lists, news articles, and guides like this one!