The popular DCU and comic book character Shazam has landed inside the Roblox Metaverse. As announced by popular Roblox leaker EventHunters, this promotional event is in partnership with Strongman Simulator and has brought five free avatar items that players can claim for a limited time! For more details on how to earn these items, continue reading below, and if you're interested in learning even more about Shazam, the Shazam! Fury of the Gods movie releases to theaters on March 17, 2023.
How to earn all free items in Strongman Simulator (Shazam! Fury of the Gods Event)
At the time of this article's publication, the following five items have been added to Strongman Simulator and can be obtained for free. To learn more about these items, continue reading past this list.
Luckily, all five items added with this event are earned the same way—by beating one of the Shazam NPCs in a tug of war match. In order to beat these NPCs, however, you'll need strength, and quite a lot of it! To increase our superhero strength, we first need to enter the Shazam area of the map.
Once here, approach the racing area pictured below. Waiting behind the starting line of this area should be a variety of items. As you'll notice when you attach them, each of these items varies in weight, with the Golden Apple weighing the least and Hespera's Crown weighing the most.
To earn points, we need to attach ourselves to any of these items and drag them across the finish line on the other side of the race area.
Related: How to get all free items in Moto Island Official Valentino Rossi Experience – Roblox
Points we earn from bringing these items across the finish line can then be spent by working out (spamming the left mouse button) at the mats located behind the race area. The more points we spend, the more strength we'll earn, and the more strength we earn, the heavier the items we'll be able to drag, and the heavier items we drag across the finish line, the more points we'll earn—it's an endless cycle of grinding!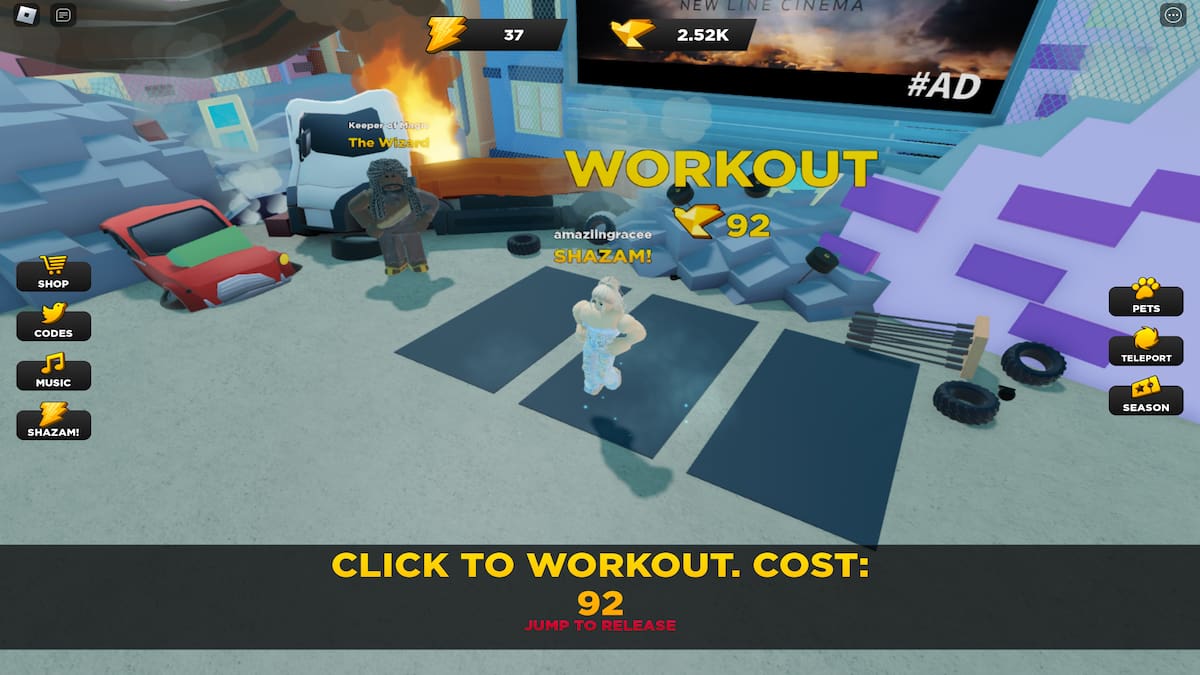 When you think you've gained enough strength to defeat any of the tug of war challengers, approach them and press E to begin their minigame. (Tip: you'll probably need around 100 strength to beat Anthea, around 500 to beat Kalypso, and around 1,000+ to beat Hespera)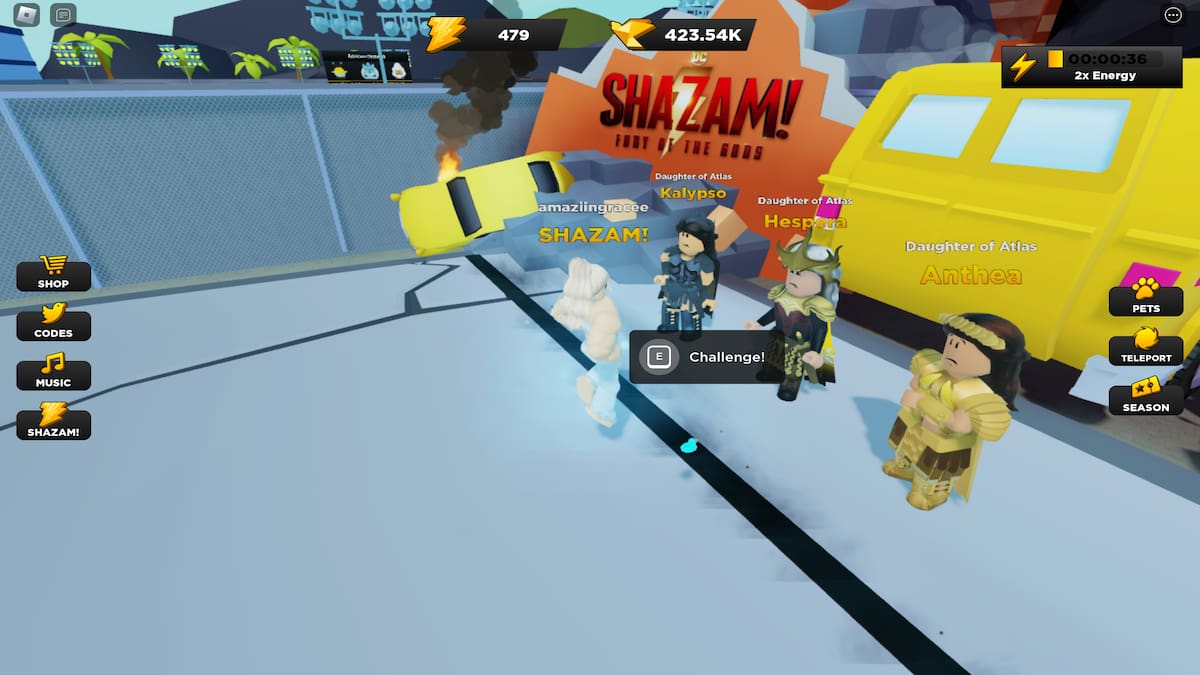 To play their tug of war minigame successfully, wait for the bar at the bottom of your screen to reach 100% power, and then click when it does. Each time you click, you'll pull the rope toward your goal line.
Related: How to get all free items in DAVE & BUSTER'S WORLD – Roblox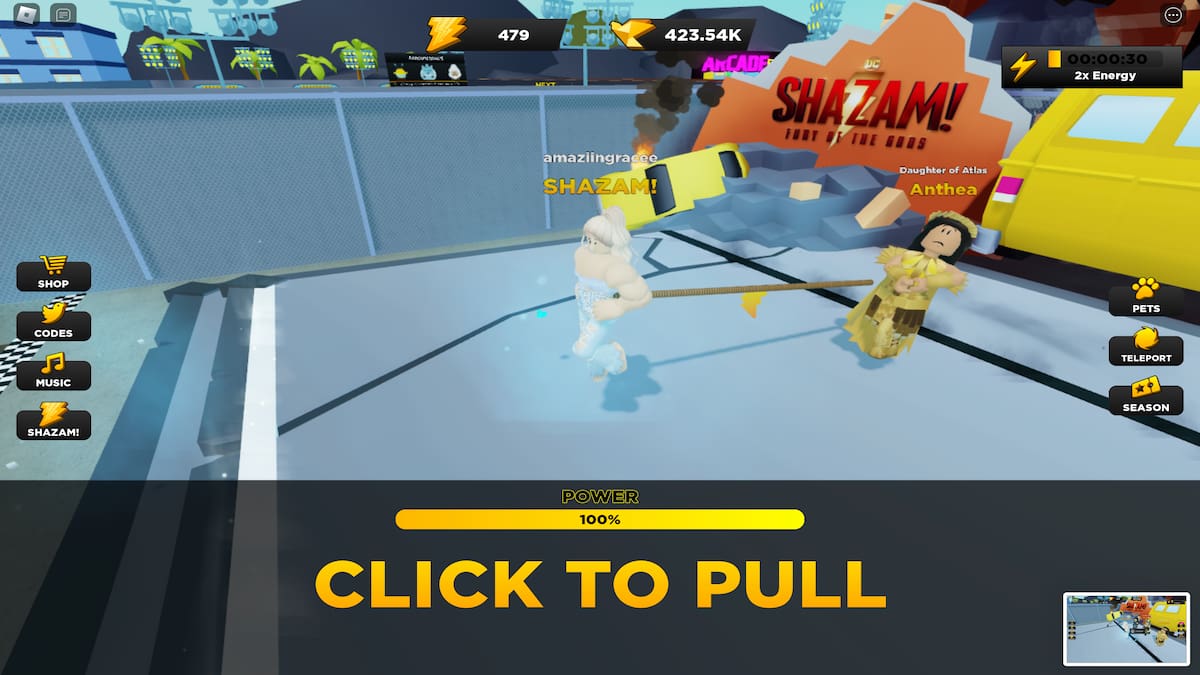 If you're able to pull the lightning bolt over the goal line, you'll defeat the challenger and unlock the secret hideout behind them.
Inside this hideout is a chest that, when opened, will award you a UGC item.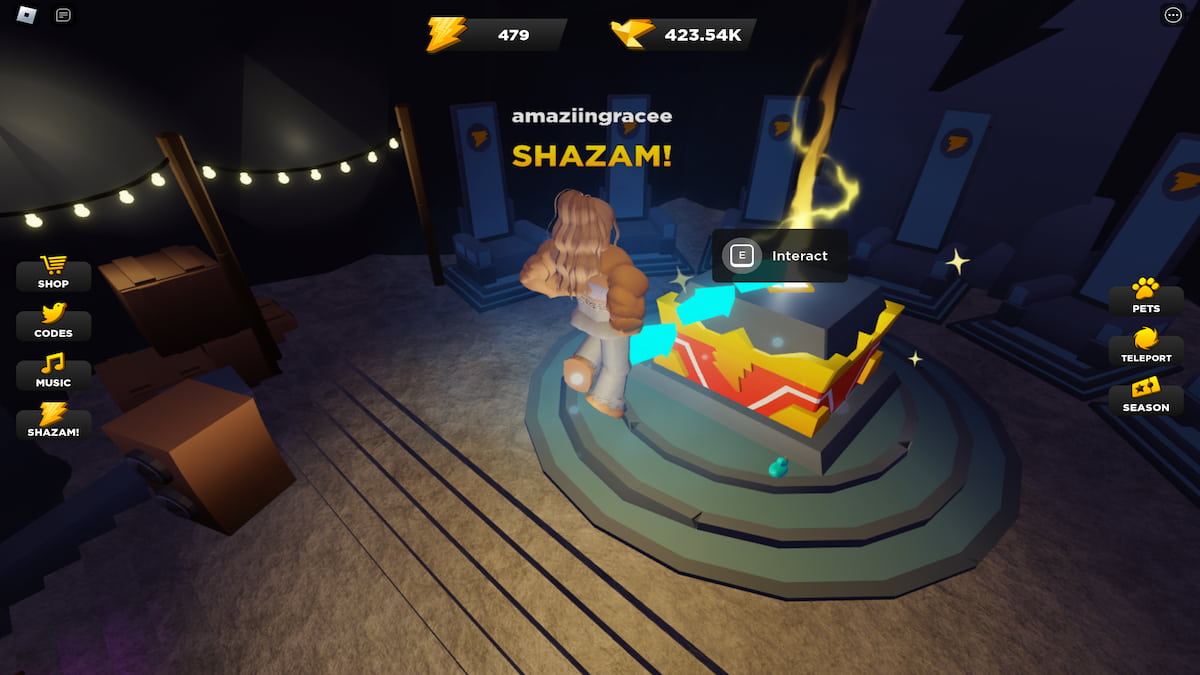 To earn all the other free items, you'll need to return to this experience and repeat the steps detailed above on four different days, as there's an 18 hour cooldown each time you unlock an item.
Looking for more Roblox content, including free items? Check out our recent guides on How to get all free items in Blueberry Clothing Store – Roblox or How to get all free items in American Girl World – Roblox here on Pro Game Guides!