Female K-Pop group TWICE has danced its way into the Roblox Metaverse! Fans of this musical group can join TWICE Square and chat with other fans, play minigames, unlock exclusive in-game collectibles, and even earn two free avatar items. Continue reading below for a quick look at how to obtain them.
How to earn all free items in TWICE Square
The list below details all of the free items that have ever been available in TWICE Square. For a closer at these items, and how to obtain them, continue reading past this list.
TWICE Black and White Logo Cap
To unlock the TWICE Black and White Logo Cap, users must play all three rounds of the Escape Room minigame. This minigame can be accessed by selecting the joystick icon on the left side of your screen and then clicking the green Play button on the Escape Room image.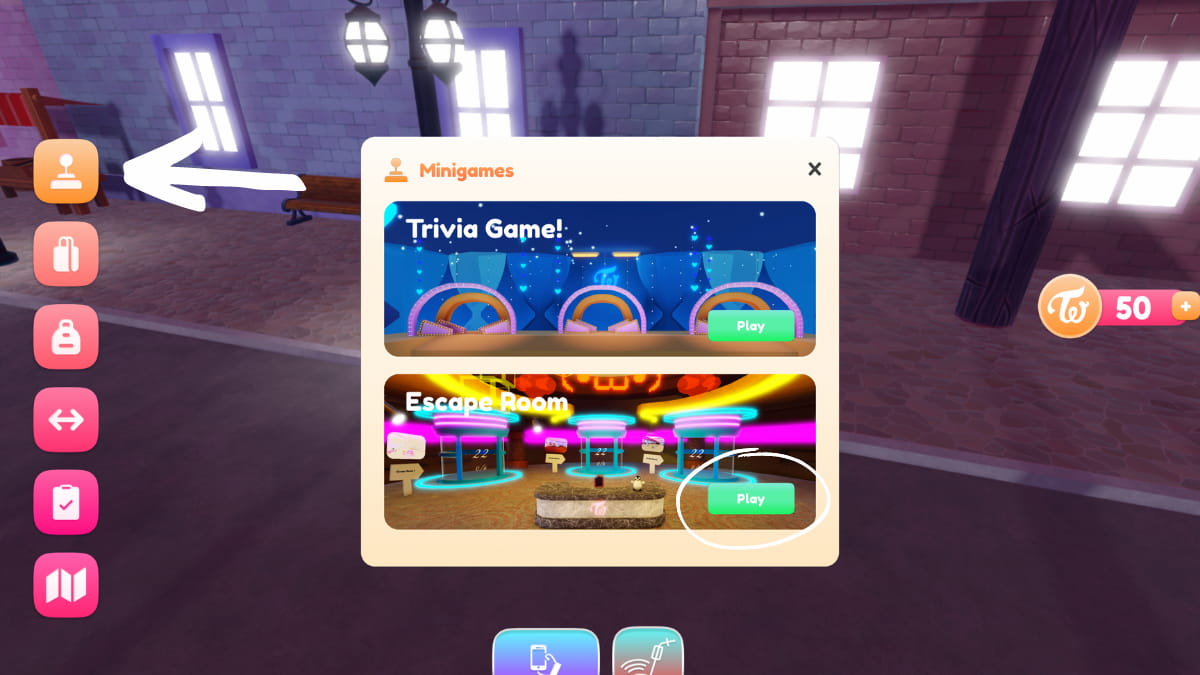 Once you've teleported to the Escape Room loading area, step into the elevator queue on the left. When the timer counts down to zero, press Ok to enter Round 1 of the Escape Room.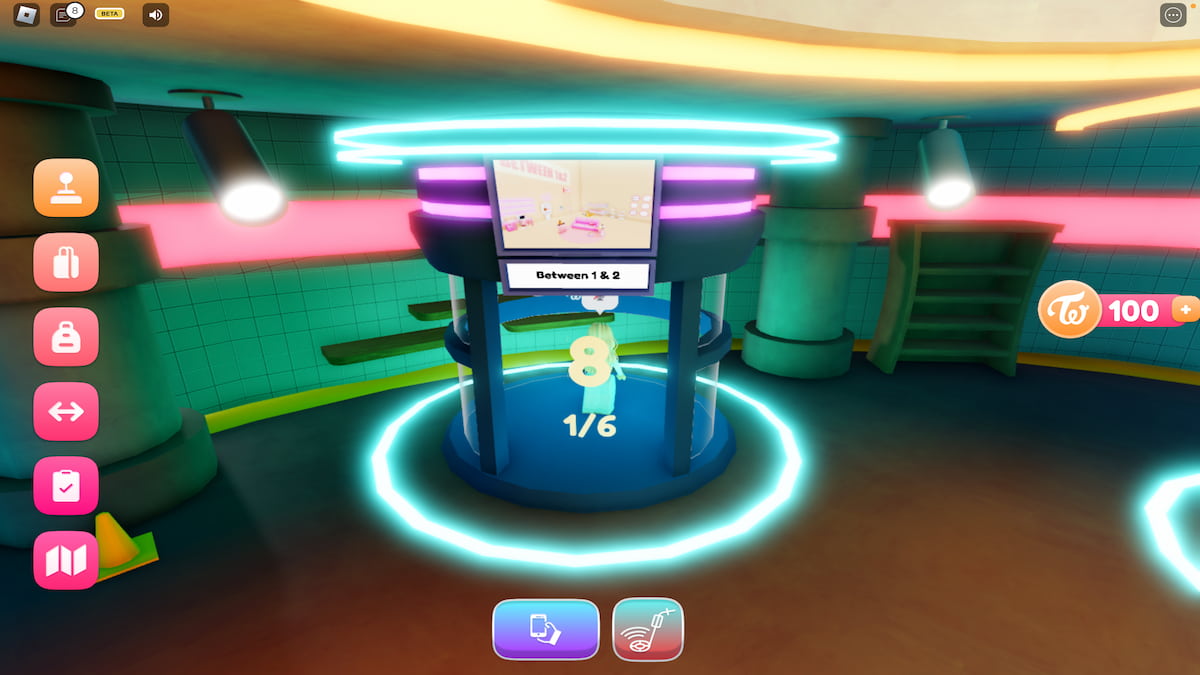 To solve and escape the first round, look for the wall of clocks pictured below and decipher the code from left to right. For example, based on our clocks, our code is 6 2 5 9.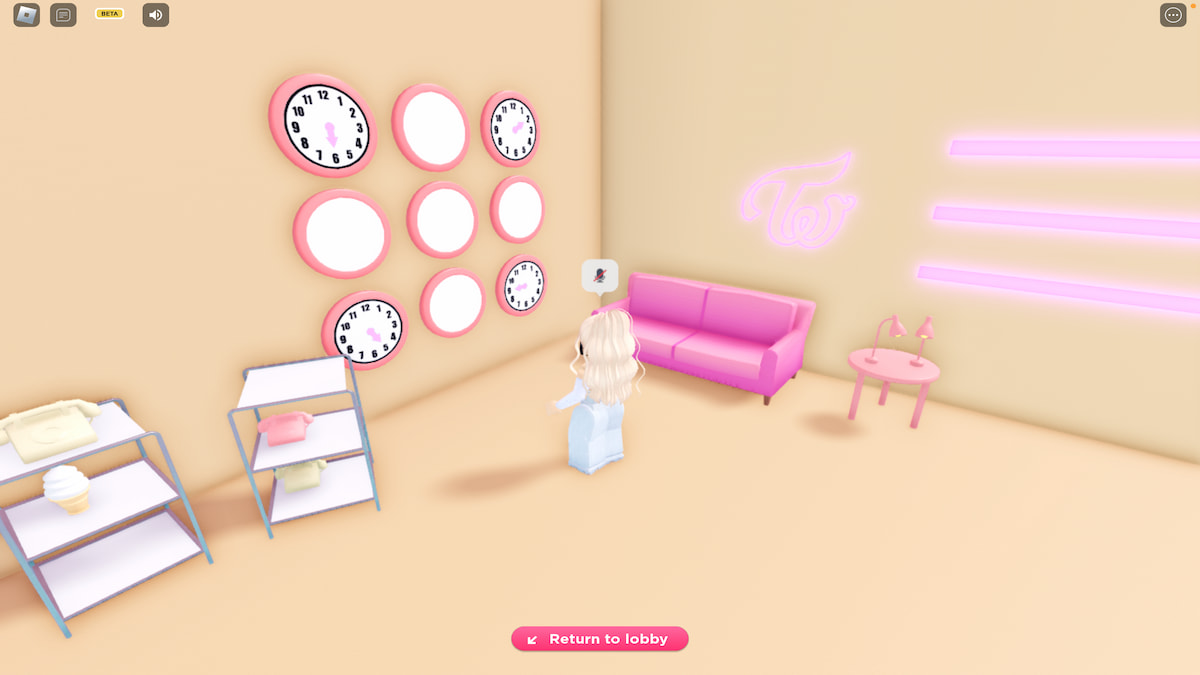 Remember your code and enter it in the keypad near the door. Upon doing so, the door will unlock and you'll be able to escape Round 1!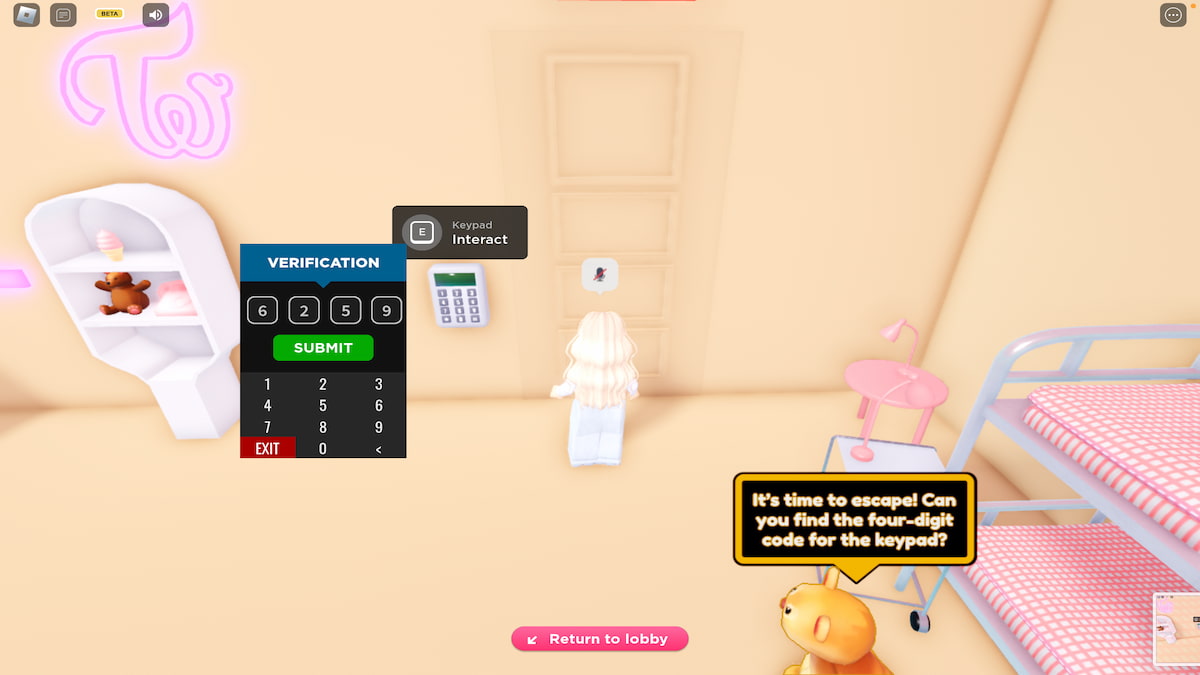 Now, Round 2 is a little different. To escape it, we're not looking for a code, and are instead on the hunt for toys! Underneath each TWICE member's image is a box that can fit a specific stuffed toy; to find these toys, we need to explore the room around us, checking in boxes, behind couches, underneath tables, and everywhere an adorable fluffy friend could fit.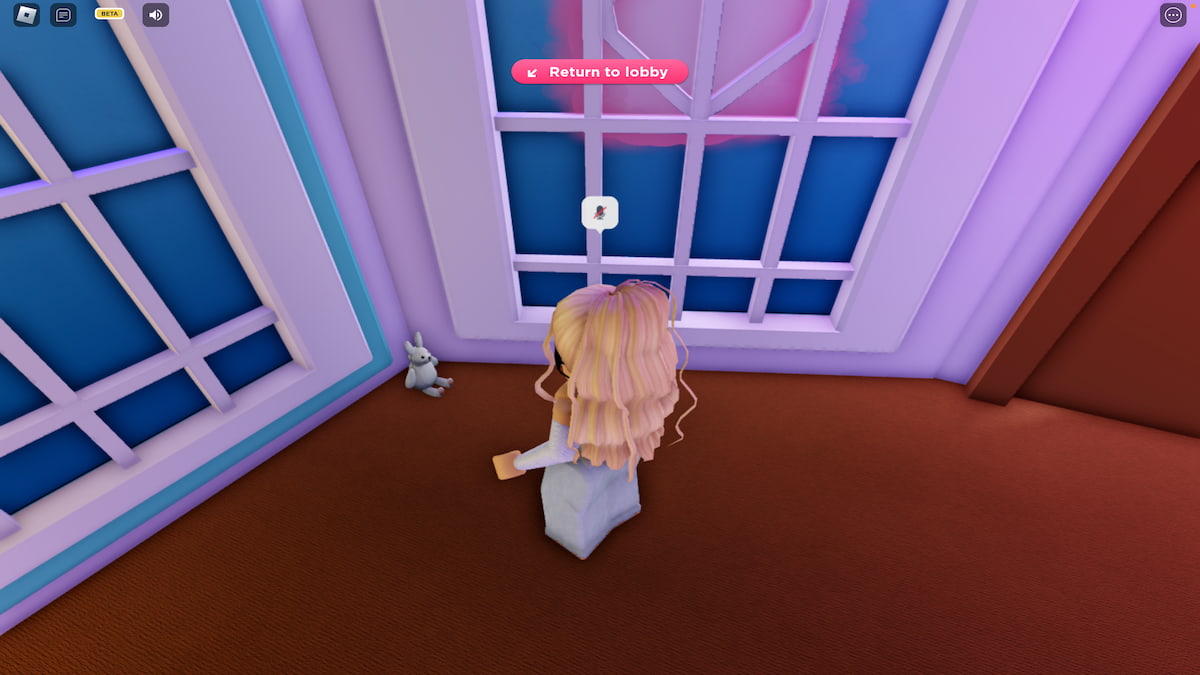 Related: How to get all free items in American Girl World – Roblox
When you find one, return it to the correct box by walking up to the corresponding shape. Once you've found and returned all nine toys, the locked door will open.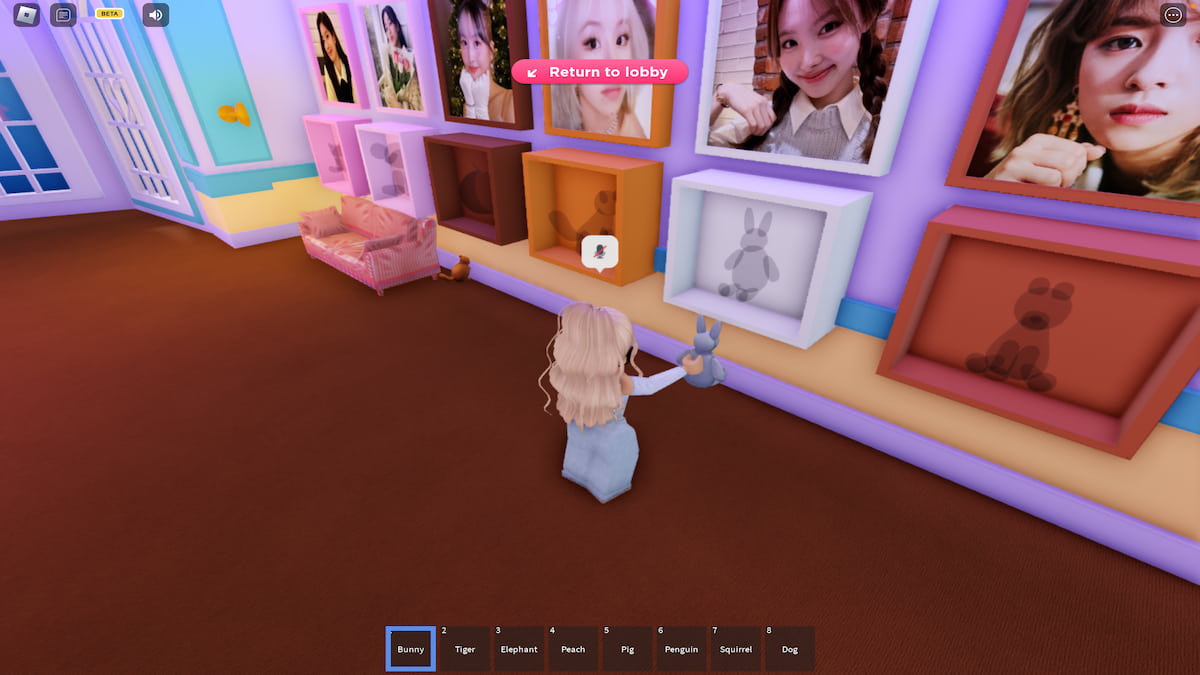 You've made it to the final round, congrats! To escape this room, we first need to find a key (which can be located inside unlocked lockers, underneath desks, or anywhere on the floor, really) and then use said key to open the padlocked locker.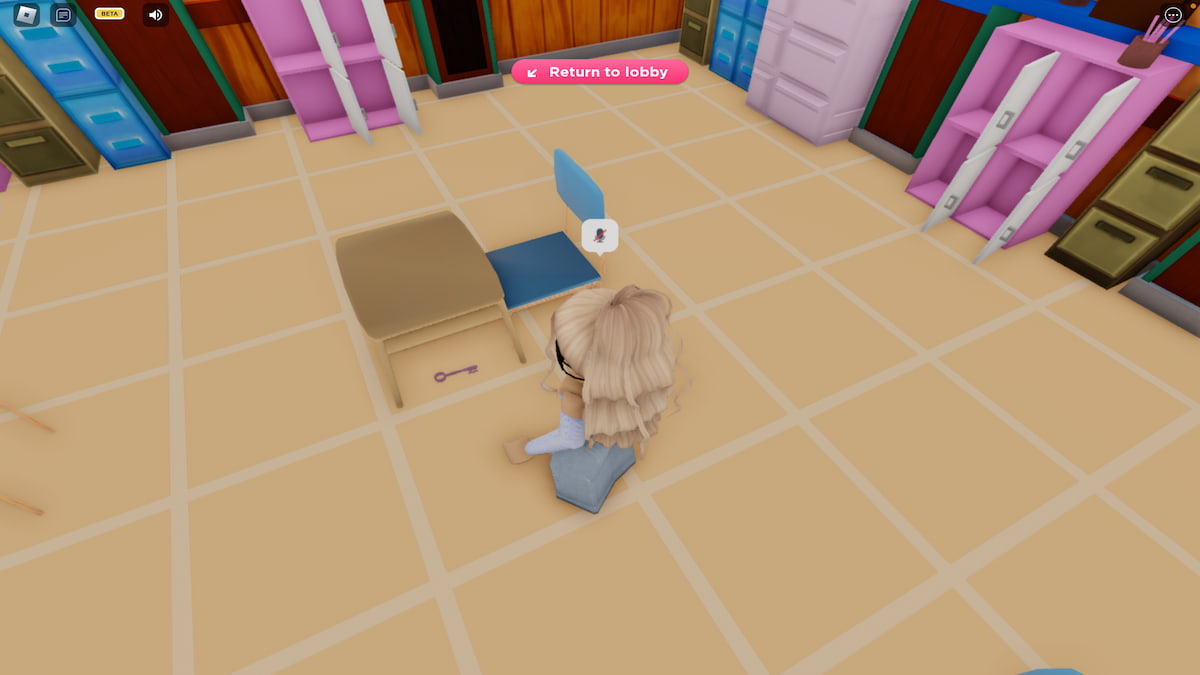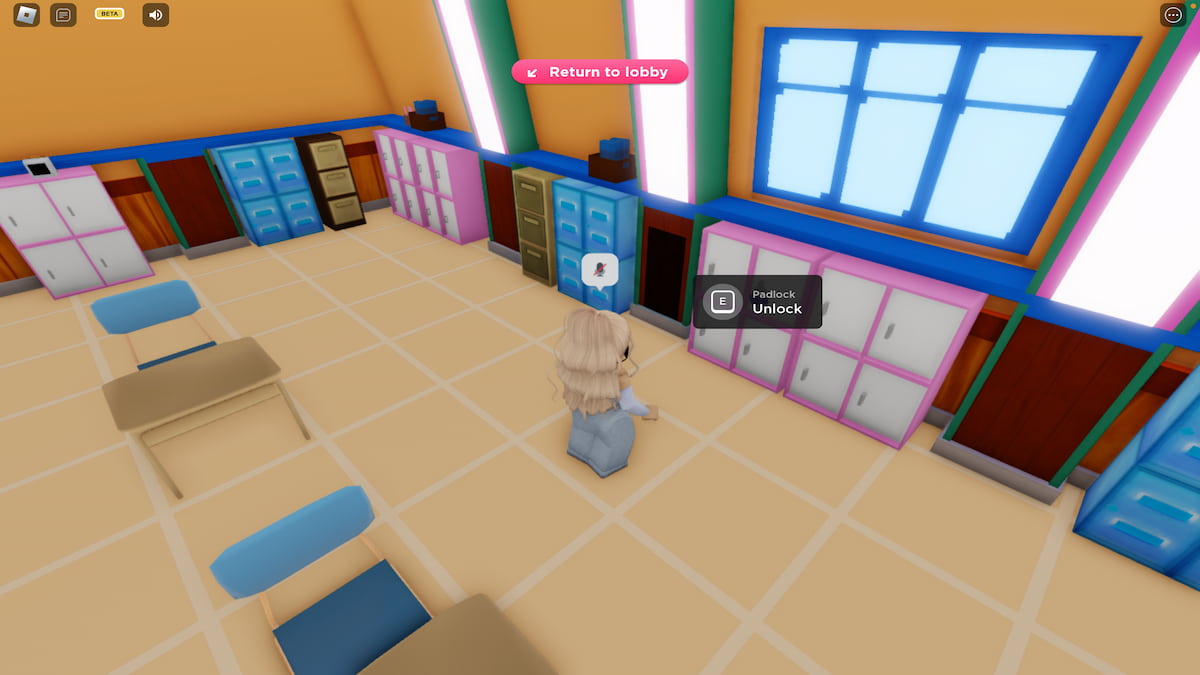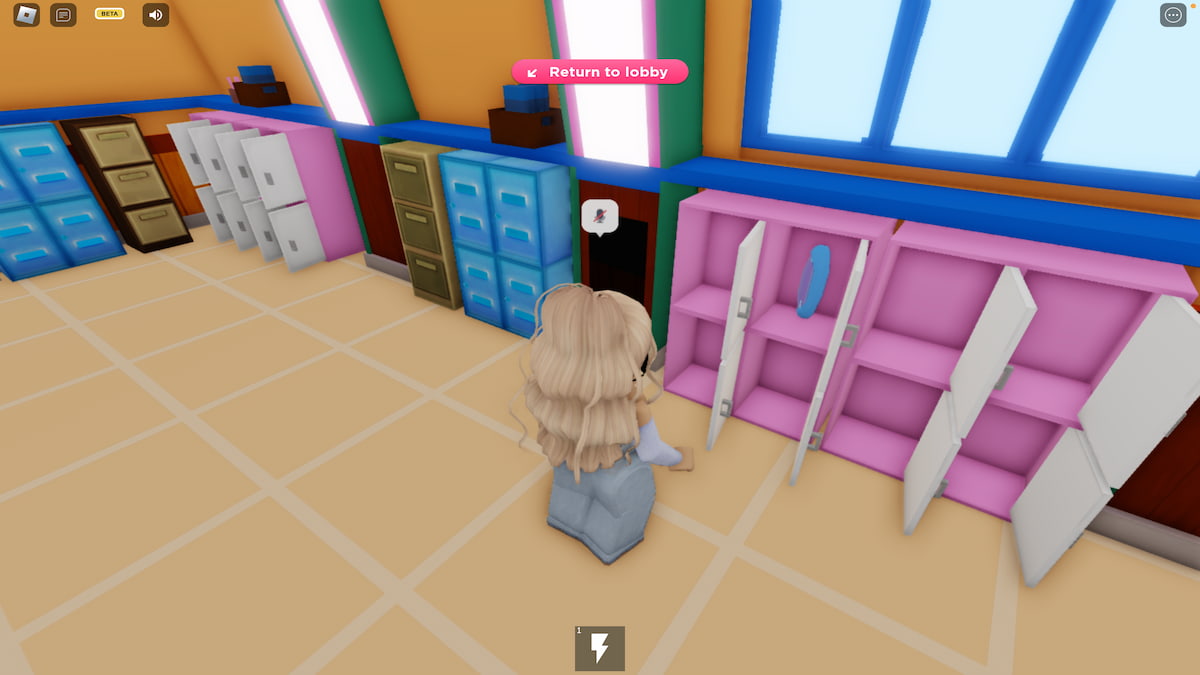 Inside the locker is a UV light that, when the lights in the room are turned off, will reveal a secret code that's hidden somewhere on the floor or walls.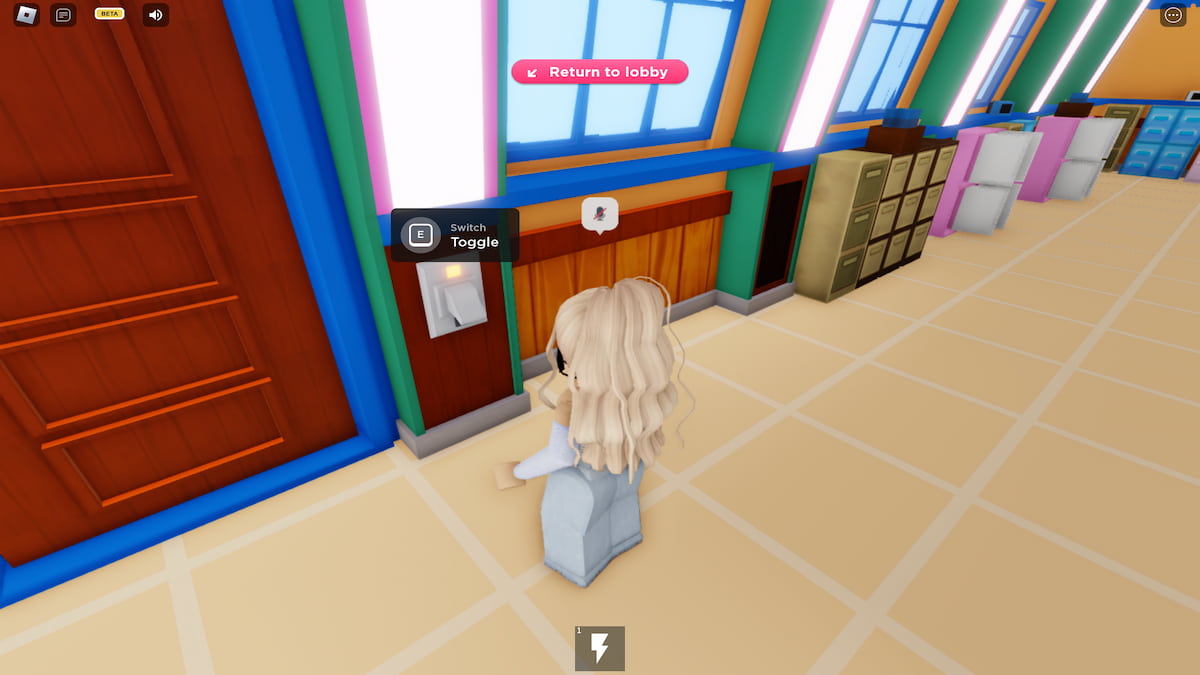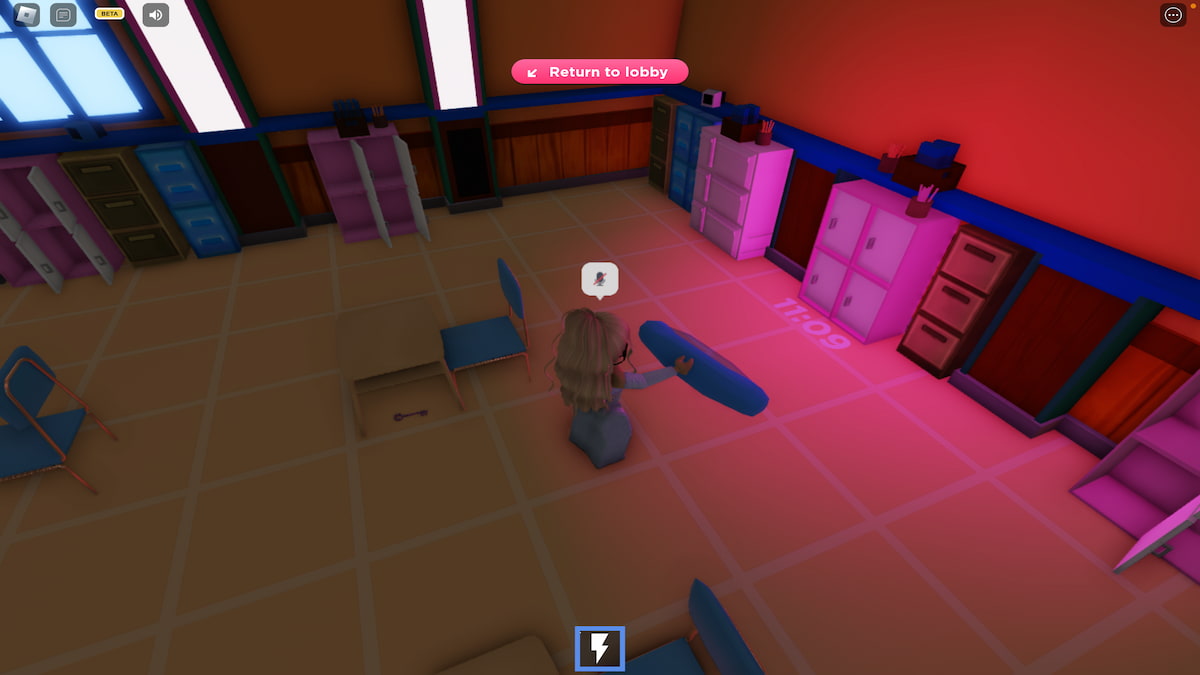 When you find your code, enter it into the keypad near the door and escape—that's all there is to it! As soon as you exit, you should return to the main TWICE Square lobby and earn the TWICE Black and White Logo Cap badge and item.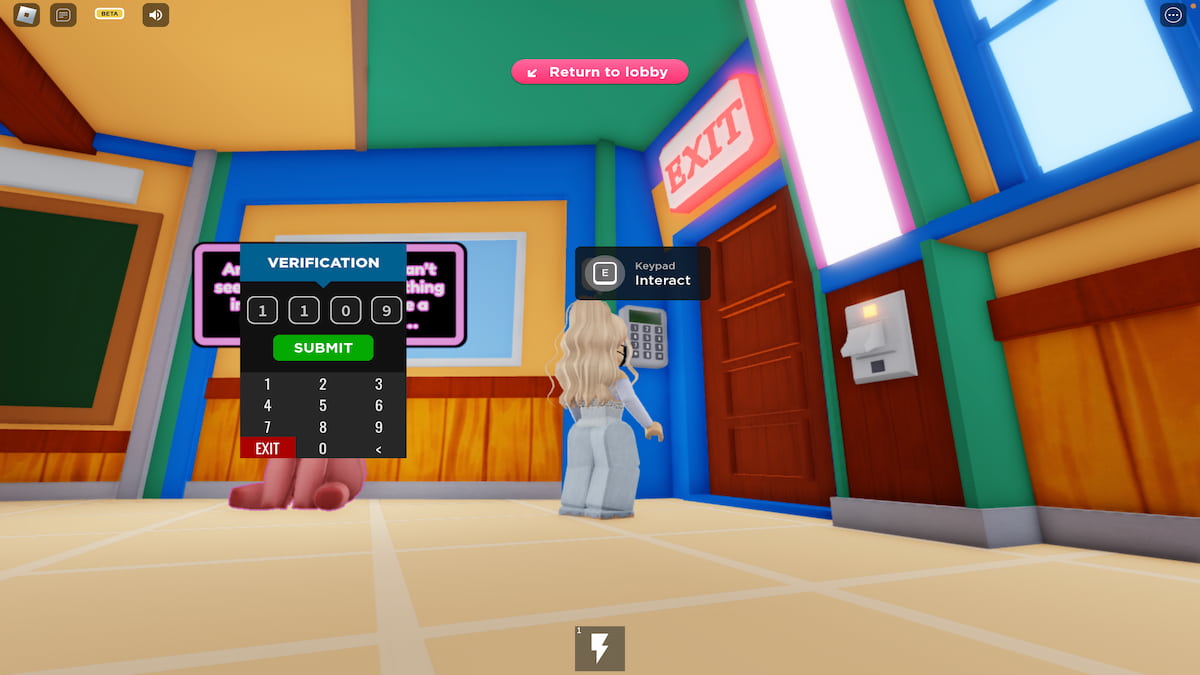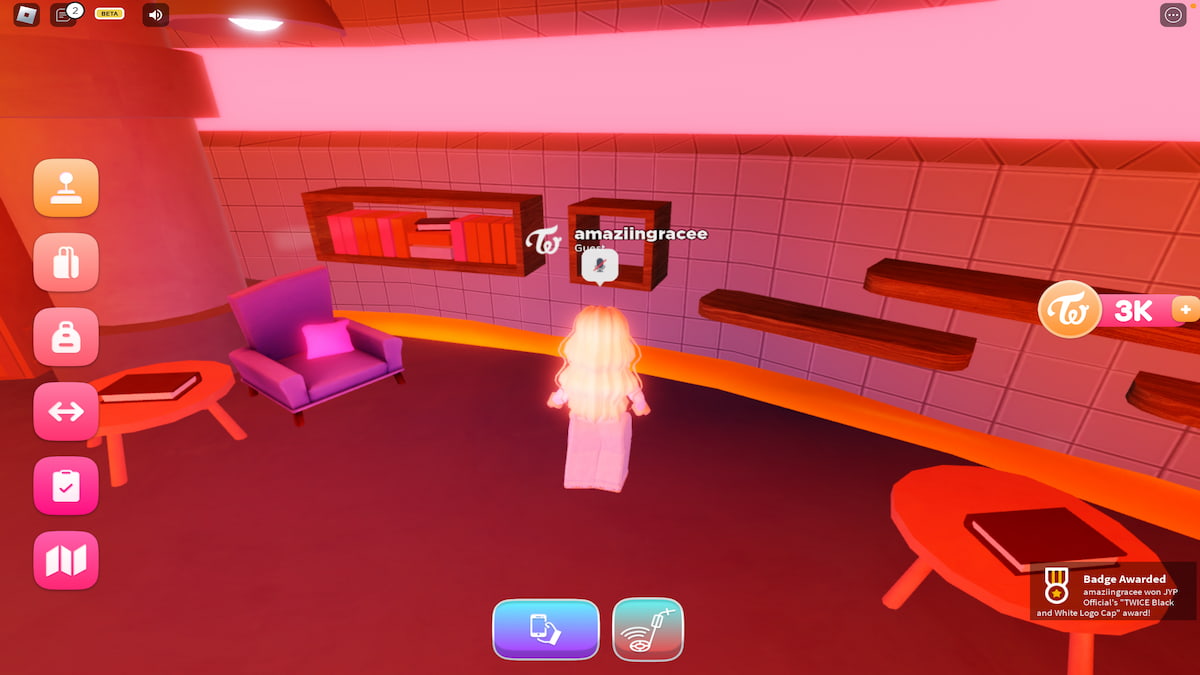 TWICE Black Ready to Be T-Shirt
The TWICE Black Ready to Be T-Shirt is earned after purchasing your first collectable from the gumball-looking machine in the main lobby. Each collectible costs a whopping 2,000 Points, but you earn around 3,000 Points each time you play the Escape Room minigame, so you may already have enough to purchase one! As soon as you open your collectible, you'll earn the TWICE Black Ready to Be T-Shirt badge and item.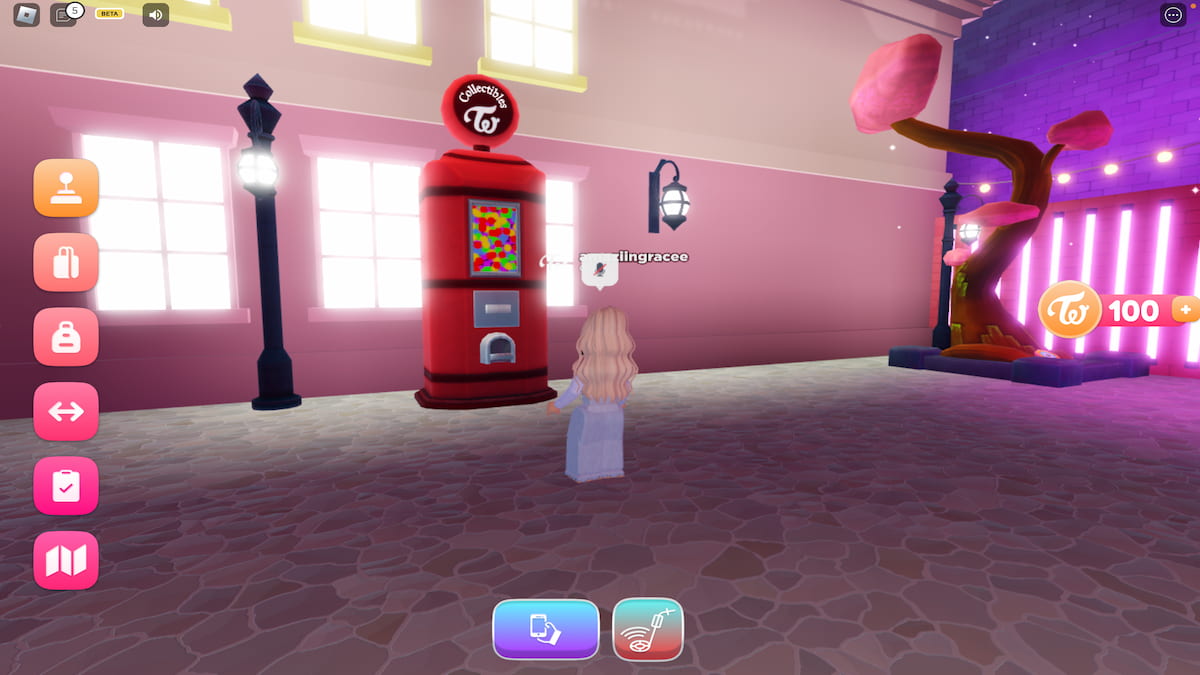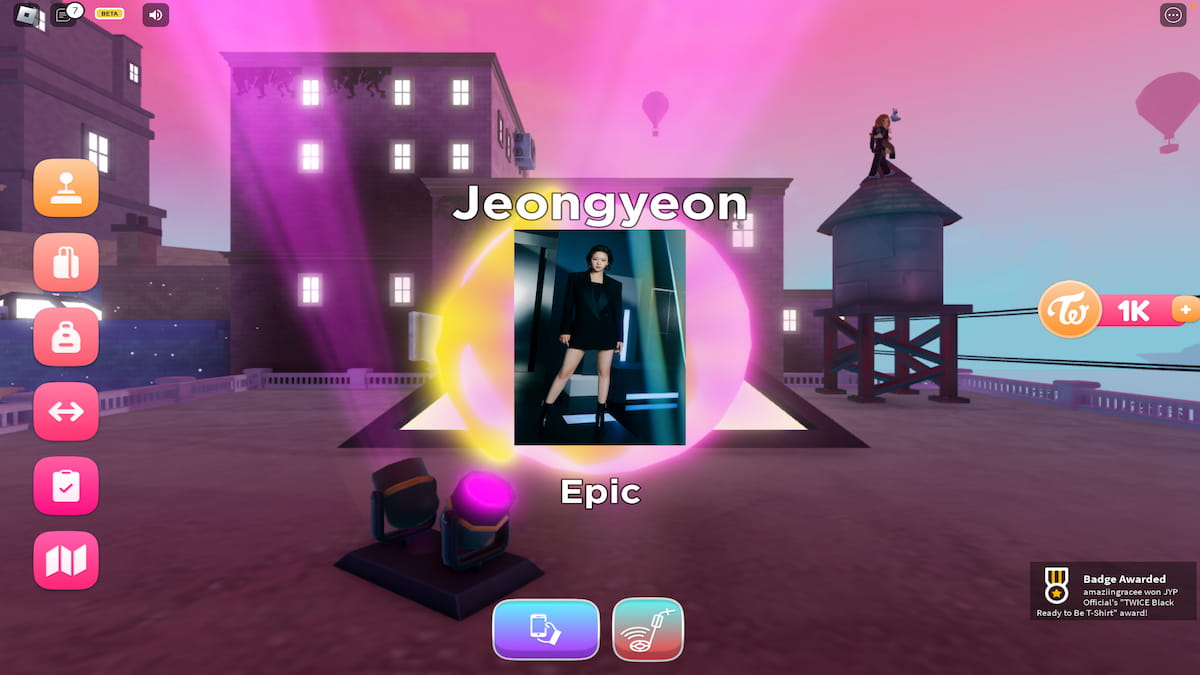 TWICE Boombox
The TWICE Boombox is automatically unlocked after using your selfie stick on the in-game rollercoaster. This coaster can be found at the pier and is pictured below.
When it's your turn to board the coaster, pick an open seat in any row and click the phone icon at the bottom of your screen to take out your selfie stick.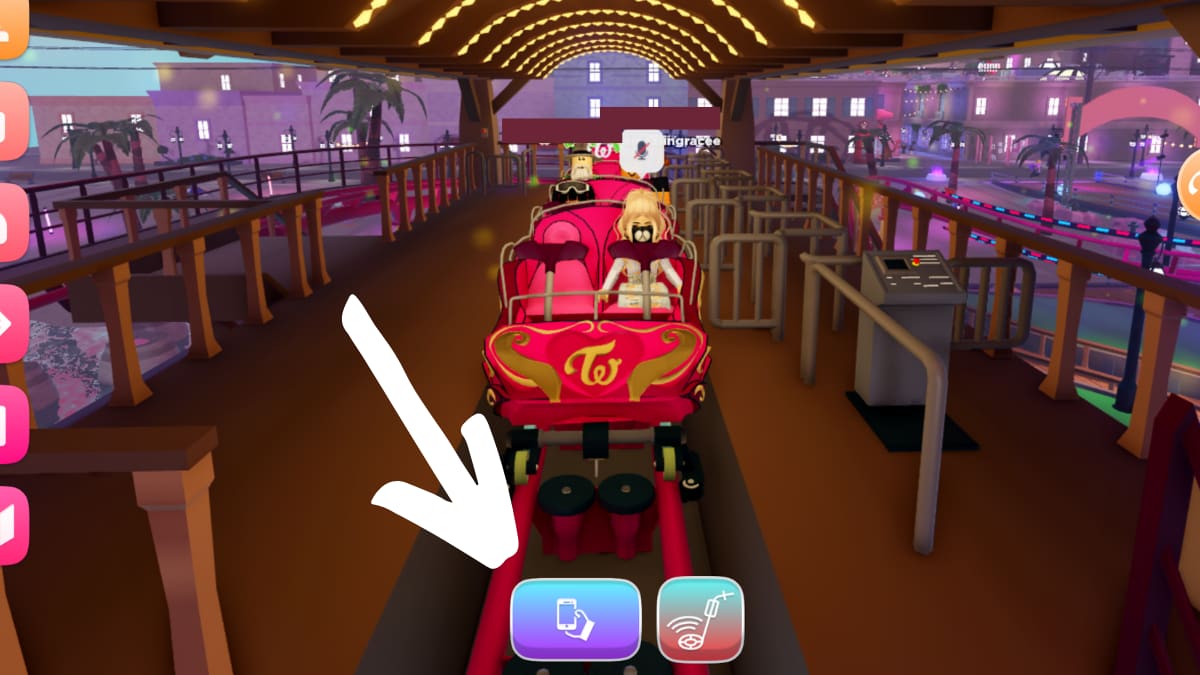 As soon as the car begins moving, you should unlock the TWICE Boombox and it's corresponding badge—you don't even have to take an actual picture!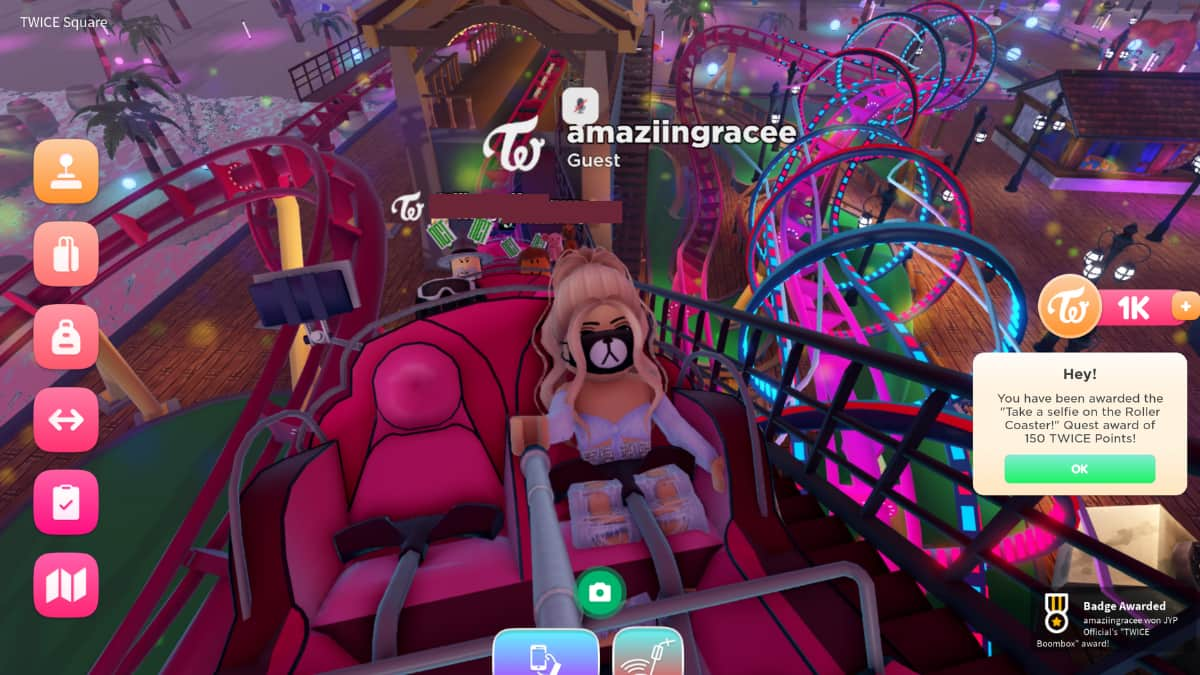 TWICE Blonde Pigtails
To unlock the TWICE Blonde Pigtails, we need to approach either of the two pink fences that can be found in the main area of the square and click on them to type and place a short note. You can write whatever you'd like in your note and it will count for the badge, so long as it's appropriate for Roblox!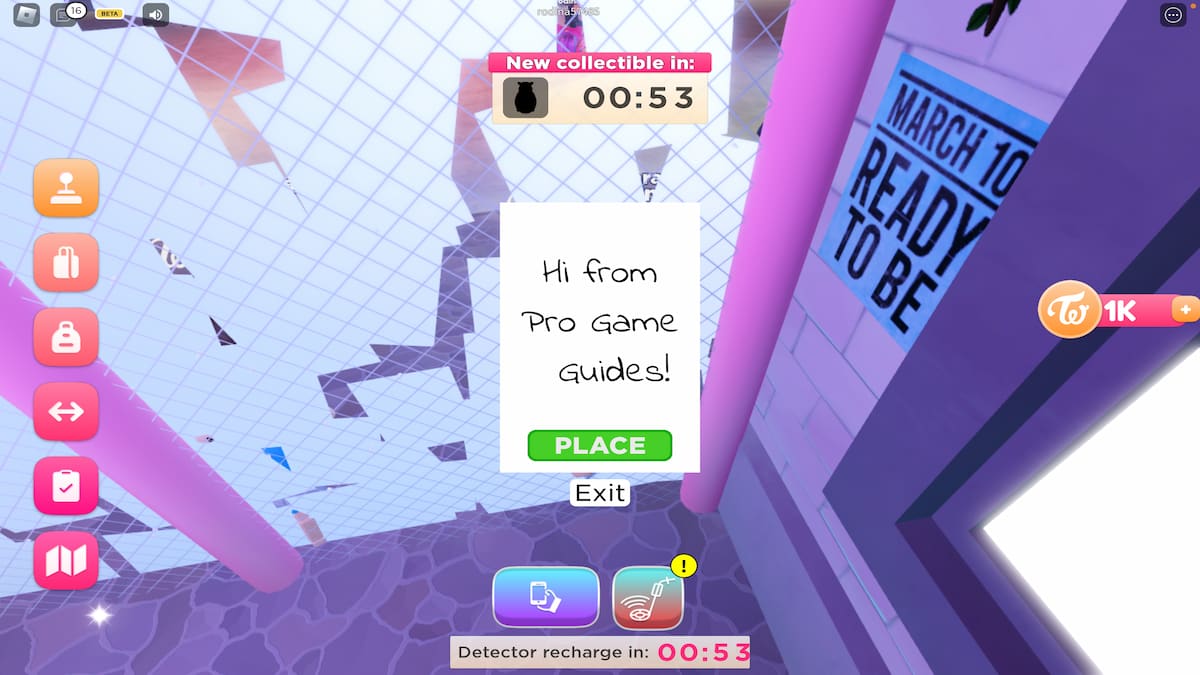 In some cases, this method becomes glitched and won't award you the badge. When that happens, you can also try the method of finding a collectible, which spawns on the map every few minutes. As soon as the countdown at the top of your screen reaches zero, a collectible will spawn. Use your metal detector to help you search for the hidden collectible before someone else finds it!
End
That's it for our guide on how to unlock every free item in TWICE Square! If/when more items are added to this experience, we will update this guide accordingly. In the meantime, let us know in the comments below who your TWICE bias is!
Looking for more Roblox content, including free items? Check out our recent guides on How to get all free items in Strongman Simulator (Shazam! Fury of the Gods Event) – Roblox or How to get all free items in Blueberry Clothing Store – Roblox here on Pro Game Guides!